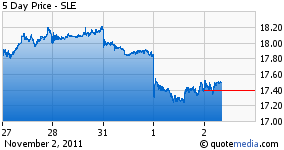 Sara Lee (SLE) is expected to report Q1 earnings before the market open on Thursday, November 3 with a conference call scheduled for 11:00 am ET.
Guidance
Analysts are looking for EPS of 17c on revenue of $1.99B. The consensus range is 14c-19c for EPS, and $1.93B-$2.1B for revenue, according to First Call. After reporting in-line EPS and revenue numbers in its previous quarter, the company announced a forecast of lower-than-expected earnings for FY12. Sara Lee saw FY12 as a transition year, as it continues to looik for cost cutting reductions. During its last conference call, it saw cost reduction opportunities of $180M-$200M from downsizing resources and decreasing overhead. These cost cutting measures come as the company finds ways to react to the rising costs for ingredients, packaging and fuel. Investors will also be looking to hear on the progress of Sara Lee's plans to split into two units. At a conference in September, the company said it was finalizing management for both companies, and the spin-off will most likely take place in April of May of next year. In the last few months, Sara Lee has completed the sale of its bakery business in Spain and Portugal to Grupo Bimbo for $154M and the majority of its North American food service ops to J.M. Smucker (NYSE:SJM) for $350M. The company also announced its decision to discontinue Senseo coffee in North American by March of next year.
Analyst Views
In recommendations, Sara Lee was upgraded to Buy at BofA/Merill and upgraded to Outperform at Wells Fargo, with the firms citing the company's potential turnaround in its coffee business and its potential cost cutting measures.