Apple (AAPL) is accumulating cash at a dizzying rate, now topping $81 billion. As profits roll in, cash is growing exponentially along a predictable path. I dubbed the phenomenon Rosenman's Law in January 2009. The law is just as valid as it was back then: You can see the curve I drew back at the beginning of 2009 and see how closely it has predicted Apple's cash position. The Bank of Apple is piling up dough. The cash trajectory targets $150 billion by 2014, a truly astronomical number.
Although Apple's wealth is burgeoning, it's the foreign money that is really booming. More and more, earnings have been socked away in yen, euros and the real as Apple moves into overseas markets. Currently, over two thirds, or $54 billion, lies offshore, a development that has profound implications for Apple and shareholders. Notice that cash is growing much faster overseas than in the United States because Apple's rest of world business is on fire. At this rate, Apple's foreign money will tower over its U.S. holdings, probably reaching a 3:1 ratio by 2013.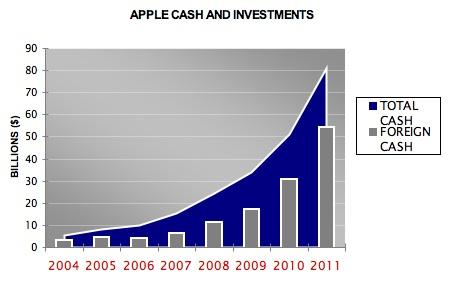 Because a huge share of cash is tucked away offshore, Apple can't bring it back to the U.S. without getting socked with a hefty tax. Unless the U.S. tax code is relaxed, Apple isn't going to move cash here. Who wants twice taxed profits, once overseas and then here? Left with $27 billion in the U.S., Apple is in a quandary. To some, $27 billion might sound like a lot but to a growing company like Apple, not so much. Figure in capital needs, litigation expenses, small purchases and voila, Apple's capital constrained here in the U.S.
U.S. Tax Policy Hinders Apple Paying Dividends Or Buying Back Stock

New CEO Tim Cook isn't opposed to a dividend payout. He said as much in Apple's conference call: "That said, I'm not religious about holding cash or not holding it. I'm religious about a lot of things but not that one."
However, dividend-yearning shareholders' hopes were instantly crushed by CFO Peter Oppenheimer's dose of reality:
"I'd like to add to Tim's answer, just to remind everybody that a little over $81 billion of cash that we ended in the September quarter were a bit more than $54 billion or two0thirds of that was offshore."
There you have it. Most of Apple's cash is overseas, constraining the company's ability to turn cash over to shareholders. Barring a change in the tax treatment of overseas earnings, don't look for large dividend payouts. The $54 billion parked abroad has already been taxed elsewhere. It's not coming here to be taxed all over again. The remaining $27 billion Apple holds in the U.S. is more likely earmarked for other uses, especially for a company intent on growth. While investors are clamoring for dividends, buybacks and big acquisitions of U.S. companies, Apple sees it quite differently. From its vantage point, resources are constrained by current tax law.
Apple Will Increasingly Use Overseas Cash To Acquire Foreign Assets
Management is already purchasing foreign companies. Apple reportedly just bought Swedish-based C3 technologies. Recently, Apple acquired patents from Canada's Nortel Networks. Ironically, restrictive U.S. tax code will drive Apple further offshore. In the future, it's far more likely Apple will be buying foreign rather than U.S. companies simply because the lion's share of its capital will be offshore. Unless companies are allowed to repatriate overseas earnings at reduced tax rates, Apple will be forced to keep its stellar growth outside the United States.
My prediction: Unless there are tax code changes, Apple will grow its cash and assets overseas much more quickly than here in the United States. Apple will acquire more foreign companies. Crazy as it sounds, in four or five years, Apple may need to relocate overseas just to have better access to its capital.