In my first article in this series, I made the point that Canada offers a lot more dividend choices than just big, boring banks and oil trusts. I also talked about two of my highest conviction stocks: Canadian Natural Resources (NYSE:CNQ) and Home Capital Group (OTC:HMCBF).
I would like to begin this article by presenting the following chart comparing the change in dividend growth rates of both Canadian and U.S. companies: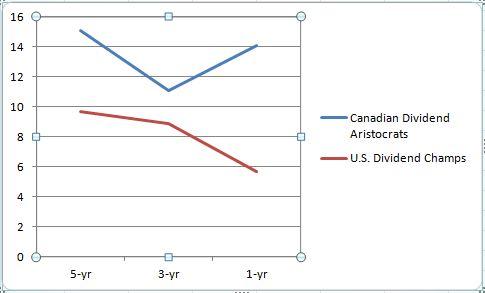 As you can see, the Great Recession took a big bite out of the rate of dividend growth on both sides of the border but Canadian companies have since ramped up their dividend machines while the slide continues south of the border.
This is another reason I believe Dividend Growth Investors should have some exposure to Canadian companies. I have a few more dividend growth machines to suggest for further research.
Enbridge (NYSE:ENB)

Enbridge operates the world's largest crude oil pipeline network. Enbridge's management has also done an incredible job by growing and diversifying the business through acquisitions: it is now Canada's largest natural gas utility and has a growing interest in renewable energy. Enbridge has increased the dividend every year for the past 15 years. With a lot payout ratio and consistent EPS growth, Enbridge can easily maintain dividend growth in the years ahead.
Enbridge Inc Key Metrics

Dividend Yield

2.8%

1 year Dividend Growth Rate

15.3%

5 year Dividend Growth Rate

11.3%

Dividend Payout Ratio

30.1%

Return on Equity

14.7%

5 year Total Return

15.4%

Analysts Recommendations

Buy
Canadian National Railway (NYSE:CNI)

CNR operates the largest railroad in Canada, and its network spans the continent. This is one of those companies that doesn't seem to be aware that there is such a thing as a business cycle: CNR has continued to raise EPS and dividends consistently even during recessions. Despite 14 consecutive years of large dividend increases, this gravy train's yield continues to be low because of price appreciation. Not a bad problem to have for a dividend growth stock; in fact, this year CNR has already boosted the dividend and announced a share buy-back program. With double digit EPS growth projected for the future, CNR should continue to reward investors with an impressive total return.
CNR Inc Key Metrics

Dividend Yield

1.7%

1 year Dividend Growth Rate

20.4%

5 year Dividend Growth Rate

14.9%

Dividend Payout Ratio

17.9%

Return on Equity

19.8%

5 year Total Return

9.3%

Analysts Recommendations

Buy
SNC-Lavalin Group (OTCPK:SNCAF)

SNC-Lavalin provides engineering and construction services in over one hundred countries, manages real estate and operates utility projects around the globe. SNC-Lavalin has maintained a laser-like focus on increasing shareholder equity. Every year it buys back some shares, increases EPS and raises the dividend. This dividend growth powerhouse shows no signs of slowing down as it continues to make strategic acquisitions, has already raised the dividend by 23% this year and is projected to continue to increase EPS at a 17% rate next year.
SNC-Lavalin Group Key Metrics

Dividend Yield

1.6%

1 year Dividend Growth Rate

23.5%

5 year Dividend Growth Rate

24.6%

Dividend Payout Ratio

21.3%

Return on Equity

22.6%

5 year Total Return

13.1%

Analysts Recommendations

Strong Buy
I know SNC-Lavalin is off the beaten path for many investors as it is not listed on any U.S. exchanges. I think this company's future is so bright that I would encourage investors to go to the effort to purchase this security as a long-term hold. TD Ameritrade, Schwab and Canaccord Capital allow purchases directly from the TSX and SNC-Lavalin does trade OTC under the symbol SNCAF.PK.
Disclosure: I am long ENB, CNQ, CNI, OTCPK:SNCAF.