I am a San Diego financial radio talk show host. I am also a professional money manager and stock analyst. Over the 18 years on my talk show, I have been asked about local stock, Qualcomm (NASDAQ:QCOM), on numerous occasions.
It would be easy for me to be partial towards a hometown company, especially given the impact that Qualcomm has had on our local economy. But, being a "numbers guy." I always come back to the facts to analyze a stock.
Let's first begin with a general look at the company.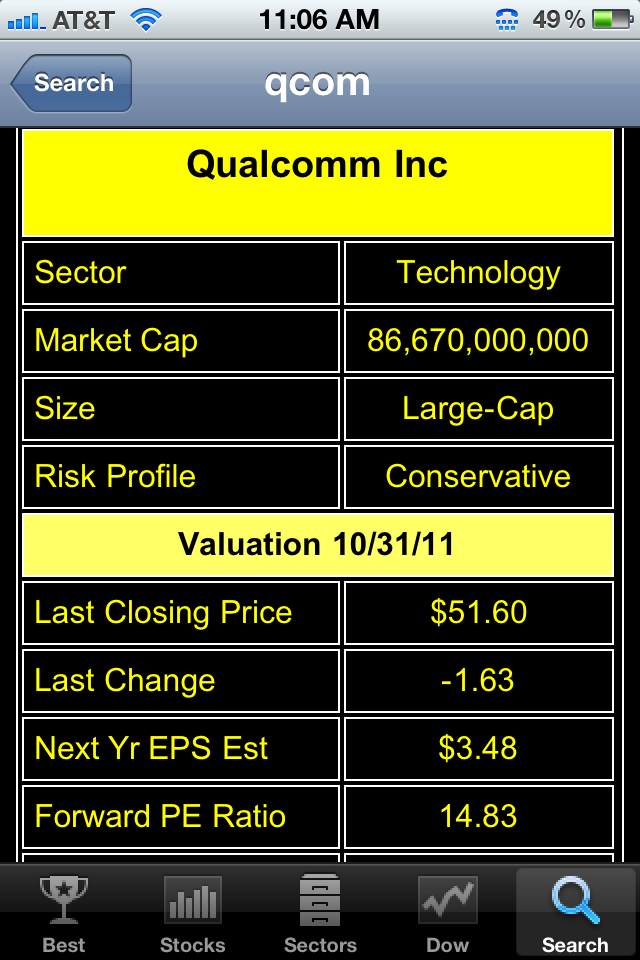 (Click to enlarge) Data From Best Stocks Now App
Qualcomm is obviously in the tech sector and it is a large cap stock with a market capitalization of over $86 billion dollars. Given the size of the company and its position in the tech world, I deem Qualcomm an appropriate investment for Conservative, Moderate, or Aggressive Growth Investors.
Next let's look at value: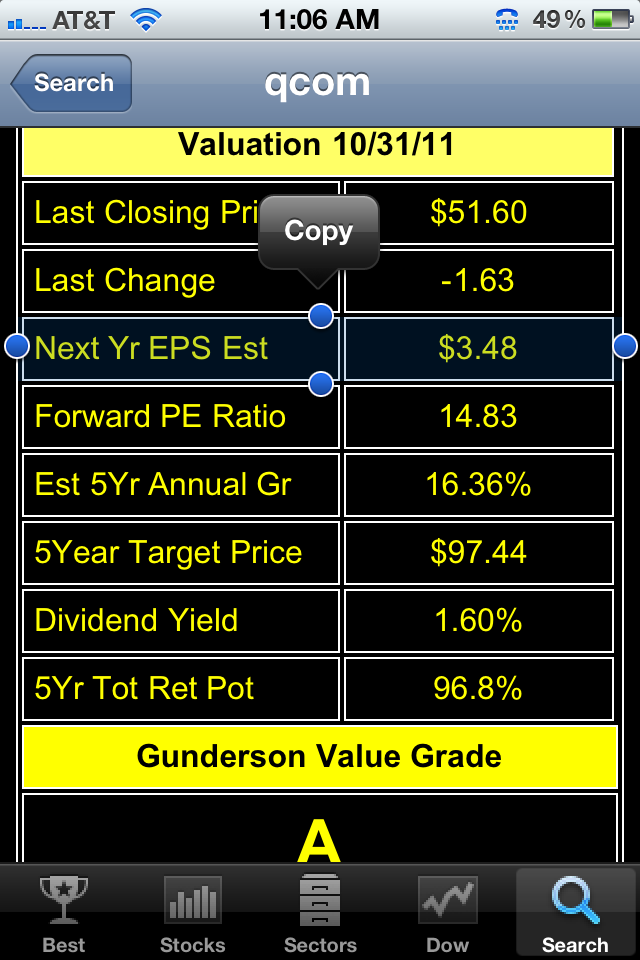 (Click to enlarge) Data from Best Stocks Now App
The consensus analyst's estimate for next year is $3.48 per share. The consensus analyst's estimate for the five year growth rate is 16.36% per year. At that rate, Qualcomm would be earning about $6.40 per share, five years from now.
Qualcomm currently has a PE ratio of 17. Its forward PE ratio is 14.83. The PE ratio has ranged between 12 and 20 over the last four quarters. The average PE of Qualcomm over the last ten years has been 31.77, but it has been shrinking over the last several years.
I am using a conservative multiple of 15 on future earnings to come up with a $97.44 five year target price at the current time. This gives the stock about 97% upside potential over the next five years. If my projections come close to being right, the stock is significantly undervalued at the current time.
Now let's look at the stock's performance record: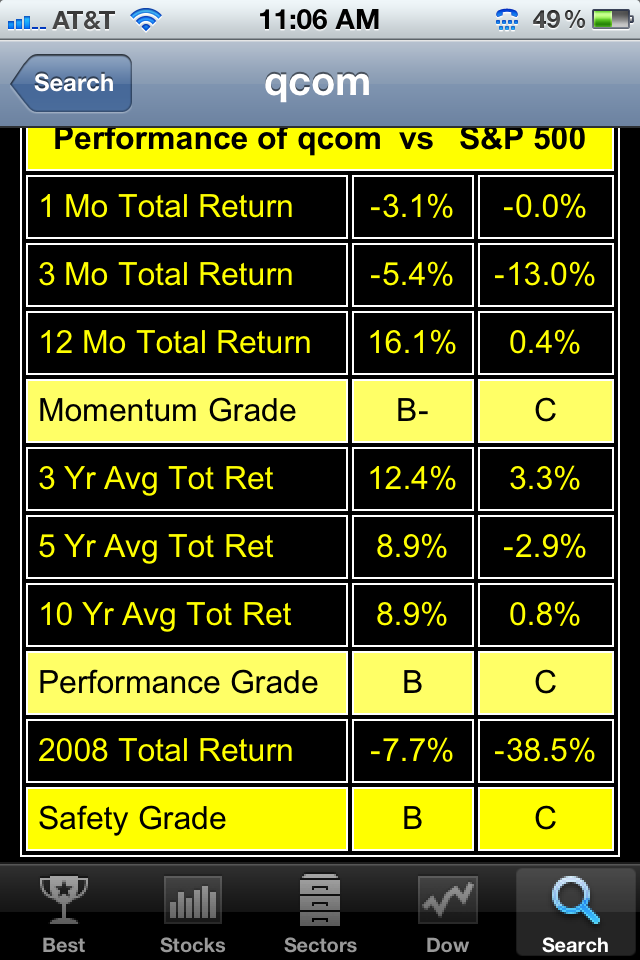 (Click to enlarge) Data from Best Stocks Now App
The stock has handily outperformed the S&P 500 over the last 1, 3, 5, and 10 years. There are a lot of stocks in my database of 2,700 stocks that have performed much better than Qualcomm over these same periods of time, however. Qualcomm gets an overall performance grade of "B" at the current time, when compared with all other stocks in the market.
It should be noted that Qualcomm held up very well during the stress test that the market went through back in 2008. While the S&P 500 was down 38.5% that year, Qualcomm was only down 7.7%.
I like to base my final stock opinion on Value, Performance, and Safety of a stock. Qualcomm gets an easy "A" on the value front. As shown above, Qualcomm gets a solid "B" as it relates to performance. Lastly, Qualcomm gets a "B" safety grade. It is obviously not as safe as a utility stock. When I apply my proprietary grading formula to the stock of hometown favorite Qualcomm, I get an overall grade of "B+". Overall, I have Qualcomm ranked at 347 out of 2,701 stocks. You could do worse than Qualcomm, but you could also do better.
Disclosure: I have no positions in any stocks mentioned, and no plans to initiate any positions within the next 72 hours.