StatOil's (NYSE:STO) recent buyout offer for Brigham Exploration (BEXP) once again moved the Bakken play into the crosshairs of energy investors' sights. Many believe small companies holding prime acreage are the best way to invest in the Bakken. It is thought that large oil companies with deep pockets and frozen out of international oil resources will invest their cash hoards in the proven, domestic, and still rather inexpensive shale plays in which oil is more predominate than gas. In general, this is true in both of the oily Bakken and Eagle Ford shales.
Small companies such as GeoResources (NASDAQ:GEOI) and Kodiak Oil and Gas (NYSE:KOG) have had healthy run-ups recently as "risk-on" money has come back into the market as a result of events in Europe. I favor GEOI over KOG - it has just as much if not more upside potential without the liquidity risk hanging over KOG's head. While I feel both of these small companies have further upside potential, today I will discuss a larger company that is a growth stock, a value investment, and a buyout speculation play: Whiting Petroleum Corp (NYSE:WLL).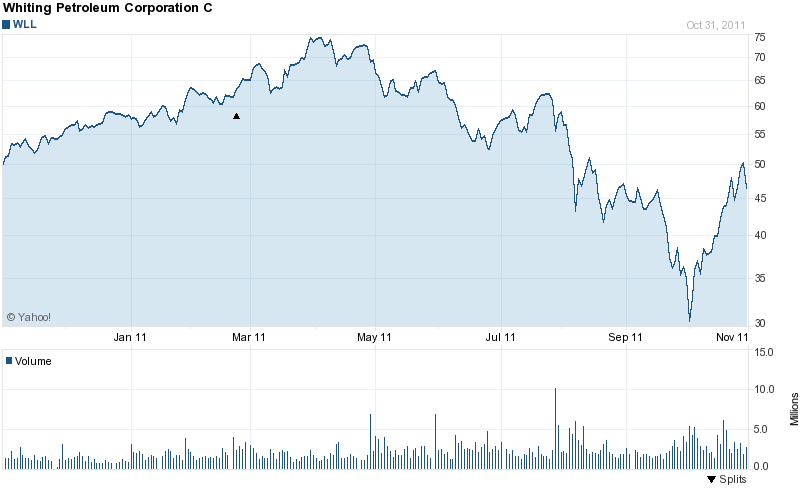 Click to enlarge
Whiting Petroleum Corporation is an independent oil and gas company based in Denver, Colorado. The company engages in the acquisition, development, exploitation, exploration, and production of oil and gas primarily in the Permian Basin, Rocky Mountains, Mid-Continent, Gulf Coast, and Michigan. The company's largest projects are in the Bakken and Three Forks plays in North Dakota, and its Enhanced Oil Recovery fields in Oklahoma and Texas.
The stock closed today at $44.59. With 117.4 million shares, this gives the company a market value of $5.23 billion. With EPS at $2.41, the company's PEis 18.5 (source: Google Finance). The company does not pay a dividend. The 5-year annual growth rate is 22.9%. Its stock has traded in a 52-week range of $28.87 - $75.91.
Looking at the chart above, the high was reached in the spring shortly after a 2-1 stock split in February 2011. The low was hit during the severe sell-off just weeks ago. The stock has recovered quickly from its low, but sold off again the morning of Nov. 1, 2011 after news of more European drama rocked the U.S. equity markets.
Whiting's Q3 earnings are due out tomorrow Nov 2, 2011, after the market closes. The quarterly earnings conference call will be Thursday, Nov. 3, 2011), at 11 a.m. EST. More detailed information may be found on the company's investor relations website.
In the company's October 2011 presentation, it lists reserves of 304.9 million BOE (indpendent engineering estimate as of 12/31/2010), 40% of which were in the Rocky Mountains and 40% in the Permian Basin. The reserves are a very oily split of 83% oil and 17% natural gas. The company is a top oil producer in 3 states:
#2 in North Dakota: 13,705,737 Barrels in 2010
#3 in Oklahoma: 3,089,028 Barrels in 2010
#17 in Texas: 3,888,017 Barrels in 2010
In the 2011 Exploration and Development Budget, 48% was devoted to the Bakken/Three Forks plays. Whiting has over 680,000 acres (net) in the Bakken/Three Forks system alone. It is clear that Whiting is a major player in the Bakken toda,y and will remain a major player for years to come.
Production:
Full-year 2010 production was 23,600,000 BOE or 64,657 BOE/day
Full-year 2009 production was 20,270,000 BOE or 55,530 BOE/day.
The 16% increase in production for 2010 versus 2009 was primarily due to organic production growth in the North Dakot Bakken and Three Forks formations.
In 2010, the company replaced 228% of 2010 production.
Q2 2011 production was 5,850,000 BOE (64,120 BOE/day) of which 82% were oil and natural gas liquids.
Here is an excellent company summary of recently completed wells, as reported by Business Wire here on Seeking Alpha:
Earnings and Revenue:
Q2 2011 earnings were $1.02 versus $0.66 for the same period of 2010, a growth rate of 55%.
In the first 6 months of 2011, the company has earned $1.87/share (diluted). Revenues for the 6-month period were $913.6 million versus $728.9 million in the first six months of 2010.
For all of 2010, the company produced yearly earnings of $2.55 per share (diluted).
To sum it up, Whiting Petroleum offers growth, value, and a speculation kicker all-in-one. The growth is in oil production and earnings. The value is in the acreage the company owns and the fact that its PE of 18.5 is modest considering the revenue, earnings, and production growth the company is delivering. The speculation play is that a Chevron (NYSE:CVX) or an Occidental Petroleum (NYSE:OXY) swoop in and buy the company for its Bakken/Three Forks acreage and for its engineering expertise.
After the sweet deal StatOil (STO) got on Brigham Exploration (BEXP), and the resulting shareholder discontent, it's a sure bet that Whiting CEO James Volker won't sell out too cheaply. Yet, I'd be very surprised if WLL is still independent by 2015. That said, even if I am wrong about a buyout, the oil production growth rate of Whiting Petroleum and its current modest valuation profile means energy investors could well see some nice gains in WLL's stock for years to come.
Disclosure: I am long WLL.
Additional disclosure: I am long WLL and looking to increase my position on short-term weakness. I am also long GEOI and STO.