As the macroeconomy picks up, one sector to closely follow as a value investor is consumer services. The theory is that investors may irrationally not fully value the earnings potential of restaurants, in particular, that arises from recovery. When consumers are optimistic about near future incomes, they theoretically tend to substitute more towards outside dining as a form of affordable luxury. There are a few major restaurant chains out there with strong brand names and billion-dollar-plus market capitalizations that can benefit from this: Darden Restaurants (NYSE:DRI), BJ's Restaurants (NASDAQ:BJRI), and Chipotle Mexican Grill (NYSE:CMG). Of these three, only one, Darden, is trading below intrinsic value at this time.
From a multiples basis, Darden is most undervalued by far. It trades at only 11x forward earnings, while BJ's and CMG trade at more than triple that at a respective 39.7x and 38.1x forward earnings. At the same time, Darden also returns plenty of clash to shareholders through its mouth-watering dividend yield of 3.6% - its competitors, meanwhile, do not offer dividend distributions currently. In short, the stock is much more skewed towards reward than risk for Darden, relative to BJ's and CMG.
Further, I believe that Darden is not only a value play, it is potentially an activist target. With a great brand being met by painful underperformance, shareholders have had to sit passive to a tremendous comparative multiples gap and undervaluation. For the last six months, the stock has been flat while CMG and BJ's were up by 23% and 12.6%, respectively. For the last year, Darden was up 2.8%, while its competitors both appreciated by more than 80%. And despite being rated a strong buy, shareholder value is screaming for a catalyst. With a market capitalization of $6.2B, the stock is in reach for Trian Partners, which is an expert in the foods business. But although this would be an exciting campaign and substantially benefit a traditional value investment, I would nevertheless not bet on its occurrence.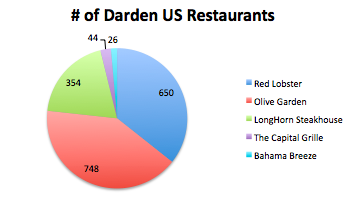 Darden has arguably the most visible brand among the three stocks highlighted herein. It operates 1,860 restaurants in the United States, including Red Lobster, Olive Garden, LongHorn Steakhouse, The Capital Grille, and Bahama Breeze. It also operates 28 Red Lobster and 6 Olive Garden restaurants in Canada.
At the last earnings call, CEO Andrew Mandsen noted that the company's flagship restaurant softened during the first quarter:
Olive Garden same-restaurant sales were down 2.9% during the first quarter, roughly 390 basis points below the full service restaurant industry benchmark. Now while the vast majority of business fundamentals at Olive Garden remain competitively strong, from guest satisfaction and brand perception to average unit volumes and restaurant-level profit margins, same-restaurant sales have clearly softened since the third quarter of last fiscal year. As we discussed during our call in June, we thought the primary opportunity to improve same-restaurant sales at Olive Garden was to improve the impact of their promotions. Specifically, we felt the need to feature dishes that were more broadly appealing, while also emphasizing brand-appropriate affordability more often during the year.
At Olive Garden, management is pushing select marketing campaigns to boost demand, like a $12.95 offering of carbonara ravioli with sautéed shrimp, a popular option. Pricing increases of 2% to 3% are offsetting inflation, while cost-cutting initiatives are improving the bottom line. Meanwhile, Red Lobster experienced strong growth during the first quarter and is being complemented by the chain's recent acquisition of two upscale seafood restaurants. Darden purchased eight units of Eddie V's Prime Seafood and four units of Wildfish Seafood Grille for $59M in an all-cash deal. Adding more luxury chains to the mix will help to grow margins and benefit the company during a recovery. The scale potential for Eddie V's also looks favorable for an expansion of 80 more restaurants over the next two years or so. Strong cash flow generation and price increases will help to drive additional acquisitions in the near future.
The consensus estimate for Darden's EPS is that it will increase by 10.9% to $3.78 in 2012 and then by 13.5% and 12.4% in the next two years. Given its high dividend yield, strong brand name, and attractive price, I find myself in agreement with the "strong buy" rating from the Street.
Disclosure: I have no positions in any stocks mentioned, and no plans to initiate any positions within the next 72 hours.