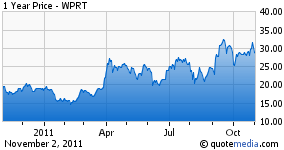 Westport Innovations (NASDAQ:WPRT) just announced a remarkable quarter. The Vancouver company beat the year ago quarter by 80%. The growth is notable because it could represent one of the first indications that North Americans truck fleet operators are embracing natural gas as an alternative to gasoline and diesel.
Perhaps even more impressive than the overall growth number is the fact that the growth is happening across all divisions of the company.
CWI revenue for the quarter was $49.2 million on 1,625 units as compared to $30.9 million for the quarter one year earlier
LD contributed $25.7 million in revenue for the quarter, compared to $8.4 million in the prior year period
HD product revenue for the quarter was $5.3 million, compared to $1.0 million in the comparative quarter
CWI, a 50:50 global joint venture between Westport and Cummins Inc., (NYSE:CMI), is focused on the development, marketing and sale of mid-range, low-emissions alternative fuel engines for applications such as trucks and buses. Cummins is a powerhouse in the industry and the partnership appears to be paying off.
Westport LD (Light-Duty) offers a range of products and services to the light-duty vehicle and industrial markets, including market development, product design and engineering, complete proprietary engine and vehicle systems and proprietary components.
Westport Heavy-Duty (Westport HD) Business Highlights
Westport entered into an agreement with Shell (NYSE:RDS.A) to launch a co-marketing program in North America aimed at providing customers a better economic case when purchasing and operating liquefied natural gas-powered vehicles by consolidating key value chain components such as fuel supply, customer support and comprehensive maintenance into a single, user-friendly package. Subsequently to signing of the agreement, Shell and Westport have started working actively together to launch the program and are levering their industry-leading positions in LNG production and distribution for Shell and LNGV systems and technology for Westport.
Natural Gas As Vehicle Fuel
Natural gas is potentially a major fuel source for vehicles. According the U.S. Department of Energy:
"The United States has a vast natural gas distribution system, which can quickly and economically distribute natural gas to and from almost any location in the lower 48 states. Gas is distributed between and within states by 300,000 miles of transmission pipelines."
Estimated reserves for natural gas have increased in recent years, and supporters see it as an excellent way to reduce greenhouse gas emissions in the short term. Natural gas fueling stations may not be plentiful enough for automobiles, but filling stations are available in many locations already. Congress is considering a bill that would offer substantial subsidies for natural gas powered trucks. Passage of such a bill would be very positive for Westport and for other companies.
Profitability
The news here is mixed. Gross margin as a percentage of sales was worse than the year before. Gross margin for the three months ended September 30, 2011, was $25.8 million, or 32.0% of total revenue, compared to $17.8 million, or 39.7% of total revenue, in the prior year period. CWI gross margin as a percentage was slightly better, but Westport HD gross margin remained negative. LD gross margin was worse at 20.6 % versus 25.4% but was affected by inventory shifts related to the Emer acquisition. Without those the gross margin would have been improved.
The Opex situation looks slightly better. For the three months ended September 30, 2011, operating expenses (research and development, general and administrative and sales and marketing) were $28.5 million compared to $16.7 million in the prior year period. However, compared to the 80% increase in revenue, this represents a small percentage improvement.
Net profit continues to be negative but improving as a percentage of sales. Net loss attributed for the quarter was $13.2 million, compared to net loss of $6.2 million a year ago. The company notes that $2.9 million of this amount will be reimbursable under Westport's Volvo program agreement and $2.8 million related to an increase in cost of goods sold due to the step up of Emer's inventory to fair market value at the time of the acquisition.
Competition
Westport hasn't really run up against a lot of serious competition. Clean Energy Fuels subsidiary BAF, which designs vehicles systems and conversion technology, is working with Ford (NYSE:F) to develop fuel systems. In the big truck market, they've been good at partnering with other companies like Cummins rather than competing. The other company we follow in this market, Fuel Systems Solutions (NASDAQ:FSYS), makes components and systems that control the pressure and flow of gaseous alternative fuels, such as propane and natural gas used in internal combustion engines. it doesn't seem to be slowing Westport's growth.
Summary
Westport is currently a hyper growth story, but contains significant risks. Investors need to be cautious. The sales trend looks very positive, but the current valuation of Westport is very high at $1.3 billion. Lots of good news, and the assumption of future profitability and future rapid growth is already priced into the stock. Westport has still not demonstrated an ability or desire to drive profitability by reducing costs.
Although we like the company, and we are rooting for natural gas to become a stronger part of the vehicle fuel supply, we are neutral on the stock. The current valuation has as much downside as upside.
It comes down to a just how much of a natural gas bull are you. The current stock price already assumes that the company can get to profitability and sustain growth at rates of 25-30% per year for many years to come. In the quarters they have seen even higher growth rates, but how long can they sustain it?
Disclosure: I am long FSYS.