"Your desires and true beliefs have a way of playing blind man's bluff. You must corner the inner facts." - David Seabury
I've said this before but its worth repeating. Whenever you hear the media talk about markets being "risk-on," it means inflation expectations by the crowd are increasing (buy stocks, not bonds). The opposite, "risk-off," means deflation expectations are rising (buy bonds, not stocks).
Make no mistake about it – the Greece/Papandreou drama is ultimately about whether the after-effects of a default/disruption in the eurozone would cause a deflation shock or not worldwide. With fears erupting once again given the referendum news, it's worth exploring if the bond market believes the bailout won't go through or not. To answer this, take a look below at the price ratio of the iShares Barclays TIPS Bond Fund ETF (NYSEARCA:TIP) relative to nominal 7-10 Year Treasuries (NYSEARCA:IEF). A rising price ratio means the numerator/TIP is outperforming (up more/down less) the denominator/IEF.
Click to enlarge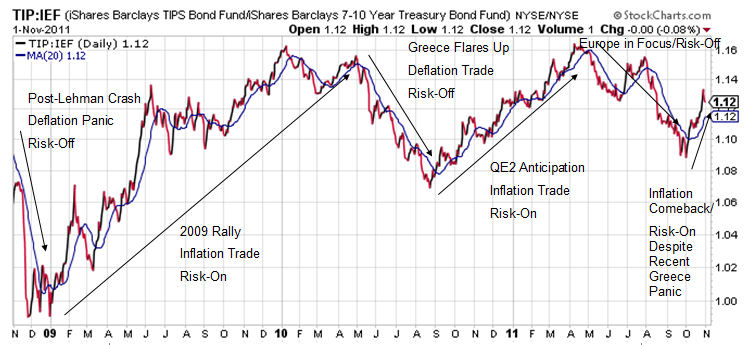 I have annotated the chart to give context to what the trend in the ratio means. Effectively, when the ratio of TIP to IEF is up, it means bonds with embedded inflation protection are outperforming bonds that don't. This would occur when investors expect inflation to occur. A down trend means the opposite – if investors don't think inflation will rise, they would rather buy bonds without the inflation adjustment embedded in price.
Here is the main takeaway. The chart is updated through the first two trading days of this week, when news of Greece flared up again. While everyone is once again questioning whether the euro drama is over or not and if a Lehman-like event is about to unfold, the bond market does not believe it will happen. I say this because the far right of the chart is still in an uptrend, meaning inflation is being favored over deflation from an expectations standpoint. If there really was legitimate concern over Greece NOT accepting the bailout, wouldn't one expect that ratio to have sharply turned lower in recent days? It appears as though Treasury Inflation Protected Bonds buyers are calling Papandreou's bluff.
Disclosure: I have no positions in any stocks mentioned, and no plans to initiate any positions within the next 72 hours.
Additional disclosure: The author, Pension Partners, LLC, and/or its clients may hold positions in securities mentioned in this article at time of writing. The commentary does not constitute individualized investment advice. The opinions offered herein are not personalized recommendations to buy, sell or hold securities.