Dividend exchange traded funds have been big sellers this year in the U.S., and now a new equity-income ETF launched in Europe is off to a fast asset-gathering start.
According to State Street Global Adviors, the SPDR S&P US Dividend Aristocrats pulled in $100 million in the 10 days following the fund's launch in Europe, reports Chris Flood for Financial Times. The fund holds 60 U.S. stocks from the S&P Composite 1500 Index that have consistently raised annual dividends over the last 25 years.
Eleanor Hope-Bell, SSgA's head of intermediary business Northern Europe, said that dividends provide income, help offset capital depreciation that occur in volatile periods and capture the upside when equities begin to perform.
"During the ongoing market volatility, we've seen a strong demand from clients for investment products which offer a steady cash flow and consistent yields," Leslie Gent, global head of research and product solutions at Coutts, said in the FT report.
The U.S.-listed SPDR S&P Dividend (NYSEARCA:SDY) tries to reflect the performance of the S&P High Yield Dividend Aristocrats Index. SDY has garnered net inflows of $1.3 billion in the first three quarters of the year. The fund is up 4.61% year-to-date.
Similar funds include the iShares Dow Jones Select Dividend Index (NYSEARCA:DVY), which saw inflows of $1.3 billion so far this year, and Vanguard Dividend Appreciation ETF (NYSEARCA:VIG), which added $3.1 billion in assets. DVY is up 7.40% year-to-date and VIG is up 3.14% year-to-date.
More recently, Schwab launched the Schwab US Dividend Equity ETF (NYSEARCA:SCHD). SCHD will try to undercut the competition by offering the lowest expense ratio of 0.17%.
SPDR S&P Dividend
Click to enlarge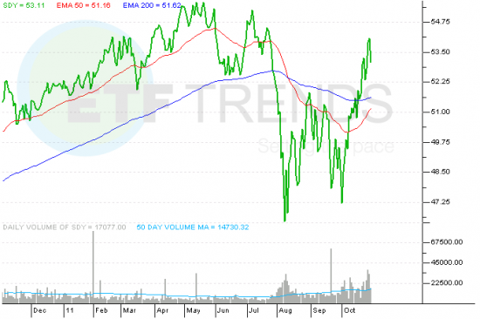 Max Chen contributed to this article.