The telecommunications industry is a hotbed of innovation and technological development in which markets are constantly being redefined. As such, it is an industry where it makes sense to tread carefully when selecting stocks for one's equity portfolio. If you are looking for some exposure to the telecommunications industry, you would do well to start your search with a rigorous quantitative overview of its constituent companies, in order to winnow out the expensive, fly-by-night companies whose technology could be rendered obsolete in short order. We reviewed some companies, and came up with a large cap name that looks like a decent bet in the space.
AT&T, Inc. (NYSE:T) provides telecommunications in the U.S. and abroad, and offers its services and products to consumers, businesses and other providers of telecommunications services. AT&T's services and products include wireless communications, local exchange services, long-distance services, data/broadband and Internet services, video services, telecommunications equipment, managed networking, wholesale services and directory advertising and publishing. The firm employs over 250,000 people worldwide.

Click to enlarge
The Turnkey Fundamental Factors, above, look sound, consisting of a Quality Measures score of 65.9%, and a Pricing Measures Score of 66.6%, to make up an overall Turnkey Score of 66.2%. In general, our output for the stock of T is telling us that statistically we are looking at a high quality company trading at a reasonable price. Let's review some of the financial results that are driving these numbers and see what we can learn about the company.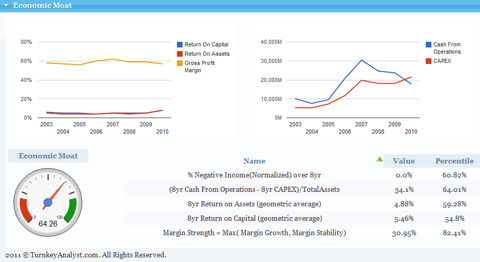 Click to enlarge
T's Economic Moat is solid, if unspectacular. The company has lost no money in any of the last eight years. Margins are stable, with a Turnkey value of 31% landing the company in the 82nd percentile of our screening universe. Normalized (8 yr average) returns of cash from operations - capex on assets is 34.1%, which is close to the top third of our screening universe. Normalized (8 yr average) returns on assets and capital of 4.9% and 5.5%, respectively, are above average, placing company in the 55th - 60th percentile range. T generates an Economic Moat score of 64.3%, which is made up of solid output across the board. While the company lacks the extremely high returns of a Coca Cola, with its bullet-proof brand, T has a well-established competitive position within its markets, with stable margins and consistent profitability.

Click to enlarge
Judging from our Recent Operation Improvements output, T seems to have a number of key financial metrics trending in the right direction. TTM revenues are up versus the prior year, as is net income. TTM return on assets was positive, and increasing versus the prior year. TTM returns on assets and capital were also increasing versus the prior year. The company's debt /capital ratio declined, suggesting lower risk of debt-related distress. One blemish on T's Improvement score is the slightly negative change in account receivable turnover. Additionally, Gross margins were down, although that is a forgivable defect in light of the company's strong long-term margin stability. Our overall Improvement score of 66% suggests the company has trended along several dimensions in the right direction over the past year.

Click to enlarge
Our Earning Manipulation and Fraud Detection screen, above, is showing that the company has fairly strong discipline on accruals. Operating accruals / assets return of -5.7% puts the company in the top third of our screening universe, while accruals / net income of -76.5% is also decent, placing it in the 62nd percentile. Net operating assets / assets is lower quality, near the breakpoint for the bottom third of our universe. Our overall Earnings Quality score of 54% is telling us that, in general, T does a fairly good job of managing accruals.
Click to enlarge
Turning to our Shareholder Yields output, we see a company that is statistically cheap versus our screening universe. T's TTM net income yield of 12.3% places the company in the 89th percentile, and its normalized (8 yr average) net income yield of 6.3% is also pretty solid, near the top quartile. Normalized cash flow yields also look respectable. Normalized (8 yr average) EBIT and FCF / TEV yields of 6.8% and 8.1%, are in the 62nd and 71st percentiles of our output, and suggest a good price versus the company's long-run cash generation profile. The book to market ratio is also above average, at 67.5%. TTM EBIT / TEV of 8.7% looks okay too. TTM FCF / TEV is the only metric that is below average, but at roughly 5%, you are not wildly overpaying for free cash flow. Our overall Valuation score of 66.6% is saying that, in the aggregate, T is trading at a valuation that is cheap versus our screening universe, which includes some very small companies (~$250mm).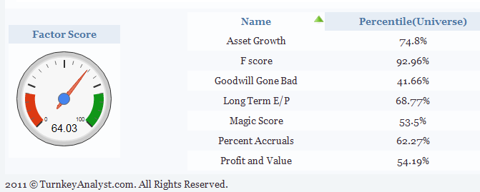 Click to enlarge
Having reviewed a number of Turnkey metrics, we wanted to run a sanity check, to see how T stacks up against a number of our statistical screens and make sure we are not missing anything obvious. The output, above, is comforting. T's F-score of seven puts the company near the top 7% of our output, and suggests the company is financially healthy along a number of dimensions. T also scores decently well on our asset growth screen and is in the top third of our output for long term earnings to price ratio, which is a sign the company is cheap versus normalized earnings. Neither accruals nor goodwill seem to be a serious issue. Finally, T scores above average for our magic score and profit and value screens. While the company only reaches the top decile for its strong F-score, it scores significantly above average across a number of additional screens, achieving an overall Factor Score of 64%. These screens typically generate alpha returns that increase monotonically across deciles, so a good overall factor score indicates that statistically the company is positioned to do better than average.
Taking a step back to summarize, our quantitative output for T is showing a large, stable company with a decent economic moat, with numerous recent operating improvements, and no obvious signs of earnings manipulation. It is also trading at a good price across a variety of valuation metrics. If you are looking for some large cap exposure to the telecommunications space, AT&T stock looks like a better than average bet.
Disclosure: I have no positions in any stocks mentioned, and no plans to initiate any positions within the next 72 hours.