Pall Corp. (NYSE:PLL) is a manufacturer of filtration products operating in the life sciences and industrial markets. The life sciences segment produces about two-thirds of operating income and a majority of the growth while the industrial segment produces the balance of the operating income a minority of the growth. The company's asset base primarily consists of its global manufacturing footprint, production machinery, capitalized R&D and working capital items.
Pall has been quite profitable and has shown strong growth in recent years with the recession only producing a few quarters of moderate weakness. The company has been a beneficiary of a couple of favorable trends of late including strong defense, mining and biological drug markets. Looking back to the middle part of the last decade shows that growth was less consistent: from 2003 to 2007 net income was about flat. An analysis of historical returns on assets over time tells a similar story.
Based on an economic profit valuation model (primer on model) and the current trading value of the company, I estimate that about 68% of Pall's current value is justified by its run-rate profitability. To justify to remaining 32%, I estimate the market is assuming the company will grow an average of about 7% per year over the next seven years. Although Pall has many positives in its favor, given the pattern of the historical profit trend, the volatility of certain end markets such as defense, mining and microelectronics and relative valuations of other health care companies where Pall generates the majority of its profits lead me to believe that Pall's current share price is not attractive. In the balance of this article I will further articulate the analysis leading to this conclusion.
Business Review
The following figure shows the two business segments Pall operates in as well as their sizes in terms of revenue and operating profit and the cumulative growth since fiscal year end 2009 (Pall operates on a July 31 fiscal year end):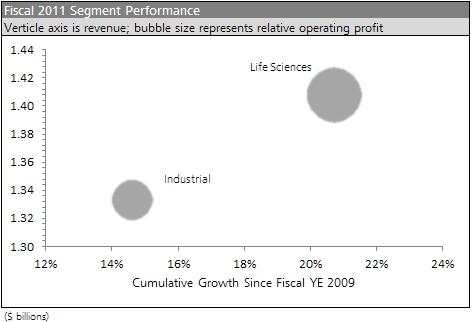 The life sciences segment has been the leader in revenue growth over the past several years coming in at 21% while the industrial segment has grown less quickly at 15%. In terms of operating profit, the life sciences segment contributes about 63% while the industrial segment contributes about 27%. The figure below shows the contribution to segment revenue from various product groupings within the segments as well as total backlog and the growth of backlog relative to the growth of revenue: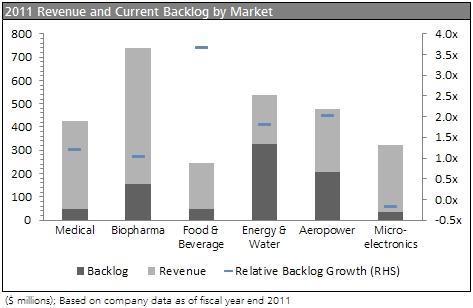 The medical segment comprises a broad range of products including those used for filtering blood in various ways, separating and isolating various cells and filtering surgical gases, water or pharmaceutical inputs. Backlogs have grown somewhat faster than revenue growth demonstrating a stable market and the company expects low single digit growth in 2012.
Biopharmaceuticals products represent the company's largest segment with 75% of the segment directly linking to biotechnology with a substantial portion of that in drug production. Products include filtration and purification devices used in early-stage research through development and drug production. Biologics are relatively difficult to manufacture; therefore, the company has a great opportunity to make the process more efficient and less costly. Pall sees high single-digit growth in this category for 2012; however, backlogs have only just kept pace with revenue growth.
Food and beverage is classified as a life sciences business and sells products used in the production of many liquids such as dairy, spirits and beer. This may be a good place to note that in all of Pall's segments while the products may sound relatively simple, they are usually part of fairly complex machinery which integrates into a broader system. There may be a replaceable filter component, but there is also a machine which represents a capital expenditure. Food and beverage backlogs have risen much quicker than revenue growth which implies sales of more capital equipment and the associated future consumables. The company projects mid-single digit growth in 2012 for the product group.
The first product grouping in the industrial segment is energy and water. This segment is focused on filtration with half of the business being capital based revenues. Backlog at 47% of annual sales has grown a nice bit faster than revenue supporting the company's mid-single digit growth projections for 2012.
Aeropower is product grouping that is somewhat misleading in that a 56% of the revenue is non-aero related with mining equipment and trucks comprising two examples. The aero related revenue has a defense component with products including dust and sand filters for aeromachinery used in harsh environments. Backlogs have risen twice as fast as sales growth and the company projects 2012 growth in the mid- to high-single digits driven by the non-aero side of the group.
The company's last product grouping, microelectronics, has also been its weakest. The company primarily offers filtration products used in the manufacturing process of the electronics industry. Backlogs have slipped in absolute terms year-over-year and relative to revenue. The company projects the product group will be flat to down mid-single digits in 2012.
Invested Capital
As the table below shows, the company's largest portion of invested capital is in fixed assets, research and development and other assets which includes working capital: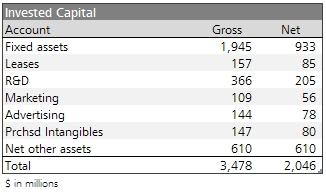 The company's fixed assets are predominantly buildings and manufacturing equipment. Pall operates out of 5.5 million square feet of buildings with 25% of the total being leased and 75% owned outright. Approximately 49% of the company's square footage is located in the Americas, 36% in Europe and 15% in Asia. From an accounting perspective, the company's assets appear to be relatively old although most of their assets are likely long-lived.
Research and development activities are relatively important for the company, especially in the life sciences segment. Pall spent about $87 million on R&D in 2011 up from $54 million in 2006, the beginning of the capitalization period.
A certain portion of assumed marketing and advertising expenses have been capitalized at three and five years respectively, the former estimated as an arbitrary percentage of SG&A and the latter based on industry-level estimates from Schonfeld & Associates.
The last important category of assets for Pall is other assets which is primarily inventories and accounts receivable netted against accounts payable and certain other current liabilities. These assets are part and parcel with most manufacturing businesses where the company has to keep a wide variety of products in stock and ready to ship and offer commercial payment terms to their customers. In order to grow, it is assumed that additional working capital investments would be needed.
Income and Growth Analysis
The following table shows a segmentation of gross income: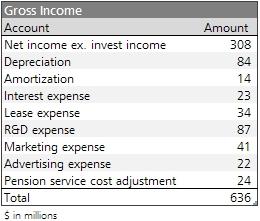 Net income of $308 million excluding investment income conforms to actual adjusted results for fiscal 3Q11 and 4Q11 and First Call estimates for fiscal 1Q12 and 2Q12 with small adjustments made to account for diluted versus basic shares and stock buybacks. A negative adjustment of $27 million was made as well to account for restructuring costs, based on the average of such costs Pall has expensed over the past five years. This compares with 2011 actual restructuring costs of $34 million. It is unclear whether analyst estimates are exclusive of restructuring costs as there is no standard practice here, but they appear to be because the company is guiding 2012 EPS excluding restructuring of $3.07 to $3.32 and First Call estimates are at $3.13. Restructuring is expected to be $0.25 cents a share or $29 million in 2012 per management.
Analyst estimates for 1Q12 appear reasonable at $0.65 cents compared to a relatively clean $0.61 cents in 1Q11; however, 2Q12 estimates of $0.73 compared to 2Q11 reported earnings of $0.64 and core earnings (per S&P's definition) of $0.67 call for a slight re-acceleration in the business.
The majority of the other components of gross income are fairly straightforward with the exception of the relatively large pension adjustment. The company's service cost component of pension expense is much lower than its benefit costs creating a positive adjustment. This is driven by two factors, an amortization of prior actuarial losses and an interest cost that is greater than returns on plan assets. These items are non-operating and are better modeled as a static liability which is done in the financial structure below; however, another accounting feature may be inflating the difference somewhat which is the fact that Pall segregates some $100 million of assets away from the pension plan accounting, for what reason is unclear though possibly due to overfunding of certain plans, but these segregated assets may deflate reported plan returns. In any case, I believe service cost is the best indicator of on-going pension costs and the risk of plan underperformance or underfunding should be considered as a financial structure item.
The figure below shows the inputs for the calculation of the company's returns on capital in IRR terms based on run-rate gross income as defined above: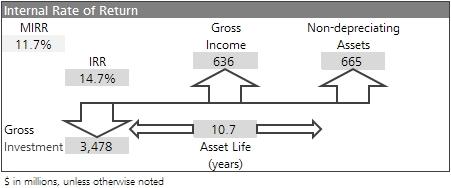 Pall is currently generating an IRR of 14.7% on its investments or about 2.6x the inflation adjusted cost of capital. The modified IRR of 11.7% assumes a reinvestment rate of 52% of gross income to maintain the existing business and 23% of gross income to drive growth. The growth assumption is linked to the market implied level of growth discussed below.
To compare current versus historical profitability and determine the general stability of profit, we can look at a number of financial metrics over time. Returns on assets is a good indicator because it adjusts profitability for the size of the firm. On this measure, Pall's performance has varied from 5.1% in fiscal 2003, increasing to 7.1% in 2004, slowing declining to 4.7% in 2007, before generally rising to 9.8% in 2011. A look at net income over the same period shows three separate instances of declining year over year net income although the overall trend was positive.
Going back even further, a look at the fiscal years 1992-1994, shows that net income declined from $93 million in 1992 to $78 million in 1993 before increasing to $99 million in 1994, representing a 3% compound gain for the period. These facts suggest Pall has a history of varied profitability from year to year although from 1992 to 2011, the company has grown net income at a compound annual rate of 6.5%.
Financial Structure
The table below shows the current financial structure of the company, with the equity trading at $49.28: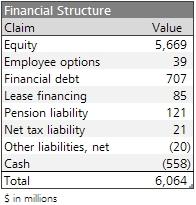 Pall is majority capitalized by equity and carries very little net debt including operating leases. The company has a small pension liability representing about 2% of total firm value. The pension liability presented is the pension benefit obligation (PBO), as calculated by the company, rather the accumulated benefit obligation (ABO) which is amount included on the balance sheet per GAAP. The PBO is a better description of the economic liability in my view, although in this case the difference is immaterial. The pension liability has not been tax adjusted.
Market Implied Income and Growth
Market expectations can ultimately be reduced to a future level of gross income generation given static returns on capital. However, it is more insightful to segment market expectations between the existing level of gross income, which could be referred to as the existing business and a certain growth rate over a series of years. Sometimes that implied growth will be zero and the market will either be implying no growth or a decline in profitability. The following table shows a breakdown of value between current profitability and growth:

In Pall's case, the value of the firm is well above that which is consistent with existing profit; implying some level of future growth. With a firm value of $6.1 billion and the current run-rate gross income as defined above, the company's market valuation is implying about 7% growth for 7 years. The company is expected to grow invested capital as defined in the model at a 7% rate over the next year and as noted earlier the long-term growth rate of the company is about 6.5%. The number of years of growth and the growth rate are in a sense interchangeable, whereas the company could grow for longer at a lesser rate, or for a shorter period of time at a higher rate.
Conclusion
One of the main positives going for Pall is that as a filtration company, it is in a perfect place to benefit from the continued industrialization of the world especially in higher-tech industries where filtration is a necessity. The continued expansion of health care spending, especially on biologics, is another positive for the company because the total usage of such drugs should continue to rise in the future. Pall does however operate in several markets where there is significant variability of demand, namely defense and the mining markets and in other markets with significant competition from strong players such as in the medical product group which included transfusion products. In addition, one of the company's markets, microelectronics, is currently experiencing a decline.
It is certainly possible that Pall achieves the level of growth implied by the market, but the current valuation does not leave much upside for what would be very strong growth performance in today's economic environment. Comparatively, many health care companies, where Pall generates the majority of its profits, trade at valuations implying little to no growth while still having high returns on capital. Pall's stock is certainly not egregiously overvalued and based on recent growth one could make the case that it is fairly valued, but looking at the history of the business there is cause for concern that recent trends may not continue and that the business will need to take a pause for some time after the rapid growth of the last several years – net income at Pall is over 30% higher than just a few year ago. For these reasons I do not believe the stock is attractive at the current price.
Disclosure: I have no positions in any stocks mentioned, and no plans to initiate any positions within the next 72 hours.