Looking for a food play? Corn Products International (CPO) is expected to grow earnings by the double digits for the second year in a row in 2011 despite challenging macroeconomic conditions. Sales rose 60% in the third quarter. This Zacks #1 Rank (strong buy) is also a value, with a forward P/E of just 10.3.
Corn Products is the largest producer of dextrose in the world and manufactures starches, high fructose corn syrups and glucose.
The company provides a variety of ingredients to customers in 60 industries including food, beverages, pharmaceuticals, animal feed, corrugating, paper and textiles in 50 countries around the world.
Corn Products Beat By 9% in the Third Quarter
On Oct 27, Corn Products reported its third quarter results and surprised on the Zacks Consensus for the 3rd time in the last 4 quarters.
Earnings per share were $1.20 compared to the consensus of $1.10. That is a jump of 48% versus last year's 81 cents per share.
Sales jumped to $1.6 billion from $1.02 billion a year ago. Sales were up in all of the company's geographic regions.
Europe, Middle East and Africa led for the quarter with sales jumping 128%. It was helped by the National Starch acquisition.
North America and South America are its 2 largest markets and both saw sales jump 54% and 33%, respectively. Exports to Mexico continue to be strong. South America also continues to have strong food, beverage and brewing demand.
The company has also been able to cover higher input costs by raising prices.
Raised the Lower End of Its Guidance Range
With another strong quarter behind it, Corn Products raised the lower end of its guidance range for 2011 to between $4.62 and $4.72.
It expects sales to exceed $6 billion for the year.
Zacks Consensus Estimates Rise
Analysts liked the bullish outlook. 7 out of 7 estimates for 2011 have risen since the earnings announcement. That has pushed up the Zacks Consensus to $4.69 from $4.51.
That is earnings growth of 45%. The company made just $3.24 in 2010.
The growth is expected to slow in 2012 to just 8.3%. But 7 estimates have also moved higher for 2012 in the last week which has pushed up the Zacks Consensus Estimate to $5.08 from $4.97.
Great Recession Rally Is Over
Shares have been on a tremendous run since 2009. But this summer, the rally pattern finally broke as stocks sold off.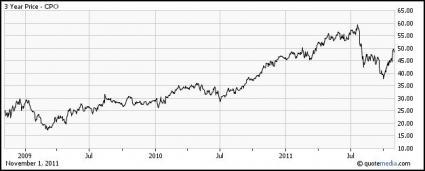 Corn Products remains a value stock however.
In addition to a P/E under 15, which is the cut-off I use for value, it also has a price-to-book ratio of 1.8. A P/B under 3.0 usually indicates value.
It also has a price-to-sales ratio of only 0.6. A P/S under 1.0 usually means a company is undervalued.
Corn Products has growth and exposure to hot emerging market economies. This is one value stock to keep an eye on.
CORN PROD INTL (CPO): Free Stock Analysis Report
Zacks Investment Research