We've been considering adding Amgen (NASDAQ:AMGN) to our Best Ideas portfolio ever since it reported its third-quarter results. We think the firm's shares are worth over $80 each. We show our valuation assumptions and the resulting fair value estimate below: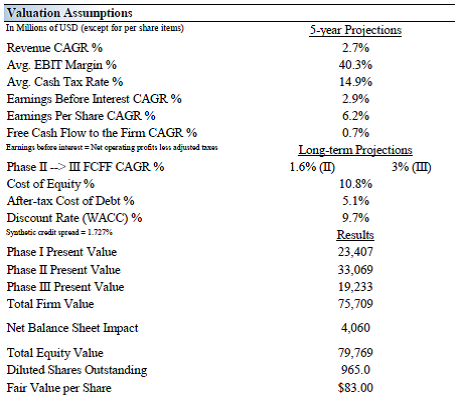 Source: Amgen Company Report, Valuentum Securities, Inc.
In its third quarter, the firm's top line expansion was led by a 9% increase in international product sales. Combined Neulasta and Neupogene sales jumped 6%, while U.S. sales of Xgeva, the firm's new cancer drug, reached $100 million in the quarter following its recent launch. Sales of Sensipar / Mimpara jumped 18%, sales of Vectibix jumped 13%, and sales of Nplate increased 28%.
As for weakness, Epogene was the firm's biggest loser, with sales dropping 27% due primarily to a reduction in unit demand. The firm improved gross margins, but higher R&D and selling and marketing expense limited earnings expansion. Amgen also settled civil and criminal allegations relating to its selling practices and recorded a $780 million charge in the period, which should put some uncertainty behind the firm.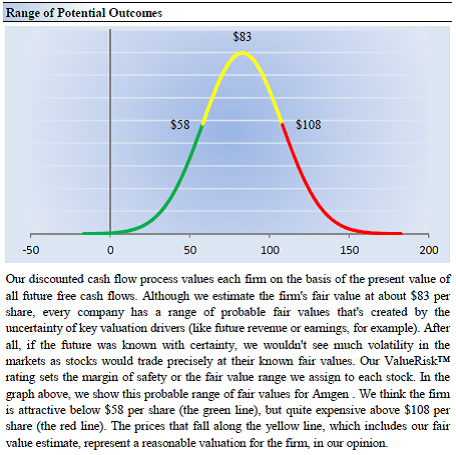 Source: Amgen Company Report; Valuentum Securities, Inc.
We liked the company's outlook. Amgen raised its 2011 guidance for total revenue and adjusted EPS to $15.6 billion (was $15.5 billion) and $5.30 (was $5.20), respectively, on the high end of its provided ranges. The firm continues to support late stage clinical programs including AMG 386 in ovarian cancer, ganitumab (AMG 479) in pancreatic cancer, talimogene laherparepvec—the firm's oncolytic virus therapy--and AMG 145 through research and development expenses, and we continue to monitor developments on this front. Amgen also spoke highly of rilotumumab (AMG 102) in gastric cancer on its conference call, though the antibody remains in Phase II studies. Finally, the firm announced that its share repurchase program now totals $10 billion, something we're in favor of given Amgen's stock undervaluation. We're strongly considering adding Amgen to our best ideas portfolio.
Disclosure: I have no positions in any stocks mentioned, and no plans to initiate any positions within the next 72 hours.