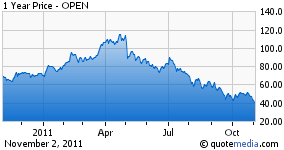 OpenTable's (NASDAQ:OPEN) earnings are much worse than reported by the media. Before I get to that, I should point out that I have been shorting OpenTable since May of this year. My entry point was an average of 110, a few days before the first quarter earnings, so the stock has rewarded me nicely. With the stock closing yesterday at 36.38 after hours, you might want to ask: Has it not been enough now? My answer to that is: No, I expect still more downside ahead.
Last week, on October 26, I predicted the following on the Yahoo message board:
10/26 It is really not difficult to predict a sell-off next week.
OpenTable still has a bubble valuation at 9 times the revenues. Fair value is under half of that.
And even then, it is still overvalued for a company that does not grow its revenues.
Look at the last 2 quarters:
You see, from 33,71 M to 34.29 M that is no growth! Growth has come to a standstill.
Add to this that the 3rd quarter (the summer period) is traditionally the weakest period for restaurants and the odds are that OpenTable will report its first decline in revenues next week.
There is also nothing to be positive about for the longer term, because pricing pressure and competition is mounting.
Therefore it is a rather safe to bet on a massive sell-off on next week's earnings. It could be as high as 50% in just a few days.
The market makers may try to push it up a little further in the remaining days, but I believe that even that will fail. There is too much smart money that knows this valuation has no fundament.
You think 48.50 is a bargain? You want to buy here?
Then wait another week!
OpenTable will be below 40 in a week from now. It was already a few weeks ago. Tell me I was wrong then. Smear it into my face!
1/11 (before earnings report) : Since I wrote this the stock has already lost 7 dollars, more than 10%. I believe tonight and tomorrow another 20% will be shaved off. It would be a very great surprise to me if OPEN reports revenues over 35 Million. I believe it will be under 34 million. And that should be received as a disastrous miss.
Hence, I was wrong about the revenue decline. The revenue of 34.4 M was a nick higher than the 34.29 M of the previous quarter. Basically the same revenue, which amounts to the confirmation there is no growth. For a so called "growth stock" this is justifiably received as a huge revenue miss. Thus the sell-off. However, EPS are even much worse than portrayed by the company and the media, which quite, frankly, irritates me. It is the same issue that I keep emphasizing in my previous article on Salesforce.com (NYSE:CRM) . Non GAAP earnings are replaced by GAAP earnings to falsely imply that earnings are not a miss, but "in line", while in fact they are a huge miss.
The headline from AP is for example: OpenTable 3Q profit in line; sales miss Street. The headline from Forbes: OpenTable Off; Q3 Revs Miss, EPS In Line; Sees Tough Q4. EPS in line? Nothing could be farther from the truth. Let's see how the company reported it:
OpenTable reported consolidated net revenues for Q3 2011 of$34.4 million, a 40% increase over Q3 2010. Consolidated net income for Q3 2011 was $4.1 million, or $0.17 per diluted share. Non-GAAP consolidated net income for Q3 2011, which excludes tax-affected stock-based compensation expense and tax-affected amortization of acquired intangibles, was $7.4 million, or $0.30 per diluted share.
First note that OpenTable reports only growth percentages on a year on year basis, this quarter compared with the same quarter a year ago, which may seem quite impressive on the surface. Had they reported on a sequential basis, quarter on quarter, it is evident that revenue has stayed the same over the last three quarters and that profits are declining. OpenTable is clearly disguising that evidence in my view to make the story rosier than it is. But it goes a step further than putting lipstick on a pig. Let me explain:
Actual EPS was just $ 0.17, but OpenTable now also reports, for the first time, NON GAAP EPS, which is $ 0.30, allowing them to imply that EPS was "in line" with the estimated EPS of $ 0.30. And to my astonishment the media take this over. It is a LIE!
You see, the point is: That estimate was not a NON GAAP estimate, but a GAAP estimate! So the earnings are a huge miss by no less than 13 cents! Compared to the previous quarter earnings of 27 cents, GAAP earnings were almost cut in half.
Let us imagine that OpenTable would manage to keep that 17 cents EPS for the next 3 quarters, which would amount to an annual EPS of 4 x 17 = 68 cents. That is less than the 80 cents still listed now. Hence, not only revenue growth has come to a halt, also profitability is deteriorating fast.
I believe OpenTable could near zero in the next 12 to 24 months. Let's face it: They are not growing anymore, profits are sliced in half, and the (free bookings) competition is closing in.
At a stock price of 25 it would still be worth 5 times the non growing sales. Still very lofty for a stock that does not grow. However you slice it, OpenTable remains a bubble at these levels.