Investors frustrated with stock-market volatility continue to pile into the safety of bond funds. However, they may be better off just purchasing a low-cost bond exchange traded fund tracking an index, because active managers are reportedly underperforming the fixed-income benchmarks.
According to Morningstar, around 98% of intermediate government bond funds, intermediate-term bond funds and multi-sector funds are trailing their benchmarks so far this year, reports Sarah Morgan for Smart Money. The majority of long-term, short-term and inflation-protected bond funds are lagging, as well.
In total, the six fund types make up 54% of the $2.7 trillion bond fund market.
While analysts point to the fact that many actively managed funds are outperforming equity funds, bond-fund managers have mostly been trailing their benchmarks, especially in recent months.
"Bond managers have bet wrong on what will do well," Eric Thorne, an investment adviser with Bryn Mawr Trust Company, said in the article.
Advisors, though, believe that bond investors may have been better off in an index fund. Mickey Cargile, managing partner for WNB Private Client Services, has moved assets into bond index funds.

"This is the first time in my 30 years' experience that I've seen managers make bets like that with their funds," Cargile said.
Bill Gross at PIMCO Total Return Fund has had some ill-timed trades on Treasuries this year.
Mutual funds added $108 billion to taxable bond funds year-to-date while $63 billion was pulled out of equity funds.
Vanguard Total Bond Market ETF (NYSEARCA:BND)
click to enlarge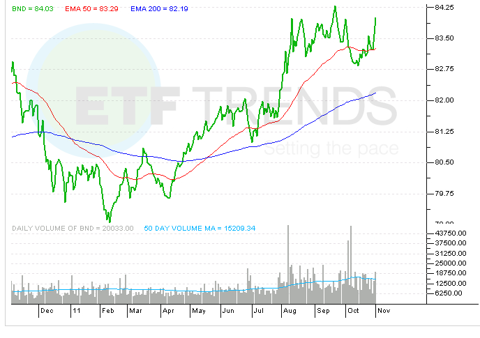 Click to enlarge
Max Chen contributed to this article.
Disclosure: None