Companhia de Saneamento Basico do Estado de Sao Paulo (NYSE:SBS) provides water and sewage services to residential, commercial, industrial, and governmental customers in the 364 municipalities in the State of São Paulo.
As of June 30, 2011, the company provided water to 23.8 million people and sewage services to 20.2 million people. Additionally it sold wholesale treated water to 7 municipalities (3.6 million people). Those numbers make it one of the largest water and sewage service providers worldwide.
In addition to water and sewage services in the state of São Paulo, SBS is licensed to operate in other states and countries and provide services of drainage, urban cleaning, solid waste management and energy.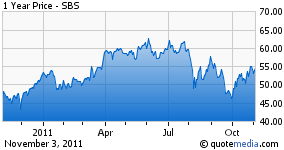 Since 2002, SBS shares are traded on the São Paulo and New York Stock Exchanges. Currently 50.3% of the company is owned by São Paulo state government.
The company acts as a low risk natural monopoly. Most of its contracts are long term, and the company expects to renew all those that expire.
SBS invests substantial amounts of cash in order to improve and expand its services, minimize water loss and improve its efficiency. During 2009-2013 it expects to invest a total of approximately $4.9 billion, of which 46.5% is expected to be financed by the company's strong free cash flow. 86% of the rest of that amount is already secured leaving a relatively small amount to finance.
Between 2006 and 2010 SBS has increased its revenues by 67% to $5.23 billion, almost doubled the dividend while keeping the payout ratio low (28% in 2010). As of June 30, 2011 SBS has 1.9 debt to EBITDA ratio and 0.7 debt to shareholder's equity ratio.
In the first half of 2011 SBS had net revenues of $2.6 billion, up 4.5% from 2010, and EBITDA of $815 million, down 10.1% from 2010. Net income was $378 million, up 7.1% from 2010 while Cash flow from operations was $750 million, up 19% from 2010. Net debt as of June 30, 2011 was $3.3 billion.
These numbers demonstrate the expansion in customer base over the years, which is expected to continue in future years, as well as management's decisions to invest in line with free cash flow growth.
Some Metrics of the company as of November 2nd (according to Yahoo Finance):
Market Cap: 6.15B

Price to Book: 0.98

PEG: 1.24

Forward P/E: 8.23

Dividend Yield: 4.7%

Dividend Payout Ratio: 28%

SBS may benefit in the next few years from the following catalysts:
Brazil is expected to host the 2016 Olympic games as well as the FIFA 2014 soccer world cup. São Paulo will even host FIFA's opening game. Countries that host these games invest huge amounts of cash in infrastructure and SBS is in the right territory (São Paulo) and in the right industry to benefit from that.

Management expects water and sewage connections to increase until 2019 by approximately the same pace as the last few years to match organic growth.

While expanding its customer's base in the current territories, it faces no real competition.

SBS enjoys a strong and continuous cash flow which is expected to continue and grow further.

SBS maintains its debt at sustainable levels in light of its cash flow and growth plans.

Most of the required loans for the next few years have already been secured.

SBS yielded 4.7% in 2010, it has almost doubled the dividend per share since 2007.

SBS aims at increased efficiency via cost control and water loss reduction programs.
Conclusion:
According to past years' numbers and future management expectations and behavior, SBS combines value with growth. It operates in what is and will be one of the best geographical territories and industries to act. It will grow there as a natural monopoly and will enjoy the positive factors mentioned above.
SBS seems undervalued based on its strong cash flow, low P/E, PEG and P/B. Debt levels also seem to be under control. Unless we experience another general market drop, $70 per share does not seem too high.
Other players in the industry, although not in the same geographical territory include: Veolia Environment S.A. (VE), American Water Works Company, Inc. (NYSE:AWK), Aqua America Inc. (NYSE:WTR) and California Water Service Group (NYSE:CWT). Based on metrics and fundamentals, however, I prefer SBS.
Disclosure: I have no positions in any stocks mentioned, but may initiate a long position in SBS over the next 72 hours.