Actionable Items (Contrarian Category): Templeton Emerging Markets Fund (NYSE:EMF) and AGIC Equity & Convertible Income Fund (NYSE:NIE).
Equity Funds Surge in October: The superior price performance of the equity markets in the month of October, as measured by S&P 500, was duly reflected in the out-performance of the equity components of the CEF stock market sector. The S&P 500 surged 10.7% during October wiping-out most of its previous year-to-date (YTD) losses realized through the end of September.
In the chart below, the "blue" bars reflect through October the YTD share price performance of the fund types' with the fixed-income CEFs performing better than its equity counterparts.
The "red" bars reflect the October monthly share price performance of the CEF fund types. There was a clear bias for equity-oriented CEFs. GenEqFnds, WrldEqFnds and SpecEqFnds were clear winners during the month of October in contrast with their YTD Performance.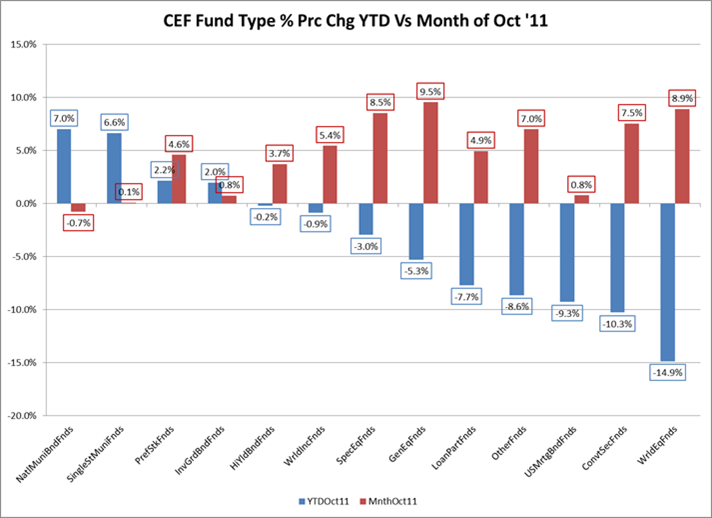 Click to enlarge
(Click to enlarge)
Performance: Given the diversification of debt and equity investment options within the CEF market segment, the average performance of the CEF fund types YTD until the end of September was -4.7% versus -10.0% for the S&P 500. However, the surge in equities reduced the October YTD price change in the S&P 500 to -0.3% versus the CEF market sector -1.2%.
Dividends Still Count: Taking into consideration the average annualized distribution of the CEF market segment of 7.1%, versus -1.2% price change YTD for October, CEF investors' total annualized return was 5.9% versus a comparable return of 1.8% for the S&P 500 (-0.3% capital appreciation and 2.1% S&P 500 annualized yield). So, on a total return basis, owning a diversified portfolio, i.e., Eqcome CEFBig10 Portfolio, was a better total return than the S&P 500 with much less volatility.
Will Sectors Rotate? In our article, "What Color is Your CEF" (8/15/11), we demonstrated that there is a rotational aspect to the CEF sectors where lagging sectors have a tendency to outperform in subsequent years. Currently WrldEqFnds and ConvtSecFnds are lagging this year. If the stock market advances next year — and that's a big "if", then we can expect these two sectors to outperform — particularly as they've demonstrated that ability to do so in the heady month of October.
Wheelhouse: As we've noted before, we like Templeton Emerging Markets Fund as a WrldEqFnds' pick and AGIC Equity & Convertible in the convertible category. Again, these are contrarian investment picks and carry a high degree of market risk as they will underperform in a tepid to souring equity markets' environment.
Consult your financial advisor prior to making any investment selection to confirm the appropriateness of such investments for your personal financial situation.
Disclosure: I am long EMF, NIE. Also have positions in Eqcome CEFBig10 and Eqcome CEFMuni10