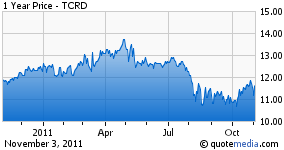 On November 1st 2011, one of the newer BDCs ("Business Development Companies") THL Credit (NASDAQ:TCRD) announced third quarter 2011 earnings. The brief summary of the press release is that Net Investment Income Per Share was $0.29, which was $0.03 over the average estimate of the 5 analysts who cover the stock. Net Asset Value was $13.17, ever so marginally higher than the $13.15 recorded a quarter earlier. Also worth noting in the laundry list of data in the press release is that TCRD continues to have no debt, a $125mn undrawn Revolver (which is the next source of liquidity now the cash generated from their IPO is fully used up) and no bad debts. The analyst consensus is for 2012 Net Investment Income Per Share of $1.34, which represents a 16% increase over the IIIQ 2011 running rate.
The BDC Reporter's Two Cents: We reviewed the TCRD press release, read the latest 10-Q and listened to the Conference Call at the crack of dawn, and came away satisfied with everything we heard. Like the old Holiday Inn commercial (am I dating myself ?) the best surprise is no surprise, and that's the best way to characterize TCRD's performance in the last quarter and in its history to date.
ACTIVITY
The company added 3 new investments during the period, and received 1 repayment. The latter is unusual only because TCRD has a relatively short history and the two dozen companies in portfolio have not been on the books for long. The good news from the singular repayment (due to an acquisition) was a pre-payment fee, which boosted earnings slightly.
The company currently has an investment portfolio valued at fair market value of $262mn. Management has been able to maintain the near 15.0% aggregate yield through the recent period of portfolio expansion, and managed to assemble an interesting portfolio of companies in a variety of industries and using different forms of debt capital: including senior debt, traditional mezzanine financing and, the current favorite ,"unitranche debt", also called one stop debt shopping. Unlike many other BDCs, TCRD lends to both companies owned by an equity sponsor as well as lending directly to non-sponsored private companies.
REVIEWING CREDIT
Credit is Job 1 at every BDC and, for the moment, TCRD is performing very well. There are no non-performing loans, or even any investments in the lowest 2 categories of TCRD's internal rating system (Grade 3 and Grade 4). A 3 Rating, for example, is invoked when a portfolio company is "performing materially below plan, but is in compliance with financial covenants." The worst that can be said is that $39.2mn of investment assets, or 15% are in the Grade 2 category, which means "performance is below plan" but is expected to improve. We like to use BDCs internal rating systems as an early warning signal of troubles ahead (a lesson learned in 2007-2008), and we've been more alert to watching for deterioration in internal metrics in the last few months, but the evidence in the 10-Q does not raise any special concerns.
TRAWLING THROUGH THE 10-Q
We also review the marks on each portfolio company in the 10-Q, comparing cost to fair market value. Again, TCRD, which just had the portfolio independently reviewed, fared well. We only noted one portfolio company (C&K Market) which we would add to our own Watch List. There, the equity warrants which cost $349,000 were valued at $87,250. Nine months ago the C&K warrants were valued at cost. Of course it's not the warrants that matter, but the fact that TCRD has a $12.7mn Senior Subordinated Note to C&K. That Note is carried at cost, suggesting that any deterioration in financial performance is still de minimis.
We also took comfort from comments made on the Conference Call about what management is hearing from the portfolio companies. Like most BDCs, TCRD receives and reviews monthly reports, which gives them and us an almost real time insight into what's happening in the outside world of "Main Street." The headline here is that the portfolio companies appear not to be worried about a double dip recession, many have de-leveraged in recent quarters and/or are sitting on cash reserves, and are mildly optimistic about their prospects for 2012. We were also reassured by TCRD's statement that the average debt to EBITDA multiple (through TCRD's debt) on the company's portfolio is 3.1x. That's a modest debt burden by historic standards.
LOOKING FORWARD
The fourth quarter of 2011 will be the first time TCRD will be out of cash to deploy into new investments. The proceeds from the IPO have been spent and now it's time for TCRD to draw on the company's $125mn Revolver with ING, the Dutch banking giant. Given the higher risk type of lending TCRD is involved in, the borrowing base and terms of the Revolver are complex and opaque to shareholders. The 10-Q did not tell us what the nominal availability is under the Revolver based upon the 24 companies already available as security for the lender. On the conference call, management indicated in response to a question, that they are targeting drawing only half the total line or just over $60mn to fund new deals. That would keep TCRD's asset coverage (assets to debt) at a very healthy 500% +, but still allow for a 50% increase in portfolio size over September's level. Certainly management is confirming that the pipeline of new deals is healthy, despite the current environment and notwithstanding a tepid M&A market. This suggests that it may take TCRD only a couple of quarters to use up its available liquidity. $60mn in spending power is only about 5 new deals at the average size deal the company has been booking.
TCRD TO RAISE MORE EQUITY?
We expect to see TCRD coming back to the market for additional equity in the next few weeks, assuming conditions are not too horrific. The company has the authority from its shareholders to raise equity below Net Asset Value. That waiver of the BDC rules is going to be important because the company is trading at a 10% plus discount to the net asset value as of September. We're a big supporter of add-on equity raises when a company can prove that their formula for investing is working. TCRD is clearly in that category at this stage and additional capital will allow for a more diversified portfolio, will spread operating costs over a bigger base and adds to the stock's liquidity. Still, TCRD has a ways to go before reaching the half a billion dollar mark of investment assets, but could be there by 2013. A lot can happen in that time but TCRD is on its way.
WILD CARD
We'd be remiss if we didn't mention TCRD's application for an SBIC license. The application has been green lighted, but the company is months away from being able to be certain about accessing SBIC monies. Adding to the uncertainty is the SBIC's recent "just say no" approach to a number of requests from BDCs and other supplicants to a request for a license. Still, there's much to play for: $150mn of long term capital at a rate under 5.0%, and the ability to exclude SBIC assets from the 200% BDC coverage requirement. If you add the $75mn TCRD would have to contribute to get an SBIC fully funded, that would be $225mn in SBIC-related assets. Or put another way, should the SBIC wild card come into play TCRD's assets could reach nearly $500mn with a mixture of SBIC and non-SBIC investments. We're still not fully convinced that the type of loans that meet SBIC requirements match up with the financings that TCRD has been booking. This might mean management will have to find new deal sources, and adjust its investment criteria to meet SBIC realities. Still, the positives of an SBIC license will probably outweigh any disadvantages and could add materially to TCRD's earnings and value if and when consummated.
Disclosure: I am long TCRD.