By Brendan Gilmartin
Overview
Priceline.com (NASDAQ:PCLN) is scheduled to report 3Q 2011 earnings after the close of trading on Monday, November 7, with a conference call to follow at 4:30 p.m. EST. Priceline shares recently touched the highest levels since the tech bubble back in 2000 and will likely see volatile action when it delivers results for the recent quarter.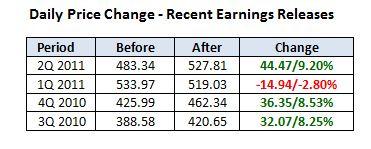 Outliers & Strategy
Key measures for Priceline:
Non-GAAP Earnings Per Share (EPS): Priceline previously reported both a GAAP and Pro Forma EPS figure. More recently, the company changed to Non-GAAP Earnings Per Share.
Revenues: See comments below regarding revenue guidance. Estimates are at the high end of the company's range.
Adjusted Earnings Per Share Guidance (4Q 2011): The forward outlook is critical for Priceline.
Given the recent run-up in Priceline shares, look for Non-GAAP EPS and revenues to come in toward the high end of forecasts. Also note that guidance typically drives the price action in the shares after the results are released.
In its prior release, Priceline indicated it expects 3Q 2011 revenue increasing 37% to 42% year over year ($1.002 bln). That would equate to about $1.372 bln to $1.423 bln. The estimate is $1.42 bln. (Source: Yahoo! Finance)
Priceline also indicated it sees pro forma net income in the range of $9.10 to $9.30 per share. The current consensus is at the high end of that range at $9.30 (high estimate on the Street is $9.62). The consensus for next quarter is Non-GAAP EPS of $5.13 on revenue of $993.5 mln.
Over the previous four quarters, Non-GAAP EPS topped analyst estimates by an average margin of about 9.3%.
Priceline is benefiting primarily from overseas growth. Last quarter, international operations contributed 55% of total revenues and represented a 90% increase from the year-ago period.
Recent News
10/12: According to Benzinga.com, Jefferies & Co. initiated coverage on Priceline.com with a Buy rating, based on growth momentum and execution, international exposure, margin expansion, and valuation.
10/03: Morgan Stanley upgraded Priceline.com from Equal-Weigh to Overweight with a price target of $650, according to Benzinga.com. The firm stated investors may be underestimating the growth potential of Booking.com in Europe and Asia, due to the recent macro concerns, while relative valuation looks attractive.
Technical Review
Despite the positive sentiment surrounding Priceline.com, the shares are struggling to hold the 200-Day SMA near $495, as momentum fades heading into the 3Q 2011 earnings release. Relative Strength is pointed lower, and the MACD is threatening to cross below the signal line. In the event of a weak report, the 200-Day SMA near $495 is the initial support, followed by $490 – a level going back to May, 2010, and the recent low near $480 (10/26). Resistance is at the 50-Day SMA (just above $500), followed by the $5.20 area. (Chart courtesy of StockCharts.com)
Summary
Priceline.com is well off the September highs near $550 due to concerns over macro headwinds in key growth markets across Europe and Asia, along with growing competition. Some on Wall Street, however, believe those fears are overblown. At a mere 17x forward earnings and a FWD PEG ratio of just 0.76, the shares are trading at a discount to the estimated 5-year growth rate of 25%, while revenues are seen climbing 40% headed into 2012. Nonetheless, analyst consensus estimates are at or above the Non-GAAP EPS and Revenue ranges the company provided back in August, implying the that underlying expectations are for a strong quarter and upbeat outlook headed into the end of 2011.
DISCLAIMER: By using this report, you acknowledge that Selerity, Inc. is in no way liable for losses or gains arising out of commentary, analysis, and or data in this report. Your investment decisions and recommendations are made entirely at your discretion. Selerity does not own securities in companies that they write about, is not an investment adviser, and the content contained herein is not an endorsement to buy or sell any securities. No content published as part of this report constitutes a recommendation that any particular investment, security, portfolio of securities, transaction or investment strategy is suitable for any specific person.
Disclosure: I have no positions in any stocks mentioned, and no plans to initiate any positions within the next 72 hours.