Salesforce.com (NYSE:CRM) has been a great performing stock for the last three years. After bottoming out at $22.32 in November 2008, in the midst of the financial crisis, it has traded as high as $160 just this past July and now trades at around $130 per share. Despite its terrific "cloud" business in client relationship management software and strong sales growth, the amount left over for shareholders has been unimpressive at best. For the trailing 12 months, its GAAP earnings per share are only $0.21. Yes, the company can argue that it is focusing on the long term and reinvesting for growth. However, at a market cap and enterprise value of approximately $17.6 billion, this stock certainly looks like many of the high-fliers of recent history that cannot possibly grow into its valuation.

The question that should be asked is: How can an investor get a handle on its valuation? Unfortunately, when you compare one high flier to another, you really get no indication of true intrinsic value as irrational exuberance may have infected the entire space. Look no further than the dot-com bubble of the 1990s for unlimited examples of this phenomenon.
However, when seeking to evaluate CRM for signs of irrational exuberance, Oracle (NASDAQ:ORCL) has provided investors with a solid benchmark. With its pending $43 per share takeover of Rightnow Technologies Inc. (NASDAQ:RNOW), a smaller yet direct competitor of CRM, we now have a recent arm's length transaction that is extremely relevant to the valuation accorded to CRM by the market.
Recently, I shared an interesting table that put another pair of company valuations in sharp perspective when I compared LinkedIn (NYSE:LNKD) to Google (NASDAQ:GOOG) to illustrate the insanity inherent in the valuation of LNKD. In the case of CRM, RNOW provides the perfect company that CRM should be evaluated against as RNOW's valuation has been verified by a third party with cold, hard cash. You can't get a better indication of valuation than cash!
The following table provides the side-by-side comparison of CRM and RNOW. The last two columns of the table are the most interesting, as they take the side-by-side comparison of the first two columns one step further by calculating the share price of CRM using RNOW's respective metrics, and by calculating the share price of RNOW using CRM's respective metrics. The numbers are rather revealing, and illustrate the overvaluation of CRM shares at current levels: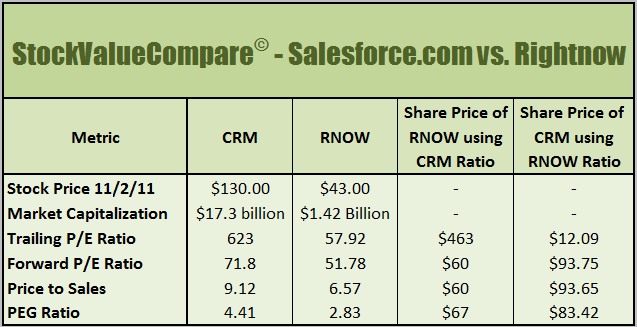 Click to enlarge
Furthermore, Oracle's acquisition of RNOW makes it a much stronger competitor to CRM by adding Oracle's huge sales force and existing customer database to a good product. Salesforce.com is now in the crosshairs of behemoth Oracle. So aside from an out of whack valuation, SaleForce.com must now face a much tougher competitor. Investors may want to get their heads out of the cloud, and look at CRM a bit more critically and realistically.
Disclosure: I am short CRM.
Disclaimer: These are the personal views of Wall Street Titan. Investors should always do their own due diligence.