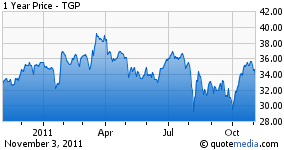 After announcing a share offering after the closing bell yesterday, shares of Teekay LNG Partners (NYSE:TGP) were falling about 4%. The partnership, which was formed by TK Corp. (NYSE:TK), is selling 5,500,000 common units priced at $33.40, with an overallotment option for another 825,000 units. The funds raised will be used, in part, to help fund the purchase of eight LNG carries from A.P. Moller-Maersk. The rest of the funds raised will be used to repay outstanding debt.
Teekay LNG owns and operates LNG carriers, LPG carriers and oil tankers, as well as Floating Storage Regasification Units. The partnership focuses on signing long term charters, often for a decade or more, to avoid the volatility of the spot market and lock in favorable rates of returns. However, as global demand for LNG has increased, LNG spot charter rates have been marching higher. Rates were approaching $100,000/day in August, the date of the last Teekay LNG presentation, up from about $35,000/day a year earlier. This should ensure that Teekay LNG can lock in higher rate charters as it commissions new shipbuildings, although given Teekay LNG's long term charters it will be years before TGP can fully take advantage of the higher rates.
After originally spiking after the Japanese earthquake, TGP units are down about 13% on the year, even as LNG shipping demand has been increasing. As more projects are completed to allow for the export of natural gas from both North America and Australia, demand for LNG carriers is sure to see a dramatic increase. However, it will be a few more years before North American export terminals are up and running. Firms like Cheniere Energy Partners (NYSEMKT:CQP) do not expect exports to begin until early 2015, and KITIMAT LNG, a partnership between Apache Corp (NYSE:APA), Encana Corp (NYSE:ECA) and EOG Corp (NYSE:EOG), expects initial shipments to begin by the end of 2015.
Fortunately for investors in Teekay LNG, the partnership sports a 7% yield, allowing investors to get paid as they wait for new export terminals to open in North America, as well as for Teekay to be able to renegotiate their long term charters. Additionally, Teekay LNG has been a consolidator of the industry, and will continue to do so, adding new ships at attractive prices that should grow distributable cash flow. As proof of management's ability to create attractive shareholder returns, quarterly distributions have increased 36% since February 2007, and were not cut during the financial crisis. Investors looking to get in early on the global trade in LNG, while getting paid to wait for the growth to kick into high gear, should take a look at Teekay LNG Partners.
Disclosure: I have no positions in any stocks mentioned, but may initiate a long position in TGP over the next 72 hours.