BP p.l.c. (BP) is one of the world's leading international oil and gas companies, providing its customers with fuel for transportation, energy for heat and light, retail services and petrochemicals products. It is an iconic brand with operations spanning 29 countries, incorporating 16 refineries and 22,100 retail sites, and employing approximately 80,000 personnel worldwide. It has reserves of approximately 18,000 million barrels of oil equivalent and refines approximately 2,400 thousand barrels per day.
While a well known petro-chemical brand, its media presence and company profile has been tarnished significantly within America by the Deepwater Horizon oil rig explosion on April 20, 2010, in the Gulf of Mexico. This disaster lingered painfully; lasting 87 days before the well was closed and sealed. But that was then, and now BP is focused on both the restoration of the Gulf of Mexico, as well as the future potential of the company as a global leader in petro-chemicals and energy production. The track of the company's share price over the previous three years is shown below, as well as trading volume for the corresponding period.
BP 3-Year Performance by Share Price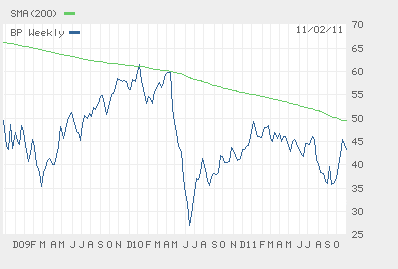 BP 3-Year Trading by Volume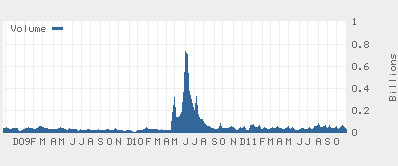 BP is currently trading at $43.41 per share (closing price 2 November, 2011), with a 52-week range of $49.50 and a low of $33.62. It has EPS of 7.32, P/E of 5.90, and a Dividend Rate of 1.68 representing a yield of 3.87. Market Cap is currently valued around 137 billion. The stock though is currently bucking the trend, following a consistent price breakout from early October moving from approximately $35.00 per share to a high of approximately $45.00 per share, with a slight kick back to $42.50 per share before trending up again. This consistent up trend is notable as it demonstrates the share price is not following the current whip-saw movement of the price in line with the majority of stocks. The track of the company's share price over the previous three months is shown below, as well as trading volume for the corresponding period.
BP 3-Month Performance by Share Price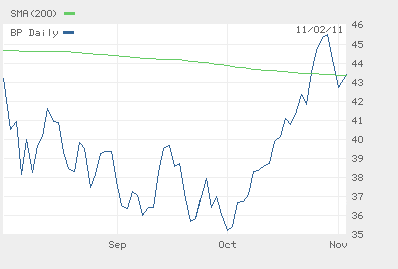 BP 3-Month Trading by Volume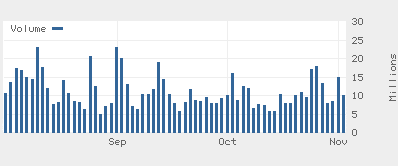 What will be interesting to monitor is whether the price movement can be sustained and the stock break past its long-term resistance level of $50.00 per share (resistance trend line indicates this level following tops in mid 2008, early 2010, and mid 2010). BP's work at resolving the longer term restoration issues stemming from the Deepwater Horizon disaster is well in motion, and its exposure to approximately $20 billion worth of damages and restoration has already been priced into the market and the company. In terms of future growth of the company, it continues with its exploration program to build on its current raw material reserves and in developing other programs to diversify its revenue streams further into other energy fields .
As an aside, I first saw the value in Seeking Alpha's contributor recommendations following the Deepwater Horizon disaster. I don't recall who the author was, but he was a relatively lone beacon screaming buy (based on fundamental analysis) when the stock had pretty much bottomed. It was a stark contrast to the mainstream media financial commentators. Current pricing still makes BP a suitable buy stock for investors looking for discounted entry prices into long positions (twelve months to three years). It may also be suitable as a short- to medium-term play for those waiting to see if BP can break through its current historical upper resistance level, if it can break $50.00 per share. The consistent uptrend through October should not be seen as a missed opportunity, but rather as confirmation that intrinsic value exists in the stock when you consider its fundamentals.
Disclosure: I have no positions in any stocks mentioned, and no plans to initiate any positions within the next 72 hours.