Offshore drilling giant Transocean Ltd. (NYSE:RIG) reported weak third quarter 2011 results, hurt by the decline in utilization rates and high operating costs even as rig rates rose.
See the Full RIG Earnings Call Transcript
Earnings per share, excluding expenses associated with the Macondo well incident, gains from asset sales, Aker Drilling acquisition costs and other minor items, came in at 5 cents, well short of the Zacks Consensus Estimate of 75 cents and significantly behind the year-ago adjusted profit of $1.36.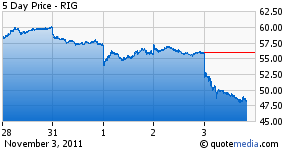 Revenue
Total quarterly revenue of $2,242.0 million missed the Zacks Consensus Estimate by 4.5% and was down 1.7% year over year, mainly attributable to a reduction in contract drilling sales, partially offset by contributions from newly constructed rigs and additional drilling management services activity.
Transocean's high-spec floaters contributed approximately 63% to total revenue, while mid-water floaters and jack-up rigs accounted for 16% and 13% of the total, respectively. The remaining revenue came from other rig activities, integrated services, and others.
Operating Statistics
During the quarter, the company's operating income totaled $268 million, down 57.7% year over year. Operating and maintenance expenses were $1,540.0 million, 28.1% higher than the third quarter of 2010, primarily reflecting increased rig-related maintenance, repair and equipment certification costs.
Dayrates & Utilization
Average dayrates decreased 7.0% from the June quarter to $290,200, as mid-water floater dayrates lost 13.7% and standard jackup dayrates were down 10.1%, partially offset by a 4.8% improvement in high-spec jackup dayrates.
Compared with the third quarter of 2010, dayrates rose 6.8% (from $271,700 to $290,200), favorably impacted by an 18.6% rise in high-spec floater dayrates, offset to some extent by 12.5% lower dayrates among mid-water floaters.
Overall fleet utilization was 58% during the quarter, up from the prior quarter level of 55% but down from third quarter 2010 utilization rate of 64%.
Capital Expenditure & Balance Sheet
Capital expenditures during the quarter totaled $137 million versus $300 million in the prior-year quarter, with the change primarily related to the timing of shipyard milestone payments associated with the construction of new rigs.
As of September 30, 2011, Transocean had cash/cash equivalents of $3,286.0 million and long-term debt of approximately $8,402.0 million (representing a debt-to-capitalization ratio at approximately 28.8%).
Our Recommendation
Transocean, which competes with Diamond Offshore (NYSE:DO) and Noble Corp (NYSE:NE), currently retains a Zacks #3 Rank, translating into a short-term Hold rating. We are also maintaining our long-term Neutral recommendation on the stock.
With its technologically advanced and versatile offshore drilling fleet, strong backlog and considerable pricing power, the company offers an unmatched level of earnings and cash flow visibility.
However, the Deepwater Horizon incident is bound to create some overhang on Transocean because of its direct involvement and the ensuing uncertainty regarding its potential liability exposure.
The high out-of-service time, together with the expected rise in net debt/reduction of liquidity associated with the planned Aker acquisition, are also near-term setbacks, in our view. Consequently, we believe that Transocean's current valuation adequately reflects its fairly balanced risk/reward profile.
DIAMOND OFFSHOR (DO): Free Stock Analysis Report
NOBLE CORP (NE): Free Stock Analysis Report
TRANSOCEAN LTD (RIG): Free Stock Analysis Report
Zacks Investment Research