Coal miner Walter Energy Inc. (NYSE:WLT) came up with third quarter 2011 operating earnings of $1.21 per share, a 10-cent hike over the Zacks Consensus Estimate of $1.11. However, earnings per share were substantially below the year-ago earnings of $2.55.
The miss compared with last year was mainly due to the impact of the acquisition of Western Coal Corp., which was completed on April 1, 2011.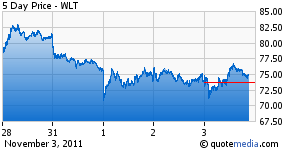 Operating Results
Walter Energy's total revenue of $690.1 million in the third quarter increased 48.6% from $464.3 million in third quarter 2010. The results benefited from the addition of Western Coal business and higher average pricing during the quarter, partially offset by lower-than expected Canadian volumes.
Third quarter revenue comprised $467.1 million from the U.S. segment, $222.7 million from the Canada and U.K. segment, and $0.3 million from the Corporate and Other segment.
During the quarter, Walter Energy's metallurgical coal sales reached 2.2 million metric tons, while total metallurgical coal production was 2.3 million metric tons. Third quarter metallurgical coal production consisted of 1.7 million tons of hard coking coal and 0.6 million metric tons of low-vol PCI. In addition, the company produced 1.4 million metric tons of thermal coal during the third quarter 2011.
The consolidated average cash cost per ton was $132.14 for hard coking coal, $143.42 for low-vol PCI, and $63.58 for thermal. This compares with the average cash cost per ton of $83.13 for hard coking coal and $68.04 for thermal coal in the third quarter of 2010. Year-ago comparison for low-vol PCI is unavailable as this product was added to the company's portfolio in second quarter 2011.
On a consolidated basis, cash margins per metric ton were $131 in the third quarter for hard coking coal, $66 per metric ton for PCI, and $8 per metric ton for thermal.
Third quarter operating profits at Walter Energy totaled $148.7 million, registering a dip of 28.4% from last year, impacted mainly by higher production costs per ton. On a segmental basis, the company recorded operating income of $112.9 million from the U.S. segment, $50.2 million from the Canada and U.K. segment, and $14.4 million in operating losses from the Corporate and Other segment.
EBITDA for the quarter was $198.6 million, down 15% from the third quarter 2010.
Financial Update
As of September 30, 2011, Walter Energy had a liquidity of about $489.6 million, including $185.1 million in cash, cash equivalents and marketable securities and about $304.5 million under its credit facility. The company had a long-term debt of $2,327.3 million as of the quarter-end. The company prepaid $50 million of term debt on October 31, 2011.
In the third quarter, the company reported nearly $157 million under capital expenditure, an increase of $121.8 million from last year. The increase in spending mainly stemmed from the expansion of the Canadian operations, with about $115.4 million spent for Canadian and U.K. operations and nearly $41.4 million spent toward U.S. operations.
Guidance
For the fourth quarter, Walter Energy guided sales of hard coking coal in the range of 2.1 – 2.3 million metric tons and production in the 2.2 – 2.4-million metric ton range. Sales of low-vol PCI are expected to be in the range of 450,000 – 530,000 metric tons, and production in the range of 580,000 – 650,000 metric tons.
Additionally, Walter Energy said it expects fourth quarter operating income in the range of $190 – $230 million. The company guided net income in the $120 - $150 million range, with earnings per share of $1.91 - $2.39.
Our View
Walter Energy's third quarter earnings per share showed a clear rise vis-à-vis our expectations mainly due to the addition of the western coal business, which added to the volumes; and also from better realized prices. However, offsets in the quarter were increased costs mainly due to the expansion of the company's business.
Though the costs should pull down the company's results in the near term, we expect Walter Energy to benefit from the addition of the new business and expansion in Canada and U.K. over the longer term.
Walter Energy's rival CONSOL Energy Inc. (NYSE:CNX) posted strong third quarter results mainly benefiting from better realized prices for its coal sales in the quarter. Adjusted EPS of 73 cents for the third quarter of 2011 was above the Zacks Consensus Estimate of 67 cents.
Walter Energy currently holds a Zacks #5 Rank (short-term Strong Sell rating). However, we maintain our long term 'Neutral' recommendation on the stock.