Rail traffic has proven to be a pretty reliable leading indicator through the last few cycles and if the recent data are telling us anything it's that the economy is hanging in there. The latest readings are consistent with an economy that is not booming, but also not collapsing. Via the AAR:
WASHINGTON, D.C. – Nov. 3, 2011 – The Association of American Railroads (AAR) today reported gains in October 2011 rail traffic compared with the same month last year, with U.S. railroads originating 1,215,627 carloads, up 1.7 percent, and 975,566 trailers and containers, up 3.6 percent. October 2011 saw the highest weekly carload average of any month since October 2008, as well as the highest weekly intermodal average since October 2006. Detailed monthly data charts and tables will be made available in the AAR's Rail Time Indicators report to be released tomorrow.

In October 2011, 12 of the 20 carload commodity categories saw increases on U.S. railroads compared with October 2010. The largest gains were: motor vehicles and parts, up 6,177 carloads or 11.1 percent; coal, up 6,124 carloads or 1.1 percent; and petroleum and petroleum products, up 5,018 carloads or 19.4 percent. Commodity groups seeing a decline in October included grain, down 14,904 carloads or 14.2 percent, and grain mill products, down 2,173 carloads or 5.4 percent.

Class I freight rail employment rose to 160,240 in September 2011, up 133 employees from August 2011, continuing an upward trend that began in early 2010. Total Class I rail employment in September 2011 was up 4 percent, or 6,146 employees compared with September 2010.

"While there is clearly room for improvement, October rail traffic appears to indicate that we are still in a slowly growing economy," said AAR Senior Vice President John T. Gray. "Rail carloads of many key industrial commodities — chemicals, steel, petroleum products, crushed stone and gravel — are up, and higher rail shipments of autos and intermodal are consistent with a potential pickup on the consumer side of our economy. Things can change quickly, of course, and the growth rates are certainly not as robust as we would like to see, but we at least appear to be headed in the right direction."

Today, AAR also reported gains in traffic for the week ending Oct. 29, 2011, with U.S. railroads originating 307,900 carloads, up 5.2 percent compared with the same week last year. Intermodal volume for the week totaled 243,774 trailers and containers, up 4.6 percent compared with the same week last year.

Fourteen of the 20 carload commodity groups posted increases compared with the same week in 2010, including: iron and steel scrap, up 23.5 percent; petroleum products, up 20.5 percent; and metallic ores, up 20.1 percent. The groups showing a significant decrease in weekly traffic included waste and nonferrous scrap, down 14.5 percent, and grain, down 5.3 percent.

Weekly carload volume on Eastern railroads was up 2.3 percent compared with the same week last year. In the West, weekly carload volume was up 7.1 percent compared with the same week in 2010.

For the first 43 weeks of 2011, U.S. railroads reported cumulative volume of 12,544,777 carloads, up 1.8 percent from the same point last year, and 9,856,792 trailers and containers, up 5.3 percent from last year.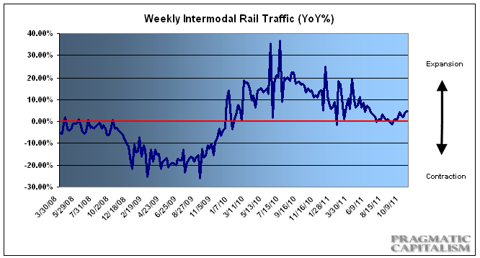 Source: AAR