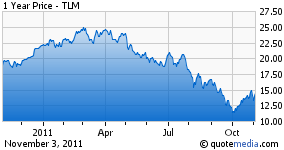 Things are improving on multiple fronts at Talisman (NYSE:TLM). The quarterly figures are solid, production delays which have plagued the company especially in the North Sea are getting dealt with, and the next 12-18 months will be quite exciting from an exploration point of view. Also, having a diverse portfolio enables the company to shift accents in production to profit from better circumstances elsewhere.
Figures were pretty good. Cash flow was up 29%, net income was up 48%, earnings from operations up 38% but the most important metric was production from ongoing operations, which was up 10% over Q3 2010 and netbacks were 18% higher than the same quarter last year ($35.13 versus 29.83), although this was almost all due to oil and liquids.
Since the problems in the North Sea hampered production there, most of the expansion came from American shale gas, where production volumes doubled (basically due to the ramp-up in the Marcellus) and in Asia.
Production in Q4 will rise to 425,000BOE/d due to the Kitan field (offshore Timor-Leste/Australia) startup and restarting the Claymore platform in the North Sea, both in October.
Talisman's Strategy
The strategy Talisman is pursuing can be described by the following elements:
Use the North Sea production as a cash cow for exploration and exploitation elsewhere
Leverage the knowledge and expertise accumulated in American shale gas elsewhere (both within America and abroad)
One of the reasons for the price fall in the shares (apart from this being a sector phenomenon to a considerable degree) is that this strategy has met some headwind. North Sea production, after having met production targets for a number of years, experienced problems and delays, most notably on the Yme platform, where they discovered that the contractor (SBM) did a pretty bad job and lots of rework needed to be done.
Investors don't like uncertainty, no growth, and high operating inefficiencies so this has been a drag on the share price, needless to say. In the conference call, management acknowledged this:
Unit cost in the North Sea was particularly impacted this quarter by the lower production there during the quarter. (Q3CC)
The company also hinted at other solutions:
We've been disappointed with the volatility in the North Sea over this year, and we're considering options as to how we take steps to reduce our exposure to that part of the portfolio. Perhaps via some farmouts or dilution in certain assets, just as some examples. I'm not signaling radical change, but I am signaling that we're looking at various options to reduce the impact of the volatility within our portfolio over time. (Q3CC)
Natural gas netback hardly increased (from $3.39 per Mcf in Q3 2010 to $3.47 now), mainly due to the stagnant gas prices in America. This development, which the company thinks will remain for the foreseable future, is undermining the second part of the strategy to a considerable extent:
Gas prices are now very low, much lower than they were when we set out on that original strategy. (Q3CC)
Yet most of the capital investment is going to American shale:
Capital expenditure, including exploration expense, was $1.2 billion during the quarter, with $190 million spent on international exploration, $300 million on North Sea development, and $630 million in North America, approximately 80% of which, related to shale activity. (Q3CC)
However, with gas prices not moving much, the company is recognizing that this might not be the optimal capital allocation.
Capital is likely to be reduced into the dry gas plays and redirected toward our liquids-rich Eagle Ford play and also to Colombia, where we're seeing success with the drill bit. And we're also planning to take steps to focus our portfolio some more in a number of areas. First, our North American conventional portfolio, where we have considerable potential, which we believe we are not maximizing, because we're concentrating on building the shale portfolio. Therefore, we're considering options to maximize value from the conventional business. In some cases, these assets may be more valuable in other hands, but we're also considering some more creative ways of leveraging other people's resources to mutual benefit in that portfolio. (Q3CC)
That is the benefit of having a diverse portfolio. It also means that there is considerable room for improvement to the extent that they will be successful in this reorientation (and circumstances do not change too much).
However, there is no such thing as a free lunch, as moving away from the dry shale gas is likely to impact production growth in that department. Answering a question from Pawel Rajszel from Veritas about that, Manzoni answered:
Well, I think - I mean, the answer to that question is, it could, because we could choose to - because those are the ones that are up and running. They're obviously building. They're the fastest. If we chose to put it into less mature liquids plays, then that would be a different character of growth. (Q3CC)
They are also considering a Joint Venture:
We're actually one of the leading operators in the play. We understand what we're doing. We have all sorts of - we have the egress, we have the rigs, we have the operational capability. So if somebody wanted to come in, we could easily put that into a JV, if that's what we chose to do. But I think what we have to think through for ourselves is how the totality of the firm in terms of cash in and cash out works next year. And frankly, that's one of the decisions that we have not yet made. (Q3CC)
The Upshot
The company's metrics are improving. It is solving the North Sea issue, it's on a learning curve in shale gas and has opportunities to leverage that knowledge (for instance in Poland). It's gradually shifting toward more liquids rich fields and it is studying options for speeding up this shift (possible JV in Marcellus and/or North Sea?).
However, the positive is in its rich exploration portfolio, which you basically get for free in the present stock price. We'll hope to have an overview of that pretty soon, as the next 12-18 months will be interesting, with exploration and appraisal efforts ramping up in quite a number of these.
Disclosure: I have no positions in any stocks mentioned, and no plans to initiate any positions within the next 72 hours.