With the S&P gyrating between rallies and corrections in 2011, are you looking for defensive dividend paying stocks that also have upside potential during rallies? The three utilities dividend stocks listed below were some of the best stocks to buy in 2011 so far, as all three have outperformed the S&P year to date, during the recent correction, and have also gained in price during the October 2011 rally:

All three of these dividend stocks pay quarterly dividends and are listed in our High Dividend Stocks by Sector Tables.

Only Duke Energy (DUK) has somewhat high options yields, and is listed in both our Covered Calls Table and our Cash Secured Puts Table.
Company Profiles:
WGL Holdings (WGL): WGL is a public utility holding company serving the Washington, D.C., metropolitan region.
Washington Gas, its leading subsidiary, has provided natural gas service to customers in the D.C. area for over 160 years and, today, serves more than one million customers in D.C., Maryland and Virginia. WGL's unregulated subsidiaries provide energy-related services to residential and commercial customers, including government organizations.
Con Edison (ED): For more than 180 years, Con Ed has served the metropolitan New York marketplace. Con Ed's principal business segments are: regulated electric, gas and steam utility activities, competitive energy businesses. Con Edison of New York provides electric service to approximately 3.3 million customers and gas service to approximately 1.1 million customers in New York City and Westchester County, and also provides steam service in parts of Manhattan. The O&R division provides electric service to 301,000 customers in southeastern New York and adjacent areas of northern New Jersey and eastern Pennsylvania and gas service to 130,000 customers in southeastern New York and adjacent areas of eastern Pennsylvania. Con Edison is a member of the S&P Dividend Aristocrats, having increased its dividends every year over the past 25 years.
Duke Energy (DUK): Duke is one of the largest electric power companies in the U.S., supplying and delivering energy to approximately 4 million U.S. customers. Duke has approx. 35,000 megawatts of electric generating capacity in the Carolinas and the Midwest, and natural gas distribution services in Ohio and Kentucky. Duke's commercial and international businesses own and operate diverse power generation assets in North America and Latin America, including a portfolio of renewable energy assets. Headquartered in Charlotte, N.C., Duke Energy is a Fortune 500 company.
Financials:

Valuations/Earnings:
Con Ed just reported Q3 2011 EPS of $1.31, vs. $1.24 for Q3 2010, and nine months' EPS of $2.94 vs. $2.69 during the same period in 2010.
Duke just reported Q3 2011 adjusted diluted earnings per share (EPS) of $.50, vs. $.51 for Q3 2010, and also increased its full year guidance to $1.40 - $1.45/share, from $1.35 - $1.40.
All three firms have valuations below the broad utility sector avgs: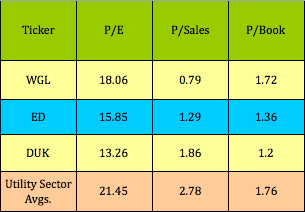 This article is written for informational purposes only and author will not be held responsible for errors or omissions or losses sustained by third parties as a result of acting upon information herein.
Disclosure: Author owns no shares of WGL, ED or DUK as of 11/3/11.