On November 3, Eastman Kodak Company (EK) reported its financial results for the third quarter of 2011. The company reported loss from continuing operations of $0.83 a share compared with a loss of $0.16 in the year-ago comparable quarter. (See earnings call transcript.)The loss incurred during the quarter was higher than the Zacks Consensus Estimate loss of $0.41 per share.
The year-over-year earnings decline largely reflect the absence of sizable patent licensing revenue in the reported quarter versus the year-ago period as well as continued secular decline of demand for traditional products.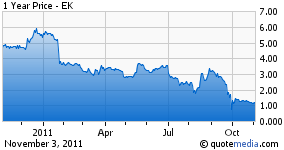 Revenue
Kodak reported total net sales (GAAP basis) of $1,462 million, down 17%, from $1756 million in the year-ago period. The year-over-year decline was primarily attributable to increased raw material costs, particularly silver, lower sales of traditional products and industry-related declines in volumes.
Revenue from Consumer Digital Imaging Group was recorded at $408 million, down compared with $664 million in the prior-year quarter. The decline primarily reflects the absence of significant non-recurring patent licensing revenue, partially offset by growth in the Consumer Inkjet business.
Revenue from the Graphic Communication Group was recorded at $665 million, an increase of 1% over the prior-year period. The results reflect start-up costs to support growth opportunities in Commercial Inkjet, unfavorable price/mix for digital plates, and increased raw material costs.
Film, Photofinishing and Entertainment Group's revenue dropped 10.0% year over year to $389 million, driven by continuing industry-related volume declines
Margins
On a GAAP basis, gross profit decreased to 14% from 27% in the year-ago quarter due to the dearth of patent licensing revenue, increased raw material costs, partially offset by improvement in the gross margins of the company's strategic growth businesses.
SG&A expenses were $284 million, a $29 million decline from the prior-year quarter. Research and Development (R&D) expenses were $68 million, down $14 million from the prior-year quarter.
Cash Flow
Net cash used in continuing operations from operating activities (GAAP basis) was recorded at $191 million versus $140 million reported in the previous year quarter. Addition to properties increased to $32 million compared with $29 million the year-ago quarter. Exiting the third quarter, Kodak's cash and cash equivalents were recorded at $862 million, sequentially down from $957 million in the previous quarter.
Outlook
For FY11, the company lowered its total revenue in the range of $6.3 billion to $6.4 billion compared with its previous forecast in the range of $6.4–$6.7 billion.
Based in New York, Kodak provides imaging technology products and services to the photographic and graphic communications markets across the globe. The company directly competes with its peers such as Canon Inc. (NYSE:CAJ), Sony Corporation (NYSE:SNE) and FUJIFILM Holdings Corporation.