While everyone seems hell-bent at looking at gold in USD terms, few are taking time to look at the performance of gold in "other" currency terms. Quietly in the background, gold has started to move higher against a basket of currencies. A bull market in gold is when it is strengthening against a basket of paper currencies, not just the USD.
Of course, this begs the question, "what does strengthening" or an "uptrend" mean? A series of higher highs and higher lows would suffice as a loose definition of a bull trend. In the charts below we do not have higher highs, but there is nothing to suggest that we will not see higher highs over the coming days or weeks from a technical perspective.
Gold in Yen Terms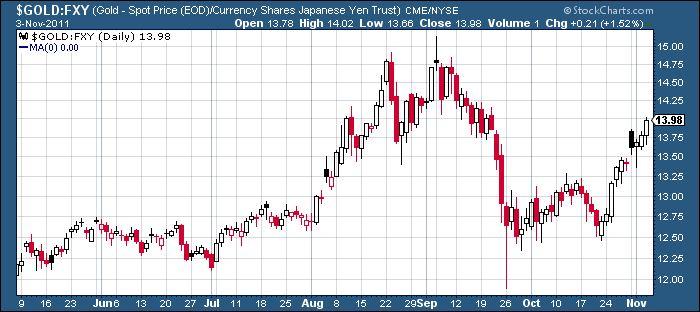 Gold in Canadian Dollar Terms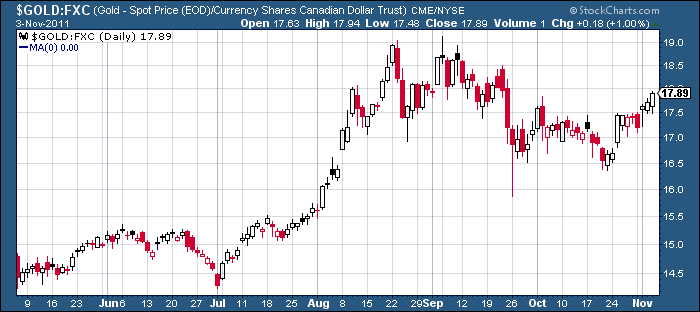 Gold in Euro Terms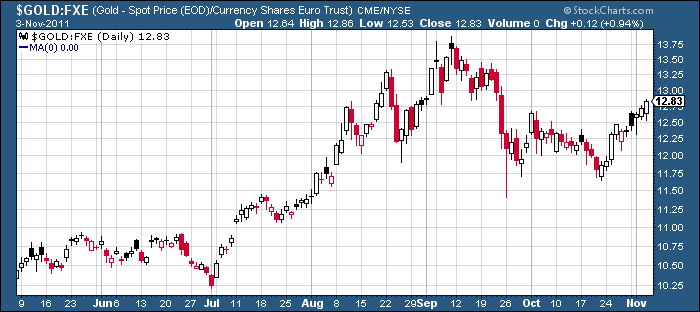 From a fundamental perspective there have been developments over the last week both in the US, Europe, Japan and Australia that are very supportive of a higher gold price in multi-currency terms.
In the US Bernanke is going to keep monetary policy loose for an "extended" period of time. That was in essence what the outcome of this week's Fed meeting. No surprises there, I must add. And QE3? Well, there is always that possibility.
In Japan, there was direct intervention in the currency market, yet another attempt to weaken their currency. The Japanese simply do not want a strong currency (weak USD). I expect more intervention over the coming weeks.
In Europe there was an interest rate cut by the new ECB President. Inflation is already creeping higher in Europe and an interest rate cut will simply add to inflationary pressures there. The same applies to Australia where there was also a rate cut this week.
To me, the dramas unfolding in Europe are a sideshow as it takes attention away from the "main event". The central issue is the debt situation in the US. We are still to pay the ultimate price for the bailouts/stimulus programs and easy monetary policy that were ensured after the GFC. The biggest crisis in modern history resulted in stimulus/rescue packages that have also never been seen in modern history. For every action there is an equal and opposite reaction.
Of course, the ultimate cost will be inflation - perhaps on a scale that dwarfs what we saw in the 1970s. Yes, bond yields in the US don't show it, but if it wasn't for the panic created over the Euro debt crisis, I am sure bond yields would be materially higher than where they are now. Remember, the worst enemy of long dated treasuries is inflation. It does not make on bit of sense that the official inflation rate can be 3.9% yet the US 10yr is at 2%!
Prepare for the onset of inflation. It appears the smart money globally is already doing so. The final confirmation we need is for gold to trade at multi-week highs in multi-currency terms. We may well only be a week or two away from this occurring.
I think a large allocation to precious metals and gold mining stocks is necessary in any long term investment portfolio as a hedge against inflation