I have been bullish on the Starbucks (NASDAQ:SBUX) story since my last article, Starbucks Plans To Keep The Growth Engine Going. Starbucks is now up about 11% since then and looks poised to continue upward. The company's most recent earnings show that the company's growth plans are now starting to gain traction and reflect in sales.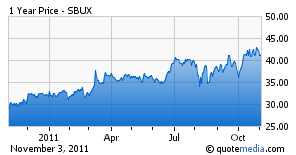 Starbucks' total net revenues for the fourth quarter of 2011 totaled a record $3 billion, representing a 15% increase over Q4 2010 net revenues on a comparable 13-week basis. This strong year-over-year increase was driven primarily by a 9% increase in global comp store sales. For the full year, the company's net revenues reached a record $11.7 billion, representing an 11% increase over fiscal 2010 on a comparable 52-week basis, largely driven by an 8% increase in global comp store sales.
I like how well Starbucks is executing its game plan in a very difficult environment. The company is aggressively expanding its portfolio of products in an effort to offset increasing costs. Starbucks will be offering k-cups in retail stores next year. This will be an excellent addition to the company's current line-up of products.
Here are more points I like about the Starbucks story:
- Strong sales momentum coming into Q4 accelerated in September in response to company promotions. The Pumpkin Spice Latte was a notable success, growing 44% over last year.
- The company saw strong success in its My Starbucks Reward program. Starbucks has 3.6 million active members, nearly 2 million of whom are gold-level members. Starbucks added 1 million new members to the program in Q4 alone. In fiscal 2011, over $1.1 billion in purchases was paid for by the use of the Starbucks Card. This reward program is a great way to create loyalty and additional traffic into stores which allow the company an opportunity to offer customers additional products.
- Starbucks' plans to open at least 200 net stores in the U.S. in 2012 and to remodel approximately 1,700 existing stores, that's the most stores that the company has ever remodeled in a year. Remodeling stores are a great way to increase sales in existing locations. Stores typically see an increase in same store sales due to store remodels. This is why McDonald's (NYSE:MCD) recently remodeled thousands of its stores, I expect Starbucks to benefit from this as well.
- The company has hedged its commodity risks by locking prices through 2013. This should help the company maintain its margins even if coffee prices were to rise.
I like the direction that Starbucks is headed in and expect the brand to increase sales going forward. I'm bullish on Starbucks and view pullbacks as an opportunity to buy.
Disclosure: I have no positions in any stocks mentioned, but may initiate a long position in SBUX over the next 72 hours.