"All men see these tactics whereby I conquer, but what none Can see is the strategy out of which victory is evolved."
--Sun Tzu—
The Dow Jones industrial average jumped 208 points Thursday after Greece scrapped a referendum on unpopular budget cuts and the European Central Bank unexpectedly cut interest rates. It was the second straight day of big gains in the stock market.
The European Central Bank surprised markets by cutting its benchmark interest rate a quarter of a percentage point, to 1.25 percent. The bank had increased its key rate twice this year, but that was before Mario Draghi took over as head of the bank this week. The announcement sent stocks higher as investors hoped that lowering borrowing costs would help prevent a recession in Europe.
Buying intensified in the early afternoon after Greek Prime Minister George Papandreou abandoned his effort to put a package of austerity measures to a public vote. A "no" vote could have caused chaos in the European and global financial system by leading to a messy default on Greece's debt.
Investors and other European nations were shocked by Papandreou's announcement Monday that he would call a referendum on a financial rescue package, worked out just last week after months of negotiations between Greece and its international lenders.
The Dow lost 573 points the first two days of this week as investors feared that Europe's plan to preserve its currency union was in jeopardy. Markets in the U.S. and Europe have been highly sensitive to headlines out of Europe as leaders there try to avoid a financial calamity. Investors have become fatigued as various efforts to resolve the situation seem to continually run into trouble.
Today it looks like a deal in Europe is more likely and that's making the market positive, but who knows what people will think tomorrow.
***********************************************************
Before I begin my essay on gold I must add that if Greek Prime Minister George Papandreou had put his package of austerity measures to a public vote, a "no" vote could have caused chaos in the European and global financial system and gold would have gone parabolic. By abandoning his effort to put package of austerity measures to a public vote and making it seem like it was the will of the government, gold will simply continue to rise.
Gold is again being seen in Greece as an essential store of wealth, a hedge against inflation and a safe haven asset. This is not surprising given the political game of chicken that has been played for the last several weeks.
The fact that gold cannot default or go bankrupt, unlike every single corporation, bank and government in the world is making it the safe haven of choice again. There is also the important fact that, unlike currencies and bonds, gold cannot be debased by bankers and central bankers.
Gold has marked a key Fibonacci pivot point and may now begin a new wave higher, potentially reaching $1900 before year-end, while on track to surpass the $2000 level in 2012.
It's been several weeks since I've written about gold and we have had a wild ride since the $1910-$1920 highs in August. At the time, I wrote that a major correction was imminent and we witnessed a $208 drop that took place over just a few days. We covered our short at $1725 and then gold immediately rallied back to a double top at $1920. It then corrected back as scripted to $1531.
That pullback to $1531 qualifies as a Fibonacci retracement of the 34-month rally from $681 to $1920 and would also qualify for a price low for a fourth major wave correction.
My initial targets for the gold pullback were $1480-$1520 if the $1650 area was violated. Most recently, we have seen gold run up to $1681 (another Fibonacci resistance zone) a few times and then back off to the low $1600's.
With the recent push over $1681, we can now confirm the fourth wave is over at the $1531 lows and the fifth wave is likely in the very early stages, but beginning to build steam.
I will say that we want to make sure the $1650-$1680 areas are defended by gold on any pullbacks in order for this forecast to remain valid. During this fifth wave up, eventually we should see the $2380 range in gold, but it will not take place overnight.
In the next few months, I am looking for gold to attack the $1900 range, possibly even by year end, and then attack the $2000-plus range in 2012.
As written above, with all of the macro events in Europe changing on an almost daily basis, the whipsaws in both the precious metals and equities markets are difficult to forecast and trade for most investors. However, gold has been moving in defined Fibonacci and wave patterns for ten years now and if I'm right, has about three years left in a 13-year bull cycle.
Below is the updated weekly chart for gold. You can see prior lows as they related to oversold indicators, and where we just came off the $1531 lows and its Fibonacci pivot along with the oversold indicators below.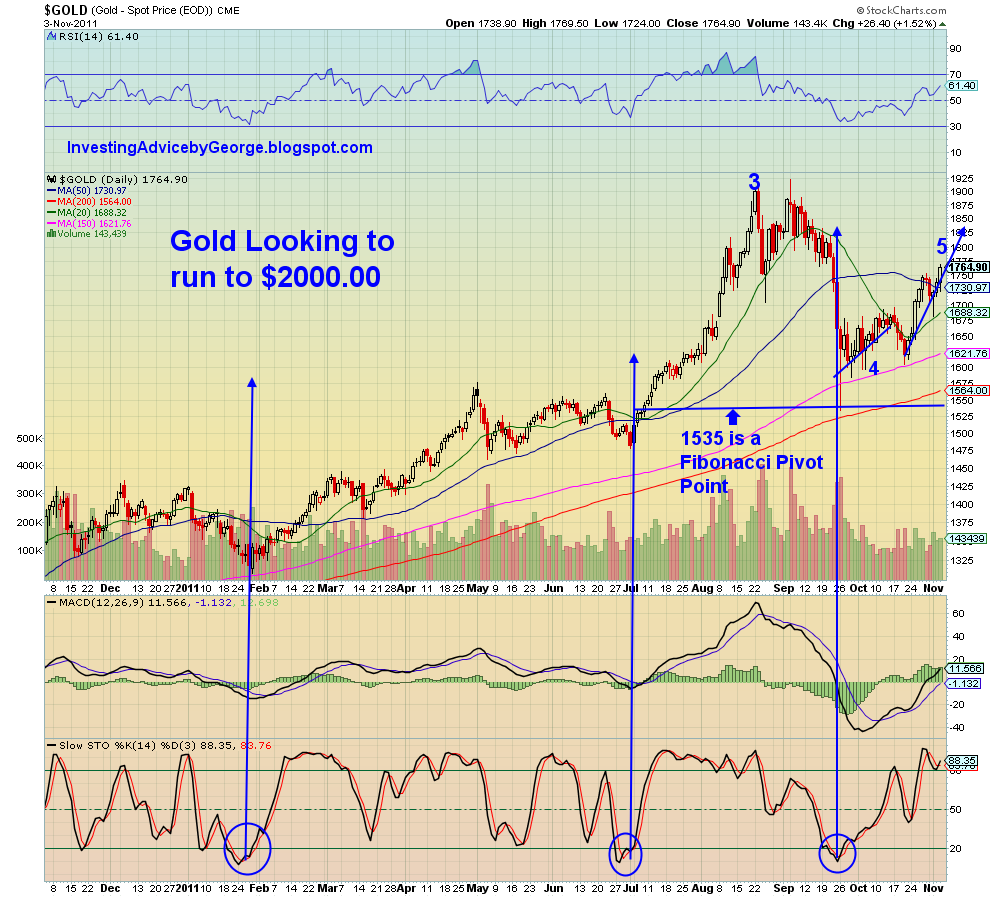 Click to enlarge
Look for gold to attack $1775 first, then $1800, $1840, and $1900 in the coming six to ten weeks or so.
The sharp recent correction in gold does not erase the long-term fundamental drivers that are still in place and likely to push the metal higher.
So that begs the question how does the retail investor get into the gold trade now?
Well a lot of this comes at a time frame when many people and much the public was underexposed to the gold move, from the move up from $1200, $1300, all the way to $1925.
The sense is that gold will move too far too fast, and as a result, people didn't want to chase the move. Well, the issues that helped gold rise are still very much in play.
There is still a lot of question and concern about debasement of currencies around the world. Overall, in terms of what various central banks are doing, that's still very much in play, and overall, peripheral and sovereign debt concerns have not been solved either.
So we look at a way to have a real currency, a solid currency, gold still meets all those needs despite a short-term technical correction.
In conclusion, I think that every retail investor needs to have 20% of his portfolio in gold and silver. What they need is exposure to precious metals. The biggest threat to anyone in retirement is inflation. Especially with the debasement of the US dollar, this is still very big story. I suggest that every retail investor buy something like the SPDR Gold Trust (NYSEARCA:GLD), buy the iShares Gold Trust ETF (NYSEARCA:IAU), buy the iShares Silver Trust (NYSEARCA:SLV), Buy Newmont Mining (NYSE:NEM), Goldcorp (NYSE:GG) because besides owning the underlying commodity, you want to own the companies that mine and produce that commodity as well.
That gives you somewhat of a diversified exposure, but buy owning the Market Vectors Gold Miners Trust (NYSEARCA:GDX), which is the gold miners ETF that consists of the top 30 gold-mining stocks out there, you get all of the diversification you will need owning the mining stocks in one simple ETF.
One thing is for sure, this is the time to at least put your toe in the water.
Disclosure: I am long GLD, IAU, AGQ, SLV, PSLV, UGL, NEM, GG.