Another quarter, another blockbuster quarter for Starbucks (NASDAQ:SBUX) that reported record fourth quarter results on Thursday afternoon. Earnings came in at $0.47 per share, an increase of 27% over the comparable quarter a year ago; revenues came in at $3 billion, a 7% increase over the 14-week period in the 2010 fiscal year, comfortably beating analyst estimates on both the bottom and top lines. The company boosted its quarterly dividend from $0.13 to $0.17—the stock was trading higher in the after market hours.
As we discussed in a previous bullish piece, Starbucks has been riding the baby boomer trend in the 1990s that created the need for a "third place," an "affordable luxury" where people could share and enjoy a cup of coffee with friends and colleagues, away from work and home. The chain has inserted itself into the American urban landscape more quickly and craftily than any retail company in history, and has forever changed the way Western companies market themselves to consumers.
Click to enlarge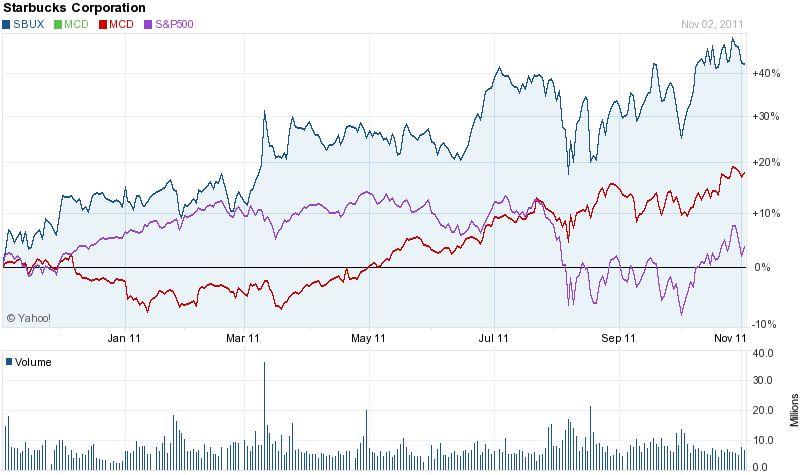 Click to enlarge
Reflecting this success, Starbuck's stock has been a highflier, gaining 60% in the last year alone, compared to a 30% gain of its closest competitor, McDonald's (NYSE:MCD). The company is further beating McDonald's on economic fundamentals. We think that the stock is still a buy, for four reasons:
Starbucks versus McDonald's Financial Performance Statistics in 2011
Starbucks

McDonald's

Dividend

1.32%

3%

Operating Margins

12.91

30.49

Qtrly Earnings Growth (yoy):

12.30

13.70

| | |
| --- | --- |
| Qtrly Revenue Growth (yoy): | |

34.20

8.60
1. Right market segmentation. The company has stayed with the upper-scale of the coffee market, competing on comfort rather than convenience, as is the case with its closest competitors, McDonald's and Dunkin Donuts (NASDAQ:DNKN).
2. Execution. The company continues to focus on its original product bundle that includes good coffee, quality services, and a nice environment to hang around.
3. A superb leadership. Starbucks is lead by company founder Howard Schultz, who continues to come up with innovative products to expand the company's product portfolio.
4. China expansion. As is the case with Japanese people, Chinese people live as extended families in small houses. This means that there is a strong demand for Starbucks "third place." Last year, Starbucks opened 500 new stores in China, bringing the total to 1500.
Disclosure: I have no positions in any stocks mentioned, and no plans to initiate any positions within the next 72 hours.