By Carson Ko
Capital One Financial (NYSE:COF) is a diversified financial company, focusing primarily on credit card, auto loans and home loan lending. The company also offers other financial services such as retail banking and consumer banking, however, in a smaller capacity compared to the rest of the operation. The company established its business in 1988 and grew into a Fortune 500 company within 10 short years by aggressively expanding its credit card market. Capital One has always been known to have strong brand recognition, and its investment in marketing helps it stay competitive in acquiring new cardholders and maintain market share in the credit card business.
The company just had its Q3 Earnings Conference Call on Thursday Oct 20th (see transcript) and the stock price increased 7% on Friday due to beating the street's estimate. The stock is currently trading at $45.2 a share; an increase of 6.2% since the beginning of 2011.
Business Segments
Capital One is known for credit card products. The company's Venture credit card has been gaining momentum in popularity. COF's credit card segment contributes to ~50% of its net interest earnings. To break down each segment in further detail, below is an extract from Capital One's 2010 annual report.
Credit Card: Consists of domestic consumer and small business card lending, national small business lending, national closed end installment lending and the international card lending businesses in Canada and the United Kingdom.

Consumer Banking: Consists of branch-based lending and deposit gathering activities for consumer and small businesses, national deposit gathering, national automobile lending and consumer home loan lending and servicing activities.

Commercial Banking: Consists of lending, deposit gathering and treasury management services to commercial real estate and middle market customers.

Click to enlarge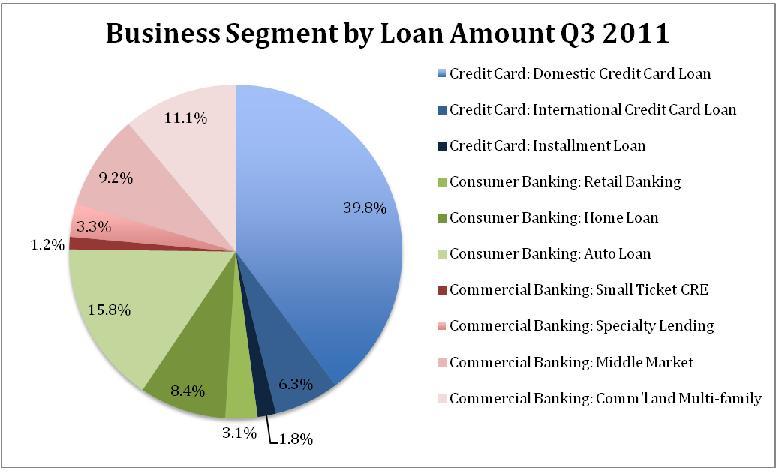 Competitors
Within the credit card segment, Capital One competes with other issuers of Visa and MasterCard credit cards, as well as American Express (NYSE:AXP) and Discover Card (NYSE:DFS). The chart below compares year to date performance for the three companies. Potential investors will want to establish whether the company's relative underperformance makes it a value play in the space.
Within retail banking, mortgage and auto finance, Capital One competes with bank and non-bank lenders who provide financing for mortgage and dealer-originated loans.
Click to enlarge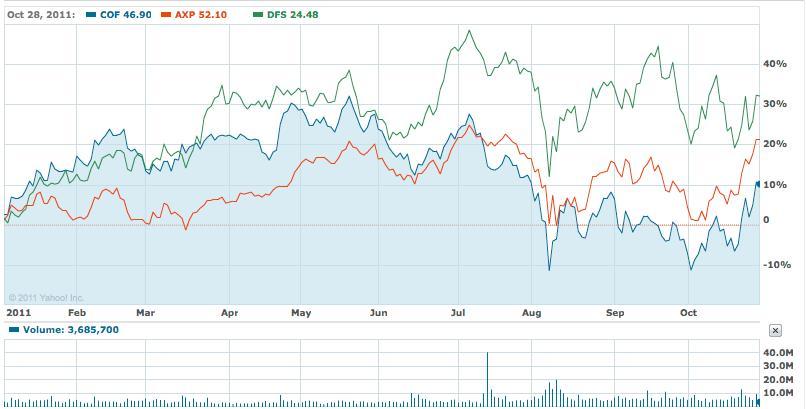 Within Segment Performance
Credit Card Segment: Within the unsecured lending segment, there are mainly two concerns that will affect the earnings power of the portfolio, default rate and prepayment rate. Default rate is lead by delinquency rate and will eventually turn into loss of principal. For the last two to three years, high delinquency rates have been plaguing the credit card industry. To combat that, the industry has tightened the underwriting guidelines and is only lending to borrowers that have superior credit. However, when the economy turns around, these borrowers may have a higher motivation to prepay to find lower rate and a lower fee alternative.
During Capital One's Oct. 20th conference call, both Gary Perlin (CFO) and Richard Fairbank (CEO) mentioned this "run off" problem with the installment loans. A similar situation may happen to the revolving loan area in future quarters and cause higher funding and marketing costs to portfolio volume.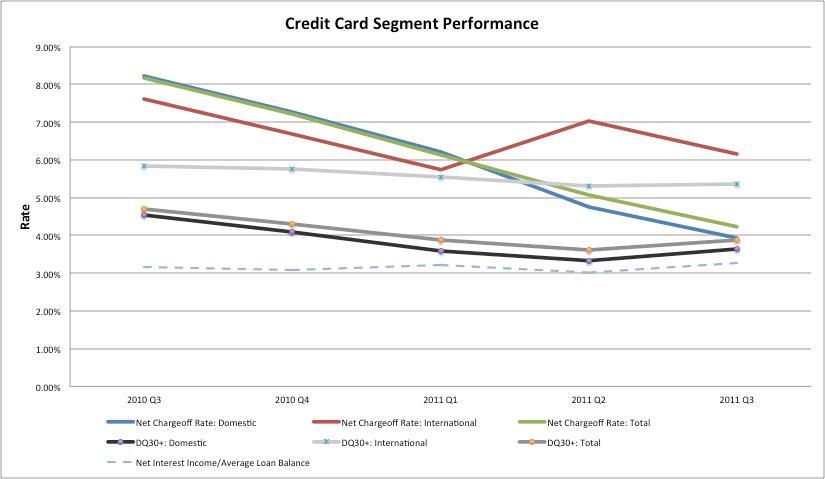 As shown in the above chart, charge-off rates for the domestic portfolio have been decreasing dramatically in the past 16 months. Although the international portfolio does not show the same improved performance, it does not drag down the overall charge-off rate as much, due to smaller volume.
Delinquency rate, which indicates future charge-off rates, has also been decreasing for the last 16 months. The slight upswing for Q3 2011 is normal for seasonality, as Q2 usually has the best performance in credit lending.
If we examine the Net Interest Income / Average Loan Balance rate, we can tell that the decrease in the charge-off rate and the delinquency rate do not induce much improvement over the portfolio's earning power. This could be for two reasons: either loan balance does not remain long enough to generate interest, or higher interest costs lead to higher interest expense and therefore reduce net interest income. The latter seems to be less likely due to the lower cost of funding across the industry. Since the credit card portion is significant to the overall portfolio, the growth in this area posts a serious ripple effect to the company's competitiveness. If the slow growth situation continues, it will become a resistance to the company's income growth and cut into profit margin.
Consumer Banking Segment: Within the Consumer Banking Segment, home loan, auto and retail banking account for about 28% of the total loan portfolio. Although the loan charge-off rate is much lower than its credit card counterpart (1.32% vs. 4.23% Q3 2011), its overall growth has not been as healthy. Home loan and retail banking's portion of the portfolio has been shrinking in the last quarter, however, the auto loan growth was able to make up for losses in the other two areas. We see higher auto sales in the overall economy and estimate this segment of the company will experience a better growth rate and a higher revenue stream in the following few quarters.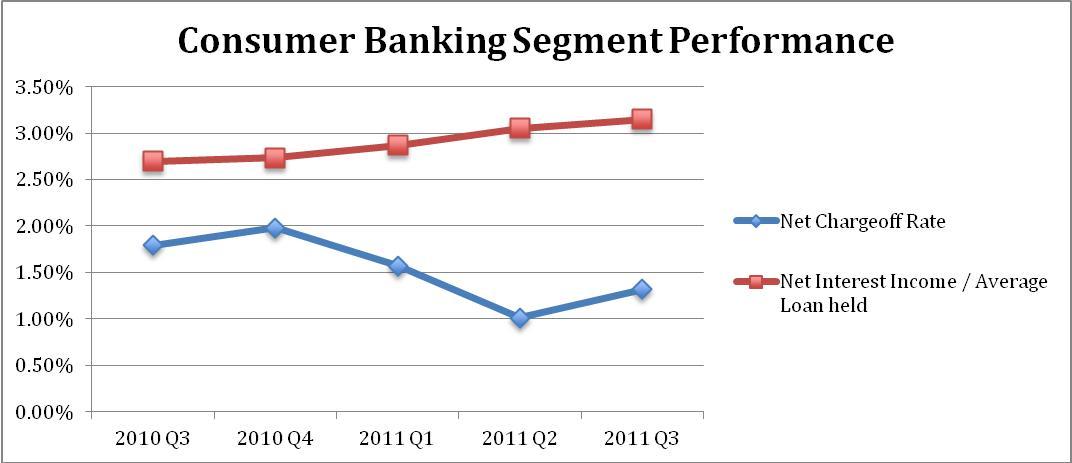 Commercial Banking Segment: This segment makes up about 25% of the portfolio and has the lowest charge-off rate (< 0.5% Q3 2011). The segment also has the highest growth rate of the three segments. However, the average yield for this segment is also the low. This segment's clients are mostly commercial real estate and middle market customers who are usually driven by low rates and low fees. We anticipate high grow in this area, but do not see profit margins widening.
Overall Performance
Charge-off rates have been declining across the board and the overall portfolio performance is getting better. The company's loan balances grew in the quarter by almost $1 billion, however we also see prepayment as a concern to the company if the prepay rate persists at a high level. Capital One is well capitalized and has a healthy balance sheet.
Capital One has been investing heavily in advertising and online banking to build up their long term competitiveness in acquiring new customers. Creating brand loyalty to charge higher interest rates while having the customer stick with the business is going to be the key to win this credit card race.
Valuation
With the ongoing trends for each segment, portfolio growth is forecasted close to 6% per annum for the next 5 years. Combined with the yield percentage, cash flow growth is estimated at 4.5~5% per annum for the next 5 years and a terminal growth rate at 2%. For the next year or two, financial institutions, banks and credit cards will likely be subject to tightened regulations and increased earnings uncertainty, which justifies a high discount rate. However, even with a higher than usual discount rate of 25%, it will lead to a ~$70 fair value estimate which is equivalent to 8.7 times P/E.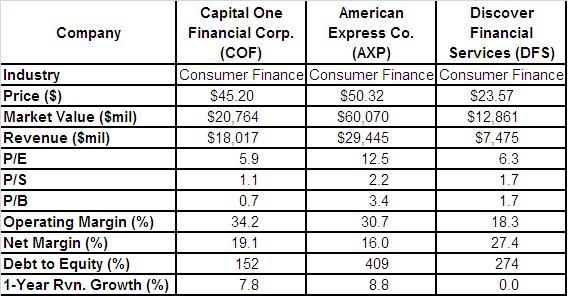 With the current economic climate, investors should realize that it might take longer than a year for the market to realize a financial firm's fair value. Comparing Capital One to its peers shows the company to be a good relative investment.
Disclosure: I have no positions in any stocks mentioned, and no plans to initiate any positions within the next 72 hours.