Stock market seasonality and underinvested portfolio managers chasing a rally in stocks are two forces that could carry equity exchange traded funds into the end of the year.
Since 1950, the S&P 500 has gained 1.5% in November on average and 1.7% in December on average, the two largest monthly gains of a year, reports Lu Wang for Bloomberg.
Christopher Verrone, head of technical analysis at Strategas, said that the ratio of bullish to bearish newsletter writers is "still quite low," which indicates that investors who have stayed on the sidelines may be itching to jump back into equities.

"The message of the market continues to be one of resiliency," Verrone wrote in a note. "We're not convinced this is the start of the next great bull market, but in the meantime this is not a tape we want to fight as the market moves into a firm seasonal period."
"At the very least, this probably helps to keep a floor underneath the market as we push into year-end," Verrone added.
Given the low bullish sentiment, some technical analysts also believe see this as a signal to buy since investors may soon want in on the markets.
"The sharp two-day decline that kicked off this week was enough to send some bulls heading back to the bear cave," Bespoke Investment Group said Thursday. "After rising to its best levels since early April, individual investor sentiment declined from 43% down to 40.2% according to the American Association of Individual Investors (AAII). Given that equities were trading at what were by some measures historically overbought levels, it is understandable that investors had an itchy trigger finger."
iShares S&P 500 Index (NYSEARCA:IVV)
click to enlarge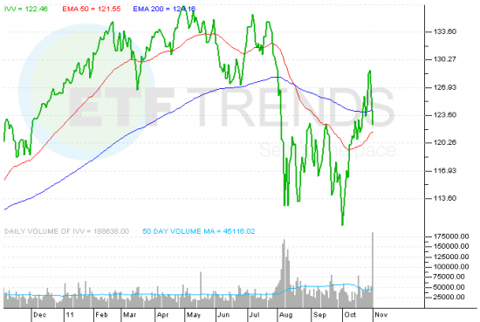 Max Chen contributed to this article.