According to the Bagehot doctrine, a central bank should not bail out insolvent banks or sovereigns, that is, it shouldn't act as a 'lender of last resort.' It should only assist banks or sovereigns in a liquidity crisis, a situation in which an agent temporarily has insufficient access to funds to meet its obligations.
You might wonder what a doctrine formulated in 1873 has to do with today's euro crisis. Well, it turns out that the European Central Bank is a rather firm believer in that doctrine. Some, like Brad DeLong, argue that this is against the history of central banking.
Indeed, The Economist comes up with a little history lesson this week:
Yet throughout history central banks have been lenders of last resort to their governments. In 1694 the English monarchy was broke and in need of a loan so that it could wage war with France. A group of financiers agreed to lend the crown £1.2m in return for a partial monopoly on the issue of currency. Thus was born the Bank of England.
With a little bit of fantasy, one could argue that since the European Central Bank (ECB) did, in fact, intervene in the Italian bond market, it deemed the country solvent but illiquid.
Another problem is to ascertain the difference between a liquidity and a solvency crisis. Solvency, the inability to meet one's obligations, is a tricky concept depending on personal judgment to a considerable degree. We're fairly sure Greece is insolvent (hence the 50% 'haircut'), but what about Italy (or Spain, Ireland, Belgium, Portugal, etc.)?
That is by no means an easy question, especially when the dynamics of currency unions apply. Here is Paul De Grauwe:
when sovereign debt crises erupt in a monetary union, we very often see a mix of liquidity and solvency problems. Liquidity crises raise the interest rate on the debt issued by governments and therefore quickly degenerate into solvency problems. Solvency problems often lead to liquidity crises that intensify the solvency problem.
What De Grauwe describes is the possibility of multiple equilibria on basically the same fundamentals.
Italy
So, is Italy solvent? We have two diametrically opposing opinions here, that of Paolo Manasse and that of the blog 'The Street Light' We'll start with the latter, as that is similar to what de Grauwe argued. According to The Street Light:
The market is not worried about Italian debt dynamics because of excessive government spending. It is not worried about Italian debt dynamics because of an excessive primary (i.e. excluding interest payments) budget deficit in Italy. It is worried about Italian debt dynamics simply and purely because of skyrocketing interest rate expenses that the Italian government is now facing thanks to the eurozone debt crisis.
We always get a little uncomfortable when someone argues what 'the markets' think or are worried about. Luckily enough, the blog provides some more meat in the form of the current OECD (Organization of Economic Development) scenario for Italy (scenario 1 in the table below):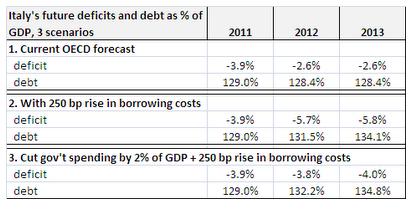 You'll notice that both the deficit and the debt/GDP ratio in that scenario remain fairly constant, quite different from scenario 2, in which there is a 250 basis point rise in interest rate and suddenly the deficit and debt/GDP ratio increase rather scarily. This is basically a self-fulfilling prophecy: Worried people sell Italian debt (like BNP Paribas, selling 8.3 billion euros in Italian bonds in Q3), which cause yields to rise, which scares even more people, etc.
According to many, most prominently Paul De Grauwe, it's the ECB's failure to stand as lender of last resort behind the sovereign debt that has triggered this dynamic. This only became apparent to market participants as a result of the Greek haircut. And indeed, it was when that became policy that Italian (and Spanish) rates began to rise in the summer.
Click to enlarge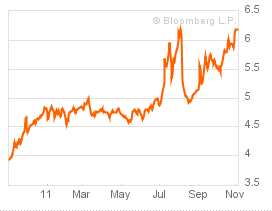 Another indication is that Italian (and Spanish) bond yields (6% and 5.5% respectively) are way higher compared to American and British yields (2 and 2.5% respectively), despite having similar (and in some ways better) public finances.
So there are considerable indications for this thesis. However, Paolo Manasse trashes the 'multiple equilibria depending on expectations' theory on the basis of other data. Here is his description of the thesis he disagrees with:
Many observers of the European debt crisis have embraced the idea that ​the dangers, in particular the risk of default of Italy, lie in the possibility of 'multiple equilibria'. According to this view, when economic fundamentals, such as the debt/GDP ratio and the primary balance, are not quite 'as good' as to guarantee solvency but not quite 'as bad' as to make the country plainly insolvent, then the equilibrium outcome depends on market expectations (see for example Alesina et al 1989). In other words, self-fulfilling prophecies may generate opposite and unpredictable outcomes, for the same level of fundamentals.
Manasse uses the following figure to dismantle that theory: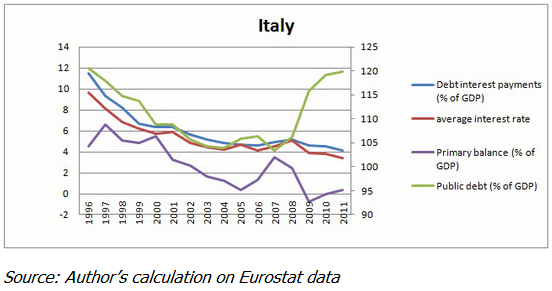 One thing that is striking is that interest rates used to be a lot higher in the 1990s, but these came down on the (expectations of) removal of the exchange rate risk and the one-off shot of credibility in Italy's monetary affairs as a result of its EMU membership.
Manasse then goes on to argue that the deficit and debt/GDP ratio declined, as interest cost fell from 12% to 4% of GDP, but this improvement was squandered by the third Berlusconi government, and the debt/GDP ratio started to climb again. The 2008 financial crisis worsened things further and the debt reached its 1996 ratio.
According to Manasse, the puzzle is not that interest rates are now going up:
The puzzle is that interest rates have risen so little and so late, despite the worsening of fundamentals. It is really not necessary to resort to esoteric explanations such as contagion (see Manasse and Triglia 2011) and multiple equilibria in order to explain the recent rise in Italian yields, when the debt/GDP ratio is back to its 1996 level and the primary surplus is about four points of GDP lower than in 1996.
At first, this sounds pretty convincing. However, in the 1990s few argued that Italy was insolvent, despite having a similar debt/GDP ratio to today and much higher interest rates. Could it be that having its own lender of last resort, the Banca d'Italia, and its own currency, the lira, made all the difference?
Well, yes and no. There is an alternative explanation: Italy had already signed up to be a member of a currency union pre-1992. The removal of exchange risk (more precise, the prospect of that) shaved a whole lot of the risk premium on Italian bonds and set in motion a virtuous cycle of capital inflows, lower borrowing cost, lower deficits and reducing debts.
These are clearly visible in the graph above. This virtuous cycle is now reversing and turning into a vicious cycle, with capital outflows leading to higher borrowing cost, bigger deficits and increasing debt.
It also has to be said that during much of the 1990s, it was by no means certain that Italy was actually going to qualify for EMU, as it clearly violated a number of entrance criteria (like having excessive debt).
Self-stabilizing or self-reinforcing mechanisms
What we can conclude is that there can be different dynamics at work. When a country issues its own currency, markets potentially worry about exchange rate risk, and will react badly mostly to accumulating inflation differentials with its most important trading partners. Italy used to have a higher inflation rate than Germany, losing competitiveness which led to increasing pressure on the lira.
The neat thing about having one's own currency is that it will automatically adjust its competitiveness to match the amount of financing it is able to attract; if investors become less willing to finance Italy's debt (because they fear increased currency risk), the lira will lose value and Italy will start to gain competitiveness.
Flexible rates tend to be self-stabilizing mechanisms (although it's possible to set off other self-reinforcing mechanisms, a depreciating currency is likely to increase inflation via higher import prices, so the country could soon start losing competitiveness again)
However, the move towards EMU and EMU itself triggered self-reinforcing mechanisms.
In the 1990s, when Italy still had its own currency and central bank, a virtuous cycle was triggered by the prospect of removing the exchange rate risk through joining the EMU, and this by and large remained operative within the EMU itself until 2006.
However, the virtuous cycle has gone in reverse and has become a vicious cycle in which worry about default and a lack of lender of last resort leads to capital outflow, higher financing cost, larger deficits and a ballooning debt.
Still, there is no reason to think that a blanket ECB guarantee to function as the lender of last resort would not be able to stop that. Why else is the eurozone trying to set up a sort of surrogate mechanism (the EFSF), however inadequate or insufficiently funded, to provide extra guarantees?
So we stick with Paul De Grauwe and the Street Light blog above and we think Italy is still solvent, although this is, to a considerable extent, something of a semantic discussion.
What matters more perhaps is the realization that Italy is still quite a rich country. From the Banca d'Italia (2010):
At the end of 2009 the gross wealth of Italian households was estimated at €9,448 billion and their net wealth at €8,600 billion, corresponding to about €350,000 per household.
That's still good enough to pay the public debt several times over.
Disclosure: I have no positions in any stocks mentioned, and no plans to initiate any positions within the next 72 hours.