This is part 10 of a 10-pack series of metals miners articles. You can find articles for Great Basin Gold (GBG), Entree Gold (EGI), Jaguar Mining(JAG),Seabridge Gold (SA), AuRico (AUQ), Silvercorp Metals (SVM), Brigus Gold(BRD), Northern Dynasty Minerals (NAK), and Minefinders (MFN) here at Seeking Alpha.
Background Information
Stillwater Mining Company (NYSE:SWC) is a Palladium and Platinum mining company based in Montana. They have two producing Platinum Group Metals (NYSEARCA:PGM) mines in Montana, Stillwater and East Boulder, with a planned expansion of each known as the Blitz /Graham Creek project. In addition, Stillwater owns the Marathan Project in Ontario Canada which is expected to increase their PGM reserves by over 3 million ounces.
The company is the largest PGM producer in North America, which is one of three main suppliers of PGM in the world. Stillwater currently claims about 30 million ounces of PGM reserves. The company also operates a smelter, refinery and laboratory at Columbus, Montana, which is used to upgrade the mined materials to a platinum group metal rich cake product. The facility also recycles catalyst products to recover PGM materials.
In addition to their current PGM assets, Stillwater has recently agreed to buy Peregrine Metals which holds a large deposit of copper with a significant amount of gold as a byproduct. This announcement recently disgruntled Stillwater shareholders due to the premium paid for Peregrine, and as a result, the stock took a significant hit in the market. It had begun to rise to over $11 at time of this writing.
Assessing Value
| | | | |
| --- | --- | --- | --- |
| 6/2011 | 03/2011 | 12/2010 | 09/2010 |
| 42,698 | 36,192 | 16,533 | 5883 |
| | |
| --- | --- |
| Price/Sales | 1.65 |
| Price/Book | 1.66 |
| Enterprise Value/Revenue | 1.56 |
| Total Cash | 254.89M |
| Total Debt | 196.03M |
| Total Debt/Equity | 29.03 |
| Current Ratio | 5.51 |
| Book Value Per Share | 6.55 |
Stillwater remains primarily a PGM miner for the next several years. The company decided to expand into the copper and gold markets to smooth out expected income due to several crashes in PGM prices over the last decade, as per a company spokesman. The company feels as though the market for both copper and gold, in addition to PGMs, are bullish moving forward. Stillwater estimates that demand for PGM materials will outpace supply in years to come.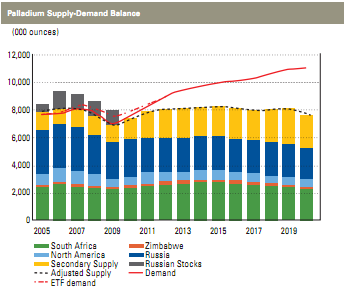 Funding for the Altar Project acquired with Peregrine will begin after Marathon PGM is up and running in 2014. The additional PGM projects Stillwater has coming on are expected to increase PGM production by 200k ounces per year.
To fund Alter, Stillwater acknowledges they will need to obtain financing. Options for financing may come in the form of share issuance, debt, and most likely collaborative agreements with other miners. The total outlay to ramp up Altar, including the purchase price of $450 million, is estimated at around $3 billion. This is a steep price, but given current copper and gold spot prices and the measured and indicated resources of the Altar project (if they hold true), the company could return roughly two times investment on the project.
Given current projects, expected CAPEX on new projects, current spot prices, cash reserves, mining costs, and industry recovery rates, I believe Stillwater is significantly undervalued at current market price of over $11 per share.
The value of their PGM holdings alone leads me to a conservative share price valuation of $36, without counting any PGM produced as a result of recycling efforts. The Altar project, with Measured and Indicated 7.4 billion pounds of copper and 1.5 million ounces of gold, may add very significantly to that value and easily double the share price target.
Without the economic assessment being complete, valuing upcoming projects proves very difficult and often the Measured and Indicated resources do not prove out fully as Proven and Probable reserves. This is why I cannot quote a target share price once Altar comes online. But if numbers were to hold true as hypothetically stated, then the target share price would be north of $100 given current copper and gold prices. The likely share dilution would of course also affect the final valuation and investors cannot know how many new shares will be issued to help finance an operation of this size. Therefore, the company valuation for the addition of the Altar project is currently unknowable.
The downside to this measurement is that funding Altar will require a humungous up-front investment which will most likely require assistance from a larger miner. Most likely, a significant percentage of the profits will go toward debt and revenue sharing with the new mining partner. But the potential return on investment for Stillwater is still huge.
Stillwater will likely rise in value until spending on Altar begins, and then fall as the company experiences a reduction in overall net income. However, if everything goes as planned and Alter begins production in 2017, investors should expect a sharp uptick in price once again. At that point, most profits will come from copper with PGM supporting and gold being a nice byproduct addition to the balance sheet.
Market Outlook
There are several factors that could impact the future price of PGMs and copper. Currently, Stillwater is predicting a supply deficit of platinum and palladium to occur which will push PGM prices higher. Jewelry and automotive demand (catalytic converters) are the primary demand factors.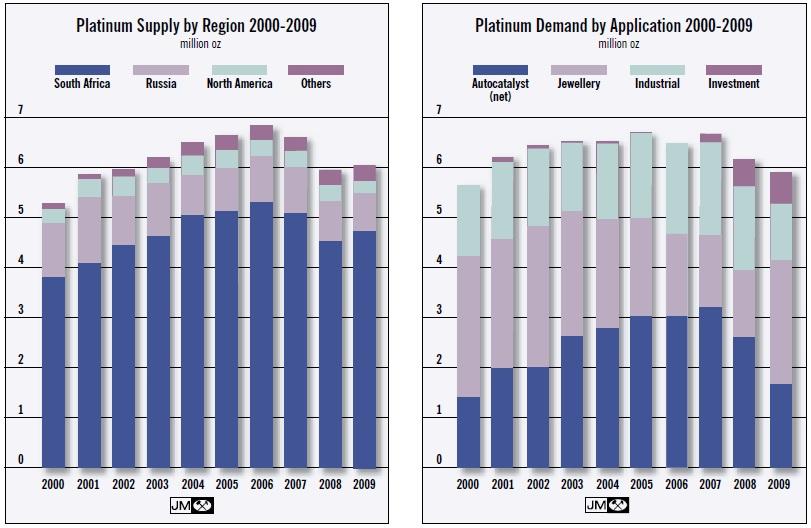 Click to enlarge
(Click to enlarge)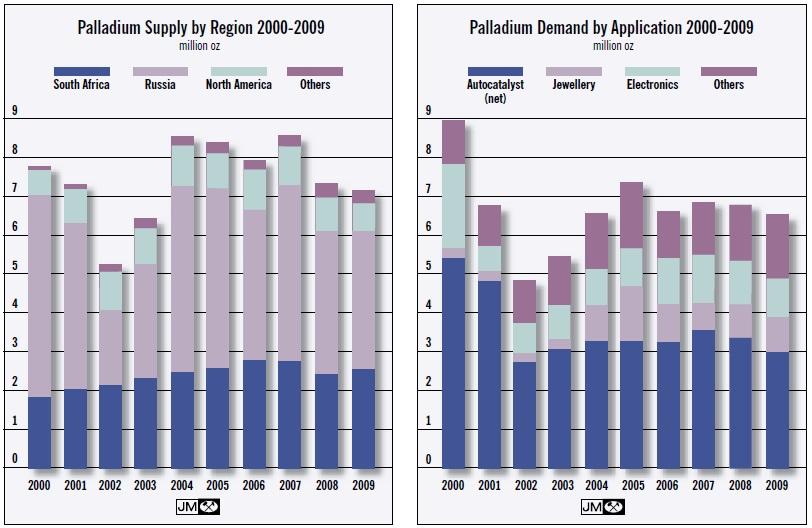 Click to enlarge
(Click to enlarge)
Source: Johnson Matthey
The primary producers of PGMs are South Africa, Russia, and the US, with Canada and Zimbabwe as secondary producers. It is believed by the USGS that China and Australia may have significant amounts of PGMs mostly resulting from nickel mining.
However, with the rise in automotive sales, jewelry, and investment demand, supply stockpiles have been tightening. It is widely believed that Russian stockpiles are depleted after years of sales into the market to meet demand. In addition, the U.S. Department of Defense's Defense Logistics Agency inventory has been drawing down substantially from the 1990s to mid 2000s and no longer serves as an ample supply source with which to meet market demands.
Risk also exists with the world's largest platinum miner, South Africa. The exchange rate of the Rand to US Dollar affects profitability because costs are calculated in Rand and sales in Dollars, so as the Rand rises against the dollar, profits falls for SA mining. In addition, the country faces challenges in electrical production and water supplies which directly affect the ability of the mining industry to meet planned expansion targets.
So even with more PGM projects coming online, worldwide PGM supply growth may be restricted in coming years and may not meet demand for the metals.
The market for copper is largely dependent on Asian demand factors. If the world economy remains strong, then Stillwater remains a growth story with blossoming revenues. If the world economy stagnates as many economists believe is inevitable, then profit margins could be quickly reduced with regards to copper mining.
Precious Metals Outlook
There are three reasons to believe that Stillwater is resilient enough to survive an economic downturn, which are palladium, platinum, and gold. While Dr. Copper signals direction of the economy with great aplomb, and whose price will affect viability of many copper projects such as Altar, it is likely that precious metals will outperform the general commodity metal market in event of economic malaise.
Gold and silver have already ticked up strongly as sovereign debt and currency devaluation mar economic growth prospects for much of the West . While platinum and palladium have not historically been monetary metals, they are precious as investments and stores of value.
Noting in particular that Chinese demand for platinum jewelry has spiked over recent years, and that both platinum and palladium are making inroads into the US jewelry scene, it is not unwise to consider that gains in demand from jewelry and investment would accelerate at the same time that industrial demand for PGMs decelerate.
Jewelry is, in Asian customs, both cultural and investment at the same time. Many Chinese, Indian, Japanese, and Southeast Asian cultures store value in precious metals. My wife, hailing from the fair land of Cambodia and being ¼ Chinese, has acquired many pieces of jewelry handed down through the generations as a form of wealth transfer and savings.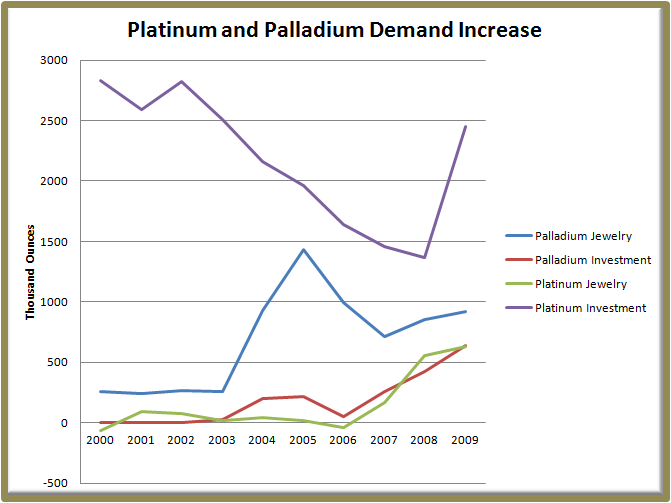 Click to enlarge
(Click to enlarge)
While analysts separate jewelry and investment (rounds and bars) into separate categories, I would make the case that much of the jewelry demand is simultaneously investment demand. For when the price of gold has risen to over $1700, I have seen many people in my area sell their gold jewelry and watches for the current value they bring. Those pieces served as stores of value to their owners and provide much needed liquidity during current economic times.
With the Altar project, Stillwater may be able to concentrate on gold heavy deposits first to both help finance the copper mining and to protect profit margins should an economic downturn ensue. And as long as copper stays above $3 per pound, there is no reason to believe that Stillwater will have any problem following through on the promise of a major acquisition.
I value Stillwater's current PGM inventory at $3.7 billion and gold at $898 million, given current market prices, after development and mining costs are factored in. There is no reason to believe Stillwater cannot monetize these assets along the way in developing the acquisition of Peregrine and turn the company into a sustainable and attractive investment prospect.
I intend to invest in Stillwater stock in the near future as finances permit. And, based upon my research into the PGM market, am also investing in some palladium jewelry pieces for my wife and daughter for the upcoming holiday season.
Disclosure: I have no positions in any stocks mentioned, but may initiate a long position in SWC over the next 72 hours.