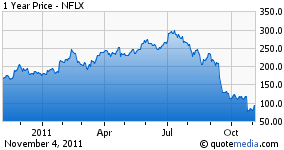 In a Seeking Alpha article from July, I asked "Did Netflix CEO Reed Hastings Make the Biggest Mistake of His Career?" I posed this query, of course, because in Netflix's (NASDAQ:NFLX) Q2 letter to shareholders, Hastings stated the following:
In Q4, we expect domestic net additions to return to a pattern of year-over-year growth while revenue will reflect a full quarter's impact of the pricing changes, which could result in Q4 being our first billion dollar global revenue quarter, driven by strong U.S. performance.
Fast forward to the Q3 letter to shareholders and you have this:
... our revenue and profits in Q4 will be lower than we had anticipated. For a few quarters starting in Q1, we expect the costs of our entry into the U.K. and Ireland will push us to be unprofitable on a global basis...
Netflix now expects Q4 revenue to come in somewhere between $841 and $875 million.
And let's not forget about the guidance update Netflix issued on September 15th in response to Hastings' two heavily-publicized "blunders." Of course, these "missteps" were nothing more than hasty efforts to salvage an unsustainable business model where, simply put, revenues cannot keep up with costs at the same time as producing profits.
Taken together, the events of the last several months at Netflix make Research in Motion's (RIMM) co-CEO team look like the reincarnation of Steve Jobs. While Hastings turned "the biggest mistake of his career" question into a competition, he proved that there might not be a CEO in tech with a looser handle on his company's business.
Now Hastings, presumably, expects investors to have confidence in not only the financial guidance, but the Q4 subscriber projections he put forth in his Q3 letter and is it live or is it Memorex conference call:
We expect streaming net additions will be negative in October due to the cancellation wave ... and as the wave subsides and gross additions remain strong, net additions will be about flat in November, and strongly positive in December.
Hastings has a habit of making projections on the basis of a history that bears no connection to the present and future or on the basis of nothing at all. I am still waiting for an answer to the following question I posed to Hastings in the interview that never was:
In a recent All Things D interview (mentioned above), Kara Swisher asked you about international expansion. Here's something you said in response: "It takes us one to three years to get a new country profitable for us. Canada (will) be profitable within a year, which is very fast." I was a bit puzzled by that statement. What are you basing that experience on, given the fact that Netflix has not existed in any markets other than the U.S. for that long?
For some reason, Hastings enjoys a sort of carte blanche. He can say things that make virtually no sense and never get held to issuing an actual clarification.
While Hastings clearly based his thoughts on international expansion on nothing in particular, he's hanging his subscriber projections on a mix of what he saw last year and what he thinks will happen this year. Given how he set his company up for disaster and then kicked it off a cliff with the very-necessary price increase and Qwikster debacle, should investors have any confidence whatsoever in what he thinks will happen going forward?
Here's what I think could happen in the weeks and months ahead:
In an attempt to raise cash, Netflix could sell the DVD business while it is still attractive and profitable. While it might make sense to put more resources into the business that effectively subsidizes streaming, Hastings believes streaming is the future. He will stop at nothing to prove that he is right. He cannot run streaming the way he needs to and wants to as his company bleeds cash and eventually racks up losses. He could use proceeds from the DVD sale to fund digital content licensing.
Hastings will not only halt further international expansion (as noted in the Q3 report), but he will contract international efforts. By this I mean Netflix will pull out of select international markets in a bid to lower the costs of an expansion that was ill-advised in the first place. Netflix will not see the subscription numbers it needs globally to grow the business to justify the cost of the relatively massive undertaking.
Of course, this is speculation on my part, but it operates alongside the opinion that Netflix teeters on the brink of extinction.
For investors all of this adds up to more uncertainty. Uncertainty about the projections that Hastings makes one quarter only to take back the next. Uncertainty about how the company intends to survive as off-balance sheet obligations continue to swell (they grew by $1 billion between Q2 and Q3).
Investors don't like uncertainty. And they don't like getting burned. Only Research In Motion's bungling of full-year guidance as things imploded quarter-by-quarter throughout 2011 rivals Hastings' performance of late. Investors punished RIM's stock into the teens - below book value - for not only the dying business, but the suspect decisions by management regarding guidance and projections. I expect investors to deliver the same blow to Netflix stock as the company fumbles its way into 2012.
Hastings' baseless Q4 subscriber projections - rooted not in history, but in hope - could serve as the mistake that sends Netflix into the teens and, then, as Len Brecken predicted back in May, below book value.
Disclosure: I am short NFLX.