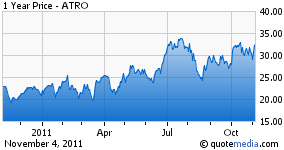 Astronics (NASDAQ:ATRO) posted excellent third quarter results Thursday that showed both strong sales and earnings expansion. We are maintaining our above-market $47 fair value estimate (click here for our report), which represents about 15.6 times earnings if we annualize this quarter's ($0.52 per share). The bottom line expanded over 40% this quarter. Needless to say, its price-earnings-to-growth (PEG) ratio is among the best out there. We will be retaining our outsize position in our Best Ideas Newsletter.
Astronics' top line reached a record, advancing 13%, while diluted earnings per share jumped 41%. Commercial transport revenue jumped 23%, while sales from its business jet segment increased 20%. The firm's gross margin ticked down about 0.5 percentage points, which directly impacted the operating line, as SG&A as a percentage of revenue held relatively steady at 11.3% of sales. The firm's operating margin was 14% in the third quarter and, on a year-to-date basis, advanced 1.5 percentage points from the same period last year. Astronics noted that net income was a record, at about 12% of sales, thanks in part to lower interest expense and a lower tax rate.
Importantly, however, the firm achieved record quarterly bookings of nearly $65 million - up 6% year-over-year and 12% sequentially. We view the bookings number as particularly positive, as it is greater than quarterly revenue ($56.4), but also in that it signals that our thesis on the aerospace industry remains spot on. We continue to believe that commercial aircraft build rates by Boeing (NYSE:BA) and Airbus (OTCPK:EADSY) will remain strong for the next few years, and Astronics - with its electrical content (cabin electronics, aircraft lighting and airframe power) - will be nicely positioned to reap the benefits of this growth curve. Astronics' aerospace backlog was $101.4 million at the end of the third quarter (up from $102 million at the end of the second quarter), as order momentum continues.
Disclosure: I have no positions in any stocks mentioned, and no plans to initiate any positions within the next 72 hours.