An infomediary works as a personal agent on behalf of consumers to help them take control over information gathered about them for use by marketers and advertisers. The concept of the infomediary was first suggested by McKinsey consultants and professors John Hagel III and Marc Singer in their book "NetWorth."
Infomediaries operate on the assumption that personal information is the property of the individual described, not necessarily the property of the one who gathers it. The infomediary business model recognizes that there is value in this personal data and the infomediary seeks to act as a trusted agent, providing the opportunity and means for clients to monetize and profit from their own information profiles. One of the first focused implementations of the infomediary concept was an online advertising company called AllAdvantage. (Source : Wikipedia)
Impact of infomediation services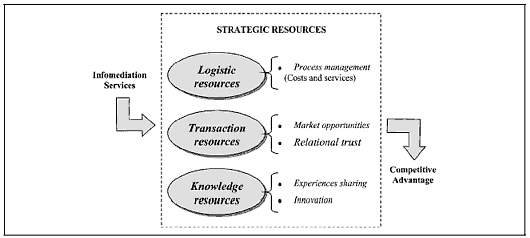 Click to enlarge
(Click to enlarge)
Logistic resources include managing all the complementary transaction processes (ordering, procurement, transportation, stockage, assurance, settlement, accounting, ....)
These resources mainly influence process costs and logistic services (quality, speed and delivery reliability);
Transaction resources related to reducing information asymmetry. This involves both the business opportunities linked to a potentially broad transaction market and the definition of a more transparent exchange context with an impact on trust resources;
Knowledge resources which refer to the cognitive dimension of the impact. In this sense, marketplace participants can share experiences more easily and explore new business opportunities, thereby greatly increasing their firm-specific knowledge assets.
The concepts of "community" and "infomediation" are both central to Hagel's thinking about new opportunities in the e-world. The infomediary maximizes the value of the information by being helpful to the customer in locating products and services that are most relevant to the customer based on who they are and what their preferences are. It can also be in the form of providing portions of the profile to selected vendors at the request of the customer. Most customers are willing to provide information about themselves if they can be assured about two things: One is that they'll get some tangible value in return and second, that the information won't later be misused in some way. For instance, the frequent flyer programs on airlines. Most customers want tangible value that's not in pure monetary form but in the form of some product offer tailored to their particular profile.
A lot of companies are experimenting with certain elements of an infomediary business, many of them focusing in on the customer-agent notion. You have companies like BizRate, who are helping customers evaluate different vendors based partly on information about who the customer is. Bizrate is a shopping resource, linking shoppers with over a million products, brands, and stores with one click. Bizrate enables shoppers to search for products, stores, brands, and deals on the web. Customers can compare across products, prices, and store information and have access to ratings and reviews, to make a confident buying decision.
Trends in mobile advertising
According to GigaOM, five trends in particular stand out in mobile advertising:
1- More-relevant behavioral targeting. Currently, mobile advertisers use traditional methods of ad targeting: device, demographic group or context. But in five years, mobile ad targeting will become more relevant to a person's behavior and current location.
2- Growing mobile search. Mobile search advertising is already a big driver of ad spending; this is where Google currently makes much of its money in mobile. Coupled with better targeting, search advertisers will deliver more relevant ads based not only on location and relevant keywords but also on more accurate predictability engines.
3- Better analytics. Right now, the tools for measuring mobile ad campaigns lack the sophistication that advertisers expect. In five years, the standards will have matured. Companies will agree more about what gets measured, and analyzing mobile campaign effectiveness will not be as big of a hurdle.
4- Greater interactivity. Most mobile ads today are delivered as relatively simple text or banner formats. They are clickable but not very interactive. Rich-media ads are available, too, but they are not as widely deployed for a variety of reasons: more cost, and not all devices render them well
5- Mobile-social as the "personal cloud." Today the mobile and social worlds already collide with services like Foursquare and Gowalla. In five years, though, this functionality will likely evolve into what some Stanford researchers suggest is the personal cloud personal, which will be personal data that surrounds us wherever we go. It will also be shareable with whomever we choose and will be used to make purchases, among other things. Savvy advertisers will leverage this trend with relevant offers that provide value but still respect user privacy.
8 fast growing infomediation players
The ITC titans
1- Google (NASDAQ:GOOG): It can leverage on its search engines users' data by using data mining. Furthermore, it has a fast growing mobile search engine. Huge potential for mobile commerce and advertising.
2- Amazon (NASDAQ:AMZN) : Amazon.com is trying to create a community as well as trying to be an infomediary. The notion was that virtual communities as an economic enterprise provide a very powerful way of building trust with customers and to increasingly take the customer's side in terms of facilitating transactions online. As that is accomplished in a virtual community, the opportunity to say, "We can help you beyond the products and services in the virtual community. We can help you with a much broader range of products." Amazon can propose intelligent reading choices to its customers and social media connections (i.e. expert recommendation, peers recommendation); while entering the tablet market with advertising, it can tailor consuming characteristics of users to advertisers.
3- Apple (NASDAQ:AAPL): with its huge users base of Mac, iPod, IPad, iPhone and iTunes users, can track consuming habits and trends. Thus, it can tailored consuming characteristics of users to advertisers
The social networks
4-Twitter: Analysis the twits can predicts some events such as political revolutions or stock markets response. Twitter's business model is still experimenting with new avenues of advertising.
5- Facebook : with its huge data base of content, it is using the personal tastes and interests of its customers, which can be tailored to advertisers online and mobile.
The financial services
6- Intuit (NASDAQ:INTU): Financial service intermediaries like Intuit and E*Trade are providing analytic tools that will tell the customer, "If you help me understand what your needs are, say in terms of retirement planning, we'll help you decide what products are most relevant to you and then help you locate those products."
7- E*Trade (NASDAQ:ETFC): It is moving into t a segmented-portal or category-portal level, and Microsoft with their Money product - they're trying to position themselves as helpful to the customers in selecting among a broad range of financial service providers. But it's still one of the largest unaddressed opportunities on the Internet.
8- Paypal/eBay (NASDAQ:EBAY) : The firm has an important database on online and mobile payments and it can analyze the trends of users' preferences for future tailored advertising. The company is transitioning from being an end-seller to becoming a commerce enabler with its new X.commerce platform, a sales operating system for merchants and developers. PayPal's move into handling offline transactions is part of this new push. There is a blending of offline and online commerce and mobile phones are forcing merchants to react. That's an opportunity worth around $10 trillion and that's where eBay and PayPal are headed. PayPal will test its in-store, point-of-sale payment system with an unnamed retailer this quarter with friends and family participating. A full launch is expected in the second quarter next year.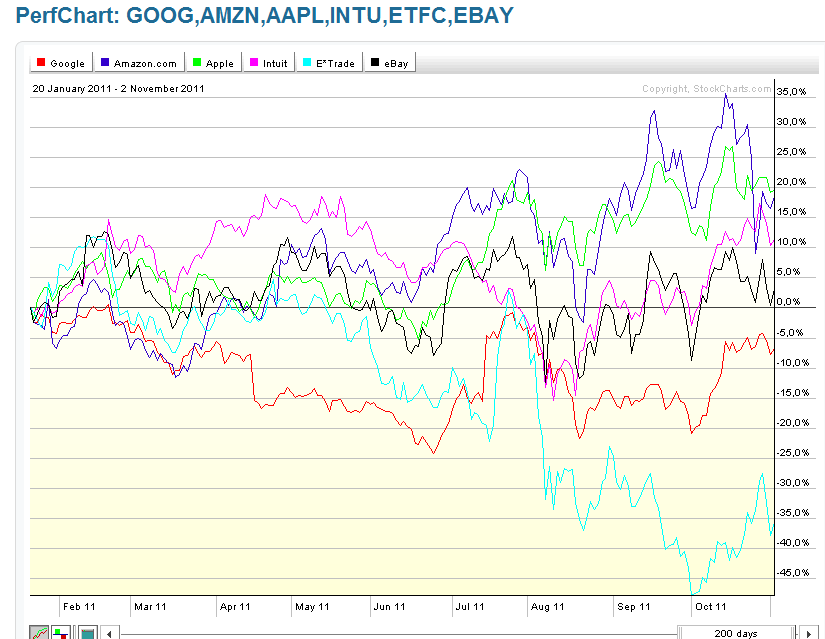 Click to enlarge
(Click to enlarge)
Conclusions
To be successful as an infomediary player requires quickly gaining access to a broad range of customers and building trust with them. That's very hard for a startup to do. In the end, the real winners are going to be a creative combination between large companies, who can provide rapid access to large customer bases, and smaller players. An infomediation player is a customer relationship business, which focuses on identifying certain types of customers, building relationships with them, helping them access and tailor bundles of products and services.
As we move into the mobile payments with NFC chips and the growth of mobile commerce and advertising, infomediation players are being able to use information through capture and access technologies to drive offline transactions as well as online transactions.
In 2011, the best performing stocks in this sub-group of infomediation players are Apple, Amazon and Intuit. The worst performing stocks are E*Trade, Google and eBay. They represent interesting stocks in the long term due to their infomediation exposure.
Disclosure: I have no positions in any stocks mentioned, and no plans to initiate any positions within the next 72 hours.