By Brendan Gilmartin
Overview
General Motors (NYSE:GM) is scheduled to report 3Q 2011 earnings before the opening bell on Wednesday, November 9. The actual results are expected to come through at approximately 7:30 a.m. EST with a conference call to follow at 9:00 a.m. GM is poised to deliver its fourth earnings release since its November, 2010 IPO.

Outliers And Strategy
GM results follow a mixed report from rival Ford Motor (NYSE:F) last week. Among the highlights from Ford:
Ford pre-tax operating profit was $1.9 billion, or $0.46, marginally topping the consensus of $0.45. Revenue was $33.1 billion, an increase of $4.1 billion from third quarter 2010, and above the consensus of $29.9 bln.
Ford's total automotive pre-tax operating profit was $1.3 billion, an increase of $45 million from third quarter 2010. The increase is explained by higher net pricing in its automotive operations, lower net interest expense, and favorable volume and mix in North and South America. However, margins were held in check by increased commodity inflation and warranty expenses.
Other GM notes:
GM is expected to earn $0.96 per share for the 3Q (range is: $0.70 - $1.24) on revenue of $36.6 bln. (Source: Yahoo Finance).
According to Revere Data, the suppliers that derive more than 20% of their revenues from GM and could be impacted by the earnings release include: Shiloh Industries (NASDAQ:SHLO), Superior Industries (NYSE:SUP), Strattec Security (NASDAQ:STRT), Lear Corp. (NYSE:LEA),and Magna Corporation (NYSE:MGA).
Recent News
11/01: General Motors reported total sales for October were up 2%, missing estimates for a 6% - 8% gain.
10/27: Moody's raised its rating on GM to Ba1 from Ba2 and maintained a positive outlook, based on a favorable four-year labor agreement with the UAW, increased competitiveness in North America, strength in China, and improved credit metrics.
09/29: S&P raised its corporate credit rating on GM to BB+ from BB-, following its four-year agreement with the UAW. The agency cited prospects for improved profits and cash flow generation, along with better performance in the North America market and global automotive operations.
09/29: Deutsche Bank reiterated a Buy rating and $36.50 price target on GM, according to Benzinga.com. The report noted that the recent four-year agreement with the UAW will have an immaterial impact on the P&L and valuation.
09/29: Jefferies reportedly lowered its price target on GM to $24, according to Benzinga.com. Fading demand, pricing and global macro headwinds are among the risks.
Technical Review
GM shares recently tested a critical support near $23 – a level going back to late August and coinciding with the 50-Day SMA. Failure to hold that level on a weak earnings release could drag the shares down to $21. The downward-sloping Relative Strength Index, MACD cross below the signal line, and flattening 20-Day SMA are signs of weakening momentum. If earnings surprise to the upside and the shares break out of this range, look for resistance near the recent highs near $26.50. (Chart courtesy of StockCharts.com)
Click to enlarge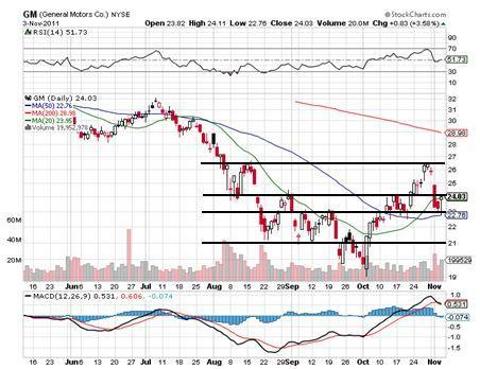 Summary
GM slipped this week in reaction to a disappointing sales report for October, ending a rally in the shares since the October 4 low. Following the recent pullback, GM may be discounting some of the more positive news of late, including a rating upgrade from S&P and Moody's, a four-year labor agreement with the UAW, and strength in North American and Chinese auto markets. GM also trades at less than 6x forward earnings, a mere 0.26x sales, and less than 1x book value, with an ROE of close to 30%, while the shares are sitting on key technical support ahead of its 3Q earnings release. While GM shares have historically underperformed after several solid earnings reports this year, the recent pullback suggests the macro concerns, timing of the government's exit, and recent softness in sales may be priced in.
Disclaimer: By using this report, you acknowledge that Selerity, Inc. is in no way liable for losses or gains arising out of commentary, analysis and or data in this report. Your investment decisions and recommendations are made entirely at your discretion. Selerity does not own securities in companies that they write about, is not an investment adviser, and the content contained herein is not an endorsement to buy or sell any securities. No content published as part of this report constitutes a recommendation that any particular investment, security, portfolio of securities, transaction or investment strategy is suitable for any specific person.
Disclosure: I have no positions in any stocks mentioned, and no plans to initiate any positions within the next 72 hours.