When reporting 3Q 2011 earnings, Prudential Financial (NYSE:PRU) provided an outlook for 2012 that was less than analyst estimates. Immediate market reaction was negative, with shares closing down 1% on an up day. At Thursday's close of $53.05, the company is undervalued based on historical metrics applied to 2012 guidance.
Looking out to 2013, if the company is successful in meeting its ROE goals, long term investors can expect substantial share price appreciation.
2012 Guidance
AOI (NonGAAP adjusted operating earnings) is projected in a range of $6.50 to $6.90. The figure does not include realized investment gains or losses, and looks past expected integration expenses arising from the acquisition of Star-Edison from AIG.
Using 3 & 3/4 years actual earnings, plus an estimate for 4Q 2011 and guidance for 2012, 5 year average EPS is projected at $5.04. Applying a historical midpoint multiple of 13.75 on this metric, I arrive at a target price of $70.
This methodology includes a loss of ($2.49) per share for 2008. As a practical matter, investors can be expected to start looking past the financial crisis when assessing future earnings power.
Looking at ROE
Discussing goals for 2013, management presents their thinking in terms of ROE (return on equity). ROE for 2010 came in at 11.2%, and averaged 15.5% for 2005-2007. The goal is 13-14%, which is credible given the 2005-2007 performance.
Here's a slide from the presentation, showing the considerations involved: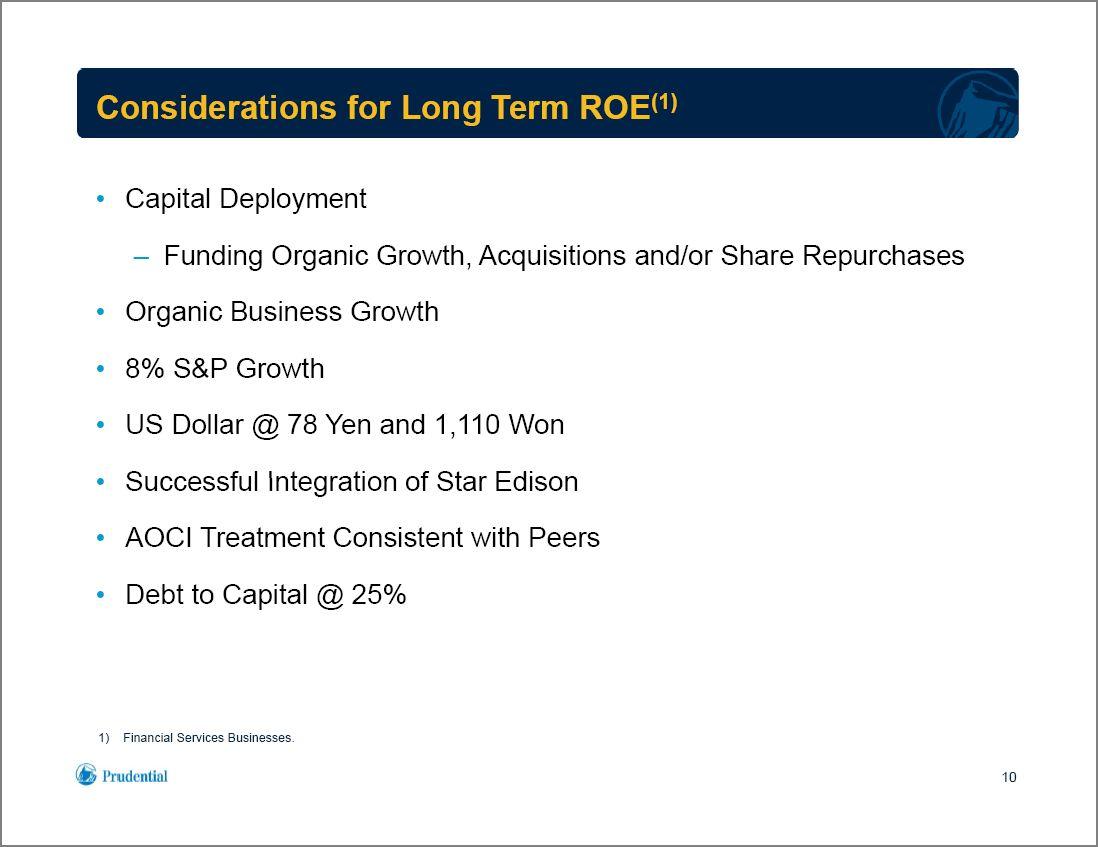 Click to enlarge
(Click to enlarge)
Using 3Q 2011 Book Value ex AOCI of 63.73, and applying a midpoint ROE of 13.5%, EPS works out to $8.60. From there the question is, what's an appropriate multiple?
High ROE's for financials can be problematic, since they are often achieved by applying excessive leverage or assuming above average risk. Checking the 2005-2007 period, PRU had an average P/E of 11.26, while ROE averaged 15.5%.
$8.60 X 11.26 = $97. If the assumptions and performance listed under considerations become reality, investors can reasonably expect a share price in that area.
Accounting Changes
Prudential will be changing its accounting for DAC (deferred acquisition costs), in ways that should improve the quality of reported earnings. From the 3Q 2011 earnings conference call transcript:
Now normally, we could stop here and go on to 2012, but then there's DAC. So as we disclosed in our 8-K last night, we expect to adapt the new GAAP accounting standards for deferred policy acquisition costs retrospectively, effective January 1, 2012. As a result, we will reduce the DAC asset on our balance sheet. While we are still finalizing the numbers, we estimate that upon adoption of the new rules, the DAC asset for the Financial Services business will be reduced by approximately $3.8 billion to $2.7 billion with a corresponding reduction in after-tax equity -- equities most of the time is after tax, of approximately $2.7 billion to $3.2 billion. Looking at the impact on earnings, in general, application of the new rules will produce a decline in our reported adjusted operating income because the lower level of costs qualifying for deferral and accordingly, expensed in the period will be only partially offset by the lower level of amortization of deferred costs resulting from the write down of the DAC asset.
Briefly, commissions and production incentives are deferred into an asset account, which is reduced by expensing the costs as the policies sold create profits for the company. Logically, expenses can be deferred only to the extent that future profits can reasonably be expected. The DAC unlock is a quarterly adjustment to reflect this reality. The unlock for variable annuities is driven by the movement of the S&P 500. This makes reported earnings fluctuate from quarter to quarter, and was a primary driver of the weakness of 3Q 2011 compared to the same quarter last year.
The planned changes will result in less deferred expenses, reducing reported profits. It will also reduce the reported quarterly variations caused by the DAC unlock. The early recognition of expenses is conservative accounting.
In any event, earnings in 2012 and going forward should be regarded as of higher quality, given the more conservative accounting. Between that and the reduced fluctuations, the market should become willing to pay a higher multiple.
Interest Rates
There has been considerable concern about the effect of low interest rates on insurance company earnings, a topic I addressed in an article written when Operation Twist was announced. PRU discussed the issue, providing support for the opinion that the effect of low interest rates will be manageable:
I want to turn now to some comments on the impact on Prudential of the current interest-rate environment, and the framework will include a discussion of the GAAP income statement and the statutory balance sheet, the 2 basic places in which we live. We factored the current interest rate environment into our earnings guidance in ROE targets that Rich will address in a few minutes. Let me make a few comments now about how we're thinking about interest rate sensitivity and how we're managing interest rate risk. The headline is this is a manageable exposure for us, working through earnings over time and having little incremental balance sheet impact.
The point is, management has factored low interest rates into their ROE goals, which is the investor's concern when thinking about long-term earnings potential.
Summary
Prudential is undervalued, whether the investor relies on guidance for 2012, or ROE goals for 2013. The company is sensitive to macro issues, especially to the extent they affect S&P 500 performance, and as such the stock is more suitable for those who take an optimistic view on the trajectory of the global economy.
Beta checks in at 2.3. Given the causal relationship between S&P 500 performance and variable annuities, PRU is for investors who expect the market to do well over the next several years, perhaps something on the order of the 8% shown in the presentation slide above.
The disappointing 3rd quarter results are largely driven by the DAC unlock, much of which may have already been reversed due to the market's recovery from its 9/30/2011 levels.
Disclosure: I am long PRU.