If there were two companies that would be happy about the U.S. Postal Service's plans to lay off tens of thousands of workers, it should be private light transport companies, namely UPS (UPS) and FedEx (FDX). Since the reports of the planned layoffs surfaced, UPS and FDX have been neither convincingly down or up on the news. On one hand, the economy is set to slow in the transport sector, which is a negative, and on the other, the private companies will likely be able to dominate the industry better than before.
Since it appears the U.S. Postal Service has been operating at a loss for years, one could argue that UPS and FedEx have had to compete with a subsidized company, yet they have still been doing okay; not an easy task.
The Numbers
UPS has earned profits every quarter from at least 2006. Again, this was while competing with the U.S. Postal Service for Saturday service. More importantly, operating income in particular has always been positive, meaning the earnings have not been manipulated to appear dramatically better managed than is the case in reality.
Analysts expect 13% profit growth over the next year, and the dividend yield is a solid 3%. Debt to equity is about 3.25X, indicating moderate financial risk and a low ability to expand operations from debt rapidly.
FedEx has earned profits every quarter from at least 2006 as well. Operating income has always been positive too. Analysts expect 15-16% profit growth over the next year or two.
Debt to equity is slightly less leveraged than UPS at about 3X, indicating a slight edge in being able to expand rapidly through issuing debt. This may be related to FedEx offering a much smaller dividend than UPS. The dividend is only 0.63%, which allows for significantly more reinvestment and higher growth than UPS.
Both companies have nearly identical P/E ratios.
Click to enlarge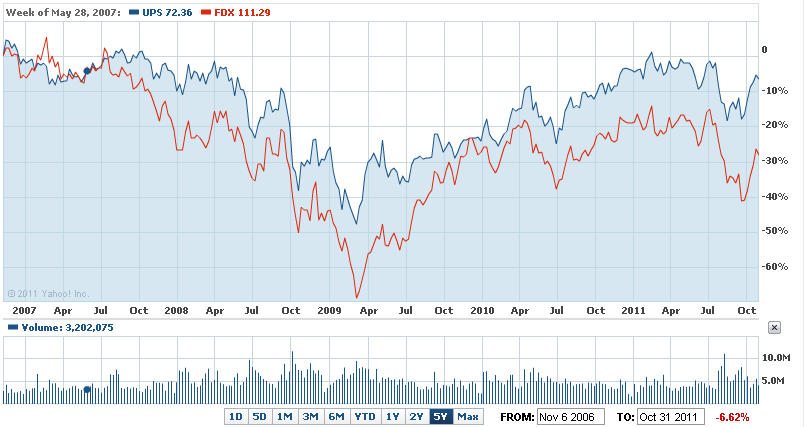 Conclusion
Since its original announcement, the U.S. Postal Service has toned down its predictions for layoffs, but has not cancelled the plans. At the least, tens of thousands of people will be laid off and the industry will see many changes in service. Saturday service seems to be the most likely target market which will become available. If one thinks this is a great opportunity for growth, FDX makes more sense as an investment option at this point than UPS. FDX reinvests more of its free cash flows and has a slightly lower leverage ratio, meaning it is more able to expand than UPS to take up the slack that becomes available. Additionally, on a purely observational level, FDX has significantly underperformed UPS over the past five years even though it is reinvesting more of its cash flows and is expected to have higher profit growth. The explanation is that investors value the 3% dividend offered by UPS slightly too much.
Disclosure: I have no positions in any stocks mentioned, and no plans to initiate any positions within the next 72 hours.