After the market closed Thursday Nov. 3, 2011, Chesapeake Energy (NYSE:CHK) announced it had sold 162,500 net acres of its Utica shale for approximately $2.44B. This works out to approximately $15,000/acre. CHK also sold $500,000,000 worth of preferred shares in a new subsidiary, CHK Utica LLC, to a private investment firm EIG Global Energy Partners LLC of Washington. It plans to sell another $750 million in preferred shares to investors by Nov. 30, 2011. This means that CHK paid an average of $2500 per acre for land that it then sold for approximately $15,000 per acre -- a quick $2B+ profit. Plus It will soon have sold preferred shares in its CHK Utica LLC subsidiary valued at another $1.25B. This means it will have already essentially broken even from buying 1.36 million net acres in the Utica (pdf), and it will have over 1.19 million net acres left to develop (with some investors having a minor interest in the development). 75% of CHK's lease holdings are focused in the wet gas and oil phases of the Utica. Plus those 1.19+ million net acres are now seen to be valued by others at $15,000+/acre. In other words they are worth approximately $18B. Looked at this way the company changed approximately $3B into approximately $20.4B within a very short period of time. CHK's market cap was only $18.43B at the close on Thursday. The enterprise value was $29.39B . The new approximately $18B in value is either almost a doubling of the value or an approximate 60% increase in the value, depending on whether you are looking at the market cap or the enterprise value. Either way this should push the CHK stock price up considerably. A 30% rise (going by the enterprise value increase) seems more than reasonable. At a closing price of $29.03 Thursday Nov. 3, 2011, this would translate into a share price increase of $13.89 or a near-term target price of $42.91 per share. Chesapeake Energy has retained all of the common interests in CHK Utica LLC (and therefore the upside). If more simply you just posit a 30% rise in the market cap, that would be a price increase of only $8.71. This would lead to a share price of $37.74.
If you value the remaining 1.19 million net acres in the Utica at the approximately $18B indicated by the recent sale, then the rest of the CHK's holdings are being valued at only $11.39B. The table below shows just how extensive these are.
(Click charts to expand)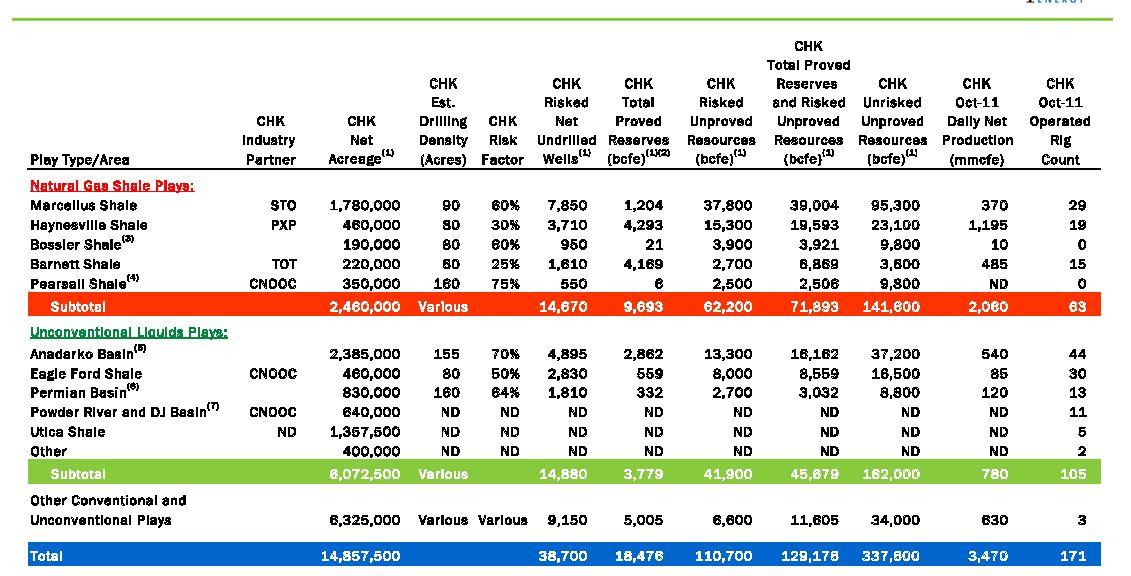 Click to enlarge

There are more than 13 million net acres held by CHK in addition to the Utica. Many of these are in prolific plays. The unconventional oil play acreages are mostly in the early stages of development. Many are likely worth something on a par with the recent Utica shale. The recent Petrohawk (NYSE:HK) sale to BHP Bulliton (NYSE:BHP) might indicate they should be valued more highly. Even only $5000/would translate into a value of $65B+. If you add the approximately $18B for the remaining Utica acres indicated by the recent sales price, you arrive at a conservative value of $83B for CHK in acreage alone. This is approximately $53B more than the enterprise value at the close on Thursday. CHK's stock price could triple (3 *market cap + enterprise value - market cap), and it would still be undervalued on a very conservative basis. More realistically the acreage could be valued at $15,000 per acre. Those 13+ million extra prolific acres might be valued at $195B. Adding the Utica, this would be a total of $213B for just the lease holdings. On this basis CHK is trading at 1/11 of its true value. At some point this value will likely be realized by the equities market. This makes CHK an excellent long-term investment. If CHK develops these properties itself, as it intends to do with a few more JV's, the actual value of these lease holdings is likely to turn out to be several times the $213B figure.
Unlocking this value will take some time. As an effort in this direction, CHK has been moving its CAPEX spending to liquids development as shown in the chart below. This should increase CHK shareholder value faster as more and more higher profit liquids are produced.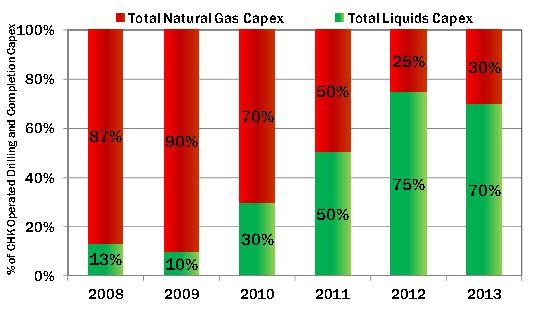 Click to enlarge

The chart below shows the very positive uptrend in the production of liquids and the percentage of revenue derived from liquids.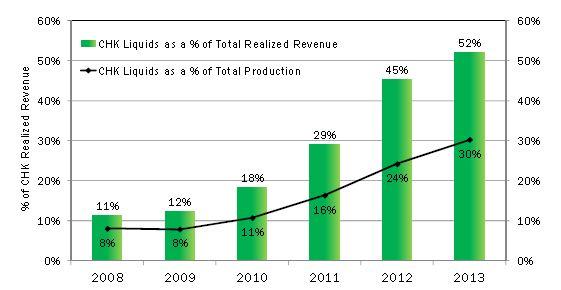 Click to enlarge

The chart below indicates the increasing amount of oil production in barrels/day compared with the boe/d of total production forecast for the next several years.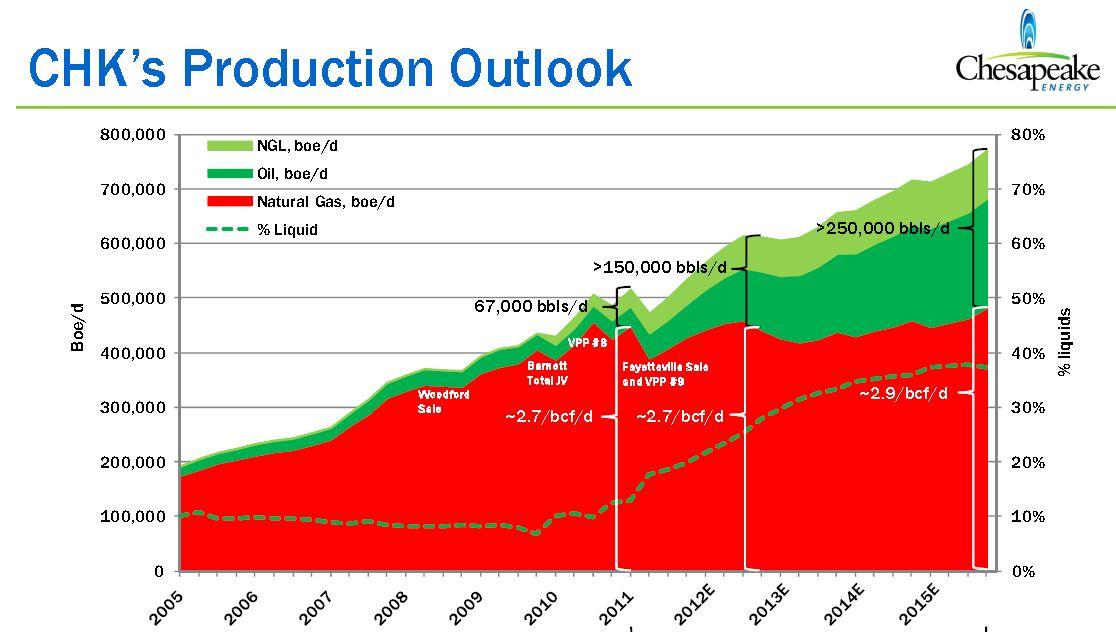 Click to enlarge

CHK also has significant assets it believes are worth about $23B. CHK believes the market assigns these no value at all. The list is in the table below.

Click to enlarge

I could go on about CHK's assets, but the fact that the company is hugely undervalued by the market should be clear by now. It may take many years for the market to finally value CHK at something close to its real value. However, this should be a buy and hold stock that will deliver a 5-fold to 10-fold price increase over a 5- to 10-year period. It could deliver an even greater gain. CHK puts me in mind of Peter Lynch. It is the kind of stock he would like.

Disclosure: I have no positions in any stocks mentioned, but may initiate a long position in CHK over the next 72 hours.