Last year, I recommended buying stock of Rediff.com (REDF) when it was trading at less than $2 per share. Within 1.5 months of my recommendation stock touched $6. I finally recommended booking profits when stock was trading in $7-$10 range. The stock is currently trading at $9.39. Such multi-bagger opportunities are hard to spot. It took me over a year to zero on another such stock which I see easily doubling in the medium term. The stock is Constant Contact (CTCT). I see a huge potential upside in the stock as its upcoming Social Product Launch is likely to re-accelerate growth causing multiple expansion and upward revision of earnings estimates. Here is a brief analysis of the company.
Business Description: Constant Contact is an on-demand (permission based) email marketing company catering to small organizations, including small businesses, associations and non-profits. Constant Contact also provides event marketing and online survey solutions. The company's e-mail marketing product allows customers to create, send and track e-mail marketing campaigns. The Company's event marketing product enables customers to promote and manage events, track event registrations and collect online payments. Its online survey product enables customers to create and send surveys and analyse the responses. The company is also scheduled to launch its social media campaign product in December this year.
Past Performance:
The company has shown spectacular growth in the past few years. Its quarterly revenues have increased from $18.2 mn in Q1 2008 to $54.3 mn in Q3 2011.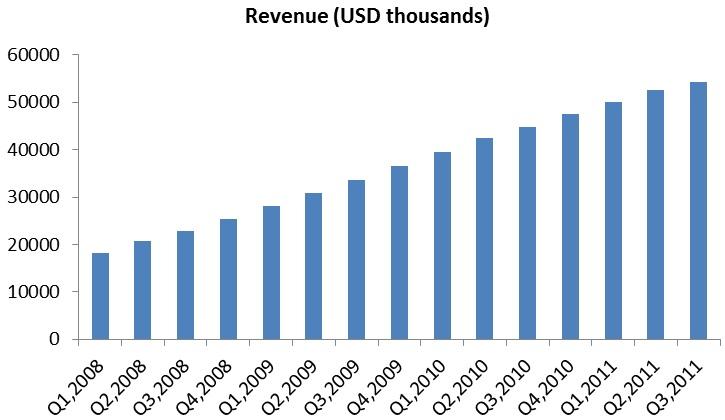 The growth was driven by both increases in customer count as well as average revenue per users (ARPU). While the total no. of unique paying customers have increased from 185,000 in Q1, 2008 to 485,000 in Q3, 2011; ARPU has increased from $34.6 to $37.94 in the same period.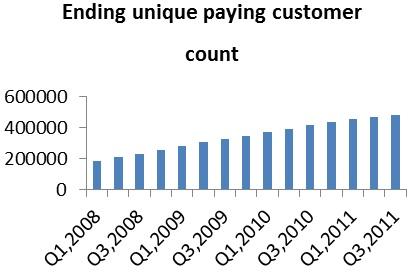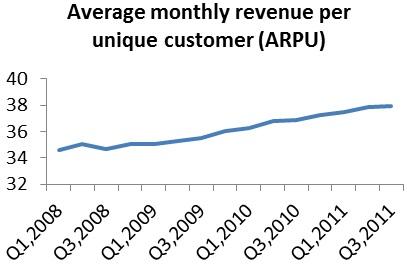 The company has shown excellent operating leverage with the growth and earnings have grown disproportionately.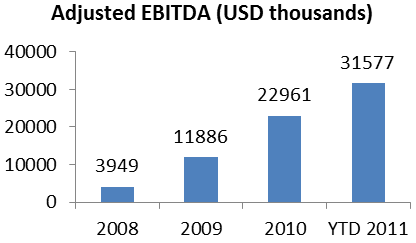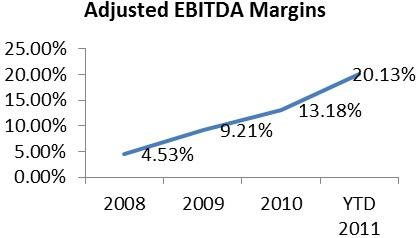 Future Expectations:
Near Term: The company has provided initial guidance of $250 mn in revenues and 200-250 bps of improvement in adjusted EBITDA margin in 2012. I believe company's guidance is not building in any positives from social media campaign product (which it is going to launch in December) or international expansion (which it started by opening its UK office in Q3). The management's conservative stance can be attributed to the fact that they had to lower their guidance twice this year. Most of the sell side analysts also believe company's guidance is conservative and consensus estimates for revenues in $257.73 mn. Even sell side estimate is conservative in my opinion. Though many sell side analyst are positive on the new product launch and international expansion, they are hesitant to take the lead and include the positives from these two factors in their estimates when the company management has itself not included it.
Medium Term: From a medium term perspective company's aim is to reach revenues of $500 mn. This will be primarily achieved by increased customer count to 750,000-800,000 and increasing ARPU to $45-50. I believe social media Product will help the company a good deal in achieving these ARPU levels as cross selling opportunities arise. The company target is to reach adjusted EBITDA levels of 30-33% in the medium term.
Valuations
Despite of company's good growth history and excellent future prospects, the company is still trading at a valuation of 23.68x forward PE. If we adjust of $123 mn of cash this debt free company is holding, we will get a PE valuation of just 19.17x. Clearly this is ridiculously low for the company who's EPS is expected to grow 37.31% next year (according to sell side estimates which are conservative).
So, why is the valuation so low?
The bear thesis …
The main premise of bear thesis (and over 25% short as a percentage of float) is that rate of growth for the company is slowing. Net unique paying customer additions have a direct correlation with company's growth and any slowdown in this rate will slowdown company's growth rate (although increasing ARPUs to some extent is offsetting this so far).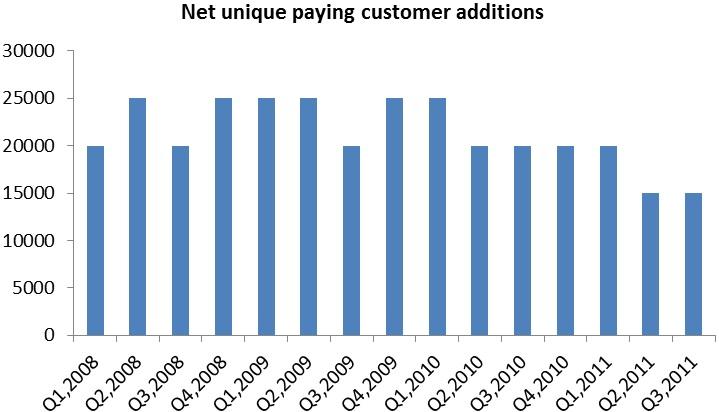 Click to enlarge
(Click to enlarge)
… And what are bears missing?
There has been a slowdown in net subscriber additions. However, this trend is likely to get broken when company launch its social media product in December. Even in the past the net subscribers growth benefitted when company launched its survey products and event marketing products. I think social media Product will have much more acceptance than company's earlier products as not all small businesses wants to do survey, event marketing or even email marketing, but a Facebook page is something which everyone have!
In addition to social media product, company's international expansion would also help derive growth. The company opened and staffed its United Kingdom office during the third quarter, marking its first direct expansion outside of North America.
And social media Product and International expansion are big things. I think bears have even missed the fact that company has posted relatively strong Q3 subscriber additions. Usually Q3 is a seasonally weak period. If we look at 2008 or 2009 trends net subscriber addition decreased in Q3 as compared to Q2. This year despite of the macro worries Q3 net subscriber addition were in line with Q2 which is a positive.
Why I am so bullish on the social?
One thing which makes me confident of social media Product's success is the company's ability to cross-sell its products. In the past few years, the company has shown remarkable cross-selling abilities with its event marketing and survey product. Prospective customers for social media Product among company's existing client base are definitely going to be much higher. Thus, a blockbuster initial adoption is very likely.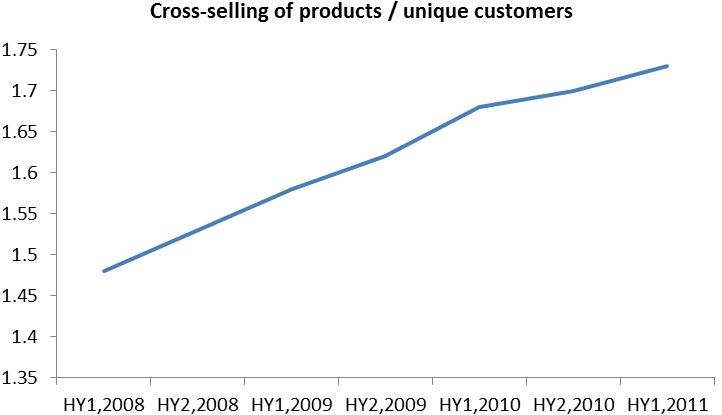 Click to enlarge
(Click to enlarge)
Key inflection point nears, reacceleration likely … Where is the stock headed?
So, going forward a step up in ARPUs and net subscriber additions is on the cards. What does it mean for the stock price? If we look at the historical stock price performance of any company near such inflection point, it has been very positive.
For eg. Investors had similar doubt about Apple (AAPL) when iPod was the only hit product striking cord with customers. The bear argument at those times was what will happen if the competition increases and/or iPod reaches market saturation point. If iPod was the only Apple product, the stock price would never have reached where it is now. But things changed after iPhone launch and Apple's stock multiplied several times. social media campaign product can do the same for Constant Contact.
Even for less successful stocks like Netflix (NFLX), the stock never declined as long as ARPU and net user addition trends were strong. Investors like Whitney Tilson who shorted it only had to cover their positions at losses.
Green Mountain Coffee Roaster (GMCR) is another stock where bears were always on the prowl looking for an opportunity. But they always had to run for cover whenever there was any key inflection point in the business. Be it a deal with Wal-Mart (WMT) or an agreement with Starbucks (SBUX).
Shorting is a tricky business and 25.80% short interest just before the key inflection point is just crazy recipe of disaster for bears.
My Take on the Stock Price: In the near term, I would be surprised if the stock does not reach $25 by early December when the Social Product launch is scheduled. And this does not include any impact of short squeeze. Given 25.80% short as a percentage of float, the stock can move much higher.
In the medium term, stock once street realizes the potential of the company and reaccelerating growth, the company will see both multiple expansion and increase in estimates. Further, Groupon's (GRPN) IPO might again raise the street's interest in the name as both are vying for the same $150 bn local advertising dollars though in slightly different ways.
I see the stock price easily doubling in next one year if the company is able to show improved trends in both net user additions and ARPU.
Risks? At these valuations I don't see any risk to the stock and believe all of the negative scenarios are already priced in. In the long term the biggest risk to the business is increasing competition. But that is true for most of the new age internet companies. For example, after Groupon's success a lot of daily deal sites have emerged including those by Facebook and Google (GOOG). Complete integrated solutions for email marketing, surveys, event marketing and social media marketing will help the company differentiate from competitors and counter them.
Disclosure: I have no positions in any stocks mentioned, and no plans to initiate any positions within the next 72 hours.I do not have any position in the stock but my immediate family members have a long position in the stock. I am recommending this stock as a very strong buy to friends and clients.