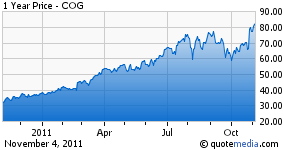 In the U.S, natural gas production has increased 20% since 2005, which has driven prices lower and made cheap production necessary for profit growth. One of the cheapest formations being tapped is the Marcellus Shale, making independents such as Cabot Oil and Gas Corp (NYSE:COG) attractive.
Cabot has been laser focused on building out its assets in the Marcellus Shale. This year, it sold high production cost assets in the Green River Basin in part to fuel additional Marcellus development.
Including the asset sales, Cabot expects total production to grow 40-46% this year and another 45-55% in 2012. Its Marcellus strategy has helped the company reach record quarterly production at a much lower cost.
Its assets in Marcellus are so prolific the company has been investing in boosting pipeline capacity. These new pipes will help pricing by targeting new markets and will drive additional profits by removing current bottlenecks.
Just this quarter, its Laser line became active in Marcellus. The line will ultimately carry up to 150 million cubic feet per day and ties production into the Millennium Pipeline system in NY. The company noted in its conference call current guidance doesn't include upside from its pipeline expansions for 2011, suggesting there could be marginal upside later this quarter.
So far, the company's Marcellus strategy is paying off thanks to high producing wells. In the first six months, Cabot's area of the Marcellus had 16 of the top 20 producing wells in Pennsylvania. In the quarter, the company also made new highs in daily production from the acreage, producing 517 mcf/d from 94 horizontal wells. In the quarter, the company turned in line 18 total wells, 17 of which were horizontal. By the end of 2012, Marcellus may have capacity of 1.5+ Bcf/d, which is up from 1.2 Bcf/d prior guidance. This is exactly what shareholders want to see from Cabot, high volume low cost production.
Cabot also inked a deal with Williams to fill the unsubscribed capacity on its Springville, Pennsylvania, line, which should come online in December. This boosts Cabot's take away at Springville from 300 mcf/d to 625 mcf/d by mid 2012.
The company is also boosting its oil and liquids production thanks to projects at Eagle Ford in Texas and Marmaton in the Granite Wash in Oklahoma. In Q3, the company saw oil and liquids production increase 100% from Q3 2010. In the Buckhorn area of Eagle Ford, Cabot has 24 wells drilled, up from 17 in Q2. Twenty-one of the wells are completing and the two most recently completing produced at 938 boe/d and 791 boe/d, respectively.
Total gross production in Eagle Ford has reached 7600 boe/d at quarter end. And, at year-end, Cabot forecasts it will have drilled or participated in 25 to 30 net Eagle Ford wells this year. In Marmaton, the company participates in seven non-operated wells and expects to add a few more this quarter. Overall, Cabot boosted its Marmaton net acres to 61,500 from the previously reported 54000, suggesting Cabot is pleased with early results.
Cabot's growth will continue in 2012. The company plans to operate five rigs in Marcellus, which will drill 70-78 wells. At Eagle Ford, the company will drill or participate in 20-30 more wells. And, at Marmaton, 25-30 gross wells will be added.
This is good news for Cabot shareholders. The company continues to ramp its low cost Marcellus production, providing significant profit growth despite cheap natural gas prices. And it's leveraging its oil and liquids acreage to take advantage of stubbornly high oil prices. With strong production growth predicted again next year, investors should buy any pullback to the low to mid $70s.
Disclosure: I have no positions in any stocks mentioned, but may initiate a long position in COG over the next 72 hours.