By Brendan Gilmartin
Overview
Cisco Systems (NASDAQ:CSCO) is slated to report 1Q 2012 earnings after the close of trading on Wednesday, November 9. The results are typically available at 4:05 p.m. EST and will follow with a conference call at 4:30 p.m.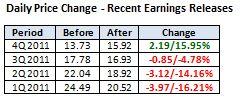 Outliers And Strategy
Cisco typically provides a value for Non-GAAP Earnings Per Share (EPS) that is comparable to consensus views. In the previous conference call, Cisco targeted Non-GAAP EPS is expected to range from $0.38 to $0.41 per share. The current consensus is $0.39 (Source: Yahoo Finance).
Revenues are the next most important measure for Cisco. Cisco previously said it expects 1Q 2012 revenues to increase 1% to 4% year-over-year. Based on the 1Q 2011 revenue figure of $10.750 bln, the projected range would equate to $10.858 BLN to $11.180 BLN. The consensus is $11.020 bln.
Sympathy Plays: Juniper Networks (NYSE:JNPR), F5 Networks (NASDAQ:FFIV). Recall, both names rallied after reporting disappointing results. Radvision (NASDAQ:RVSN) derives 34% of its revenues from Cisco, while Cavium (NASDAQ:CAVM) earns 22%, according to Revere Data.
Cisco finished 2011 with a total of cash, cash equivalents and investments of $44.6 billion. Product backlog at the end of fiscal year 2011 was $4.3 billion.
Cisco said it would be more opportunistic in its share repurchase program if overall markets conditions remain depressed.
Recent News
11/01: MKM Partners initiated coverage on Cisco with a Buy rating and a $25 price target, based on valuation and a realistic outlook, according to a report on Barron's Online. The firm believes Cisco is "on plan" to deliver for the current quarter.
10/27: UBS upgraded Cisco from Neutral to Buy and raised the price target to $19.75, according to Forbes.com, citing solid networking demand in the U.S.
09/20: Cisco announced it is collaborating with Microsoft (NASDAQ:MSFT) to deliver data center virtualization solutions.
09/14: Stifel Nicolaus raised its price target on Cisco from $17 to $20, citing the conservative growth targets, according to a report on Benzinga.com. The firm also reiterated a Buy rating.
09/13: During its analyst meeting, Cisco CFO Frank Calderoni provided projections through 2014. The company sees revenue growth of 5% - 7% CAGR and EPS growth of 7% - 9% CAGR. The Street viewed this guidance as conservative and achievable.
Technical Review
Cisco shares have been breaking out over the past several weeks, climbing back above long-term resistance at $18 – a level going back to the spring of 2009. After holding support near $15 in early October, Cisco has since rallied more than 18% in advance of the 1Q 2012 earnings release. With sentiment tracking relatively high, it will require a strong report to push the shares toward the recent highs near $18.50, representing near-term resistance. Initial support is near the 20-Day SMA at $17.60, followed by the 200-Day SMA near $16.75. (Chart courtesy of StockCharts.com)
Click to enlarge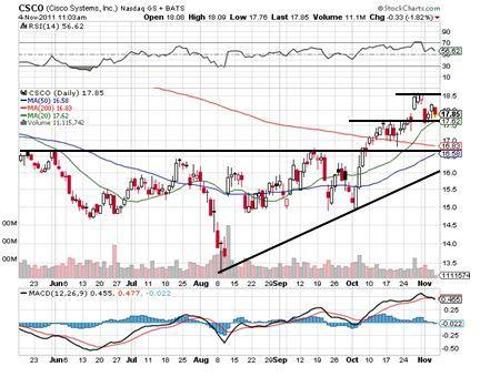 Summary
Cisco shares recently broke out to the highest level since February, based on solid networking demand, share repurchase activity, conservative guidance, improved operational performance, recent cost-cutting efforts and valuation. At just 9.67x forward earnings, the shares are trading nearly in-line with the company's projected growth rate of 7%-9%, discounting some of the growth in data center expansion, collaboration and services. Solid results from several of its peers also suggest Cisco may extend the recent advance.
Disclaimer: By using this report, you acknowledge that Selerity, Inc. is in no way liable for losses or gains arising out of commentary, analysis and or data in this report. Your investment decisions and recommendations are made entirely at your discretion. Selerity does not own securities in companies that they write about, is not an investment adviser, and the content contained herein is not an endorsement to buy or sell any securities. No content published as part of this report constitutes a recommendation that any particular investment, security, portfolio of securities, transaction or investment strategy is suitable for any specific person.
Disclosure: I have no positions in any stocks mentioned, and no plans to initiate any positions within the next 72 hours.