I thought Lender Processing Services (NYSE:LPS) was finally printing a bottom in April, 2011 In five weeks, I was forced to rethink that assessment as put activity on LPS surged. Today, the open interest put/call ratio has increased from 1.01 to 1.71 in a week, but it is much lower than the 8.5 ratio as late as September. For the third time in over a year, the open interest in puts is concentrated into no more than two strikes. This time, LPS has 4,016 puts open on the December 13 strike and 10,931 puts at the December 17 strike.
Today, I am going to try again to make the case that LPS is potentially turning around. Here are the main points and observations:
Short interest is down 34% from the all-time on August 15, 2011.
The market responded well after LPS raised earnings guidance on October 25.
That response sent LPS above its primary downtrend marked by the 50-day moving average (DMA) for the first time since March, 2011.
On Thursday, November 3, the stock gained 11% on high buying volume in what looks like convincing follow-through to the break in trend.
An energetic new CEO who is a 30-year veteran in the mortgage industry.
Thomas Schilling, CFO and former interim CEO, has made $459,050 buying LPS shares from November 10, 2010 to August 8, 2011.
The graphs below show the history of short interest in LPS and its recent price history.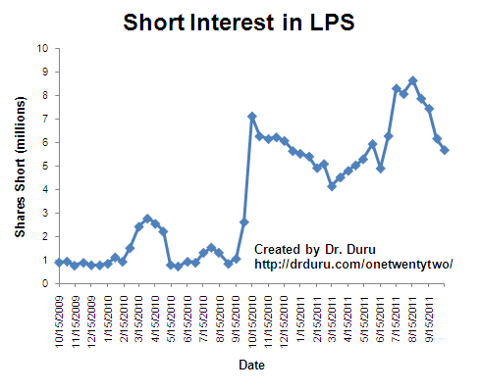 Click to enlarge
(Click to enlarge)
LPS short interest remains high but is well off the all-time highs
Source: NASDAQ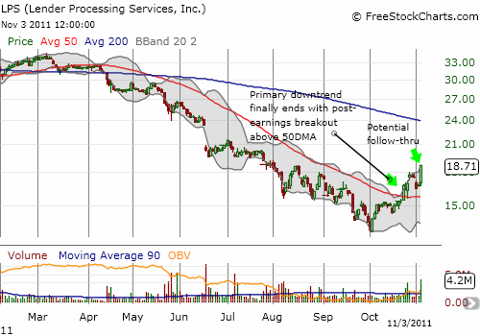 Click to enlarge
(Click to enlarge)
LPS finally breaks its downtrend and follows-through with strong buying interest
Source: FreeStockCharts.com
The earnings conference call on the morning of October 26 was the first for new CEO Hugh Harris. He provided some hopeful observations for LPS's business and the industry in general. Harris staked his claim to three top priorities for the next 90 days (all quotes and material from the Seeking Alpha transcript of the earnings call):
Review and assess business operations and structure, making whatever adjustments in business focus and hiring/roles to improve performance.
Focus on regulatory and legal issues.
Tell LPS's "positive story" (aka public relations)
LPS explained that the quarter's revenue and earnings were better than expected partially from an increase in mortgage refinancing driven by historically low interest rates. On the other hand, continued delays in foreclosures reduced revenues for the company's default services business. Mortgage originations also experienced a significant decline. Net-net, revenue declined 14% year-over-year and year-to-date revenue dropped 11% versus the same span of time in 2010. Interestingly, and perhaps encouragingly, LPS is doing very well with the largest and healthiest financial companies:
"… revenue from the top 20, or the 20 largest mortgage originators has increased 4% with the top five increasing about 6%. Offsetting this strong revenue performance is the revenue decline of about 26% among mostly sub-prime and smaller servicers."
Not surprisingly, legal and regulatory expenses continue to drag on LPS's results. LPS has over 200 people in technologies focused on changes in regulatory compliance. Through the third quarter, the consent order process alone has cost LPS over $10M (see "The OCC's Enforcement Action May Confirm A Bottom for Lender Processing Services" for more details). LPS has completed the first two phases of the consent order: 1) the creation of plans for board oversight, compliance and internal audit, and 2) an independent third party risk assessment of default related businesses. The third and last phase of reviewing documents from default services since January 1, 2008 may not end until mid-2012. LPS expects to emerge stronger at the other end of this process:
"At the conclusion of the process, LPS will be the only provider of technology and services to the mortgage industry that has undergone the same thorough examination as the 14 largest servicers. We believe this will serve us well as the industry moves forward, and with new regulations and new servicing standards. And we believe that this will only strengthen our relationships with the largest servicers … I think the regulatory environment is creating opportunities for us more so than handcuffing."
The stack of lawsuits and the legal actions initiated by state attorney generals (AGs) remain a large headwind and still detract from the turnaround potential for LPS. As usual, LPS provided little clarity on the prospects for resolution of these cases.
LPS did provide two current examples of its strong competitive position:
"We recently completed one of the largest and most complex projects in the industry for one of our clients, which speaks to our technology and implementation services capabilities. This project which was completed in October resulted in higher service and technology revenues in the third quarter. We also recently completed the conversion of 400,000 loans from a competitor's to the MSP platform, as there continues to be a flight to quality for servicing technology."
Taken together, the news flow on LPS has at least stopped getting worse, the first step in a turnaround. Assuming earnings and revenues have stabilized, paying 8 times trailing earnings and 7 times anticipated forward earnings is a decent price to pay given the on-going risks. Note well that the revenue opportunities in new mortgages will be limited. According to LPS, the Mortgage Bankers Association (MBA) forecasts for 2012 that overall originations will decline about 23% and refinancing volumes will drop 37%. Foreclosure activity will should to be slowed by government and regulatory intervention. In other words, 2012 will not be a breakout year. Stabilization and riding some modest upside on top of a 2.4% dividend yield is my best expectation for 2012. This will lead LPS into much greater potential in 2013 where I still expect the housing market to finally stop bouncing along the bottom and begin a true recovery.
I have long stopped buying and selling puts on LPS and am now just sitting on my small amount of shares. As 2012 unfolds, I may add to those shares.
Be careful out there!
(Click here for an archive of my previous posts on Lender Processing Services).
Disclosure: I am long LPS.