On May 19, 2011, LinkedIn Corporation (LNKD) had its IPO open up on the NYSE with a lot of hype. It was expected to be the fifth-largest for the Internet software and services sector in the United States at the time. At its current price, I have some very serious reservations about the stock and how it is going to perform in the near term. LNKD's announcement yesterday that it plans to offer more stock certainly didn't alleviate any of my concerns.
LinkedIn Corp. operates an online professional network. The company, through its proprietary platform, allows members to create, manage, and share their professional identities online, build and engage with their professional network, access shared knowledge and insights, and find business opportunities. Its platform also provides members with applications and tools to search, connect, and communicate with business contacts, learn about career opportunities, join industry groups, research organizations, and share information.
LNKD is currently trading at $79.51 (as of Friday afternoon). The 52-week range is $60.14 - $122.70.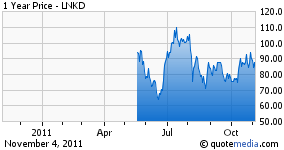 | | |
| --- | --- |
| 52-wk high: | 122.6991 |
| 52-wk low: | 60.14 |
| EPS: | 0.17 |
| PE: | 514.70 |
| Div Rate: | N/A |
| Yield: | N/A |
| Market Cap: | 7.61 B |
| Volume: | 1.37 M |
On Thursday, LNKD reported a loss of $1.6 million, or $0.02/share, in the third quarter. The stock was falling after-hours on Thursday, due in part to the fact that LNKD has decided on an additional public offering to sell up to $500 million in stock. This raised concerns that it would dilute company shares.
For a company that went public just over five months ago, I am skeptical of LNKD already offering up more shares. This will water down the existing float. My question is: Why so soon? And if it is doing this so soon after its recent IPO, when will it happen again?
Aside from the issuing of more shares, there are a couple of other factors about LNKD that I think should be of concern: LNKD is extremely high-priced. With a price-to-earnings ratio of 438.66 combined with an earnings-per-share of $0.18, I just can't see the stock keeping its current level, even with the slide it's had on Friday.
Investing in LNKD right now is extremely risky. Personally, I am not a very big supporter of its business model, either. In my opinion, Facebook and will be doing exactly what LNKD does, only with a much higher audience and user base.
If you are looking for a recent IPO that I believe offers more upside, I would go with Groupon, Inc. (GRPN). While not without risks, Groupon seems to have a business model that can actually do well, given time. I just don't see this with LNKD. I understand there are supporters of LNKD. I have to give them a lot of credit. I would never enter a bullish position until I saw the stock trading much lower than it is right now.
Recommending that a stock not be bought is entirely different that recommending to short it. I would never tell my readers to short LNKD. The valuation is so far out of whack that the fact that it is trading at its current level is somewhat scary in itself. If you already have a bearish position with LNKD, I am confident this stock should fall further. The way to profit from any downside is with put options. While expensive, you can go several months out with deep-out-of-the-money strike prices and do quite well. This is the position I plan to take with LNKD.