The announcement of Zimmer Holdings' (ZMH) third quarter fiscal 2011 results as on October 27, 2011, has led analysts to revise their estimates lower for the fourth quarter of fiscal 2011.
Third Quarter Highlights
Zimmer reported an adjusted EPS of $1.04 during the third quarter of fiscal 2011, a penny ahead of the Zacks Consensus Estimate and up from 96 cents in the corresponding quarter of fiscal 2010. The company reported a 6.9% year-over-year revenue growth (2.4% at constant exchange rates, CER) to $1,031 million during the quarter, in line with the Zacks Consensus Estimate.
Zimmer's biggest segment, Reconstructive Implant, recorded a 6% increase in revenue to $768 million driven by growth in Asia Pacific (21% to $147 million), Europe (17% to $199 million), partially offset by a 2% decline in the Americas to $422 million. Among the other segments at Zimmer, barring Spine that declined 2% to $55 million, growth was witnessed across the board including Surgical and Other (8% annually to $84 million), Trauma (19% to $69 million) and Dental (12% to $55 million).
Zimmer updated its outlook for 2011 and expects to report adjusted EPS of $4.75−$4.80 (previous guidance of $4.70−$4.80) on revenue growth of 2.3−2.7% (2.5−3.5%) at CER.
For a full coverage on the earnings, read: Zimmer a Penny Ahead, Sales in Line
Agreement of Analysts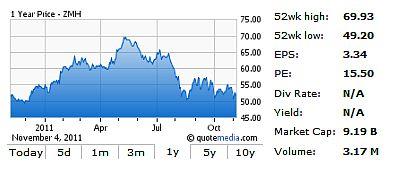 With the company lowering its revenue guidance for fiscal 2011, the majority of analysts have reduced their estimates for the current quarter. Over the last 7 days, 15 of the 26 analysts covering the stock have lowered their estimates for the fourth quarter of fiscal 2011, with five revisions in the opposite direction. The trend reverses for fiscal 2011 as 14 analysts have increased their estimates over the past week with five negative revisions.
Zimmer continues to witness challenges with respect to procedure volume and pricing pressure. Reconstructive procedure volumes in the third quarter continued to be lower than historical utilization rates. This scenario was more evident in the U.S., which continues to be affected by lower consumer confidence and high unemployment rates.
The company also experienced -0.9% of pricing pressure in the third quarter, a stable trend and in line with its expectations. Overall, pricing pressure should remain around -1% and the company expects the fourth quarter of the current fiscal to be challenging. However, as the situation gradually improves, Zimmer is well poised to reap the benefits of a strong portfolio and a wide geographical reach.
Despite the lowered revenue guidance for the fiscal, the company increased the lower end of its EPS forecast by 5 cents to $4.75−$4.80. Armed with a strong cash balance, Zimmer intends to return half of its net income to stock holders through share repurchase programs annually and target suitable acquisitions in the musculoskeletal space.
The company repurchased 10.1 million shares for $549 million during the quarter and is left with $299 million of authorization (under a $1.5 billion repurchase program which expires at the end of 2013). The ongoing share repurchases program helped reduced Zimmer's share count by 8.6% over the last 12 months, thereby supporting the bottom line.
During the quarter, sales from Americas remained unchanged at $582 million while Europe and Asia Pacific recorded growth of 17% (7% at CER) and 19% (7% at CER), respectively.
Strong performance in international segments emphasizes the positive impact of the company's investments in established markets as well as its strengthening presence in emerging markets that provide long-term opportunities for growth. The company's strategic investments in these regions over the past several quarters to improve operational and sales performance are yielding results.
Magnitude of Estimate Revisions
The magnitude of estimate revisions has been insignificant for the fourth quarter, in the past 7 days. Overall, the consensus estimate for the current quarter has gone down by a penny to $1.34 while the first-quarter estimate for fiscal 2012 increased by two cents to $1.31. The estimate for fiscal 2011 witnessed an increase of a penny to $4.78 over the last 7 days.
Recommendation
Zimmer offers a broad line of reconstructive implant and trauma products as well as orthopedic surgical instruments and supplies. We believe that the company has embarked on its growth trajectory with new product launches, employment of new technologies and expansion into the emerging markets.
However, Zimmer continues to witness challenges in the form of pricing pressure and lower procedure volumes resulting from economic uncertainty. Moreover, the company faces tough competition from players such as Smith & Nephew (NYSE:SNN), Stryker Corporation (NYSE:SYK) among others.
We have a Neutral recommendation on Zimmer, in line with its peers. The stocks mentioned above all retain short-term Zacks #3 Ranks (Hold).
Read Zimmer Holdings' Q3 conference call transcript here.