By David Berman
Bank of America Corp. (BAC) was back in the dog house on Friday, flirting with a 6% loss for the day. Exposure to European debt? Big quarterly loss? Nope, it appears that investors are contemplating the effects of another dip into the equity pool, as the bank said late Thursday that it is considering issuing up to 400 million new shares.
Such a move would have a dilutive effect on existing shareholders. But perhaps a worse side effect is the impact it would have on the bank's credibility. Indeed, Richard Bove, an analyst at Rochdale Securities, told Bloomberg News that the dilution is a "minor issue."
"The major issue is they said they wouldn't issue stock," he said, "and this may be one too many statements to investors that didn't turn out true."
Indeed, earlier in the year, the bank's chief executive, Brian Moynihan, insisted that the bank didn't need new capital. The Wall Street Journal has a list of some of the other flip-flops by the bank:
There was the decision to charge customers a debit-card usage fee, quickly dropped.

Mortgage-related legal problems were originally going to be fought case by case. Then, the bank began to pursue settlements.

Dividends are coming, dividends are coming! Then, regulators said ahem, and Mr. Moynihan shelved the idea.
Meanwhile, Bank of America's share price has slid about 50% this year.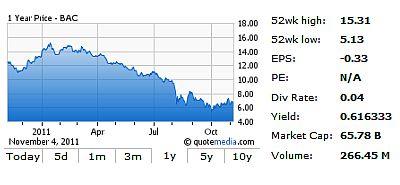 Still, while the latest shift does bring a credibility problem to Mr. Moynihan, the decision to issue more shares – and, by the way, raise as much as $3 billion in senior debt – isn't necessarily a bad thing and nor does it suggest that the bank is running low on cash. Apparently, the money raised will be used to retire higher-yielding preferred securities. So, the move could lower interest and dividend costs associated with these other securities.
Disclosure: None